EssayShark Reviews: Why New and Regular Customers Trust Us
At EssayShark, we value each opinion about our service and strive to make it better each day. We do our best to help you with academic writing and provide useful content on our blog to ease your studies. Our team of developers and UX designers constantly improve the site's interface and features to make our cooperation with customers better. And the writers and support teams are always there for you with their qualified assistance.
We do our best to improve our services constantly, and your feedback is a great help to us. We are pleased to get you acquainted with it. Check out what customers and writers say about our service.
GlassDoor Review of EssayShark From a Writer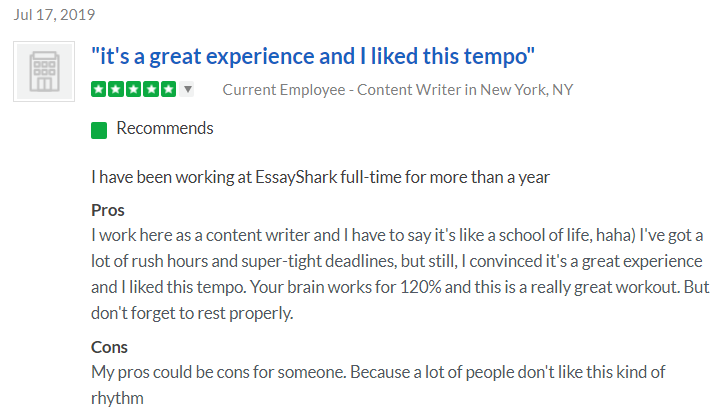 Indeed.com Review of EssayShark

Reviews From SiteJabber
What Clients Think About the EssayShark Service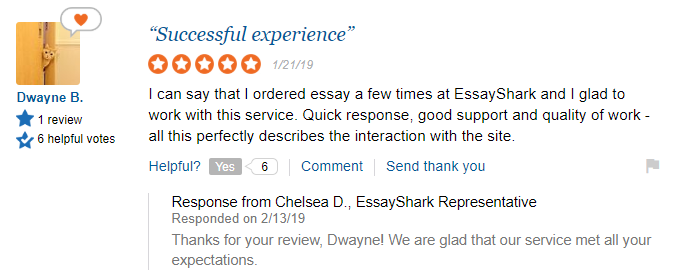 EssayShark Review From Our Writers

An Impression of the EssayShark Interface

EssayShark Reviews From Our Customers and Writers
We asked our customers and writers to share their experience and impressions from working with us. Check their EssayShark reviews.
Customer Reviews
Writer Reviews
Thank you for working so quickly and diligently! great work and highly recommend
This expert was amazing. All the questions I had, big or small, were answered quickly, with full instructions and all the work was complete way before the deadline. 10 stars are not enough, if I am being honest. Thank you for all your help!
Very dependable writer and always on time. This writer does GREAT work! My last paper was 200/200.
Amazing work, responded well and clarified anything prior to start. Would definitely recommend, great prices and great service!
Have used this writer for other papers in the time of need and always delivers a top notch product. Highly recommend.
Totally reliable professional who always delivers on time, at an unbeatable price, with the utmost accuracy.
The writer was fantastic! Produced quality work and completed requested visions in a timely manner. I highly recommend this writer!
She is really helpful and sticks to the instructions. She completed my paper just a day after I placed the order. Recommend this writer and I personally will apply with all my orders directly to her.
Reliable and excellent work! Covered all the requested information.
Very helpful. Will choose this writer in the near future. Patient with my needs and corrections if needed. Thank you
Well crafted paper, went above and beyond in completing the said project
WOW!! Completely amazed by this writer's work! Really delivered at what was asked for!
Great job. She wrote more than I asked for which was very helpful and returned the paper before the deadline.
I've been using ES a lot recently due to a heavy schedule and this writer is by far the best. Followed my instructions and I can tell he actually read the material I attached. Thank you for the great attitude and nice paper.
It is excellent! I ask for the presentation speech but the writer sends me the PowerPoint too! I really appreciate! The writer is very polite and willing to answer any questions. I will ask for him in the future for my works in the future! Thank you very much, writer!
Writer was very attentive to my needs and kept me up to date with all progress and was there every step of the way to ask questions to ensure everything was the way I wanted it. I would highly recommend this writer if you like to have an assignment done well.
I am repeat client and I am grateful for finding such a proficient writer I count on. This one is the chosen one, folks. Very precise, sharp-minded, attentive and punctual. Thank you!!!
Amazing customer to work with. Thanks for your patience and devotion, and welcome back again for more papers. See you again my friend. Thank you:)
proficientwriter01
, completed orders:
38
Awesome experience with this client! Looking forward to working with you again.
Annita31
, completed orders:
102
Wonderful Client. He/she was very cooperative and precise in giving instructions. Look forward to work on other projects with you again. Feel free to come back with more orders
MissBestEssay
, completed orders:
334
Awesome customer, clear in giving instructions and very easy to work with. It was a pleasure cooperating with you, feel free to request me any time....
dissertationexpert
, completed orders:
56
Real pleasure to work with the customer. Wish you good marks and hope to work together in the near future.
PlagFreePapers24/7
, completed orders:
27
The customer was cordial and patient; they provided me with all the materials necessary; they also responded to any queries promptly. It was a pleasure serving them, and I hope that they choose me again.
WritingFan
, completed orders:
453
Thank you 😇😇
PrimePapers
, completed orders:
234
You are amazing. Thank you for trust. Welcome back for more high-quality presentations 😘😘
Peterson
, completed orders:
34
I loved working with this client, welcome again, friend!
TopHistoryWriter
, completed orders:
114
Thanks so much! It was a pleasure working on your Paper/Order. Feel free to come back if you have any other projects to help you with.
Edward-book-lover
, completed orders:
15
A dream client…welcome back for more quality papers!!
BesBest 007
, completed orders:
264
It was a pleasure working with you. I wish you success and hope that we continue to work together in the near future.
Alison Parker
, completed orders:
173
Lovely client. Very cooperative, patient, and understanding. I enjoyed working with you. See you again very soon.
eddy33
, completed orders:
643
Thank you so much dear friend for the positive evaluation and feedback!!!!. Let's do this again
Jackson-Shark-Writer
, completed orders:
8
I loved working with this client, welcome again, friend!
bonny
, completed orders:
130
Thanks! Come back with new assignments!
daisyExpert
, completed orders:
783
Thank you for your trust and appreciation!
Paul145
, completed orders:
100
Thanks for your appreciation of our service. We are happy you share your experience and recommendations of us. You inspire us to become better and provide top-notch services.
UNLOCK BETTER PAPERS
Fill in the order form. Give precise instructions.


No need to pay at this stage.

Start receiving proposals from our writers within minutes and chat with them live.


You still don't have to pay at this stage.

Ready to select one of the writers? Deposit funds into your EssayShark balance so that a writer can work on your order.


Attention: You didn't actually pay the writer yet!

Watch your paper being written and pay your writer
step-by-step.


You still have full control: you pay only for what has already been completed.

Get exactly what you needed!
EssayShark.com

statistics:

9.62 out of 10 - average quality score

100906 visitors

231 writers active

154 writers online now