Write My Essay
for Me,
EssayShark!
Ready to pay someone to satisfy your "write my essay" requests? Get your helping hand from the EssayShark team. Our writers will support you on all stages of the writing process to make your cooperation with us enjoyable and easy.
Place New Order
It's free, fast, and safe
What's next?
Fill in the order form. Give precise instructions.


No need to pay at this stage.

Start receiving proposals from our writers within minutes and chat with them live.


You still don't have to pay at this stage.

Ready to select one of the writers? Deposit funds into your EssayShark balance so that a writer can work on your order.


Attention: You didn't actually pay the writer yet!

Watch your paper being written and pay your writer
step-by-step.


You still have full control: you pay only for what has already been completed.

Get exactly what you needed!
In any writing task, you need not only knowledge of English, but also the logic of utterances. Making people think more and develop their thinking is the goal of essay writing. Our writers know the technique of writing a successful essay. If you want to get your assignment done, simply send us the request: "Write my essay."
What Is Expected From You in Your Essay
The first thing you do with any type of statement is to address it, and repeat it: "The question before us … / The issue of … / My feelings about …" While writing an essay, you may "destroy" the statement, create the opposite viewpoint, show what is on the other side of this statement, or what is not said. Then you say, for example: "Perhaps this can identify a disease, but it is obvious that there are diseases that it can not cure." You must come to this conclusion yourself. However, if you can't structure your thoughts properly and make strong conclusions, you need to ask us: "Will you write my essays?"
Sometimes, while writing an essay, you need to do an analysis of the social problem. Example: "Does everyone have to take the driving test in order to get the license?" And you are given options: "some claim yes," and "some claim not." In a personal question, there is no choice, but just say what you think about one side of the question. You must choose what you agree with. At the highest level of work, you need to create your own statement and this is the most difficult. Universities check the student on whether he or she reveals both sides of the question, creates the opposite view, and criticizes the statement. If you can't reveal both sides of the issue, simply tell us: "Write my essay for me."
Usually, an essay consists of three parts. Introduce what you are going to tell, tell it, and repeat it again. These are the three steps. This is a formula and you can not reject it: concept, judgment, inference. When you are writing an essay, you should find relationships. No one needs grammar, and grammatical errors can not be considered a serious drawback. No one requires the student to have an abundant vocabulary. When you write an essay, give examples – they do not need to be real. The university needs to understand whether the student knows what he or she should do, and whether he or she is able to write an essay. If you are not able to deal with it, leave a request on our site: "Write my essay for money."
Become a Successful Student With the Best College Paper Writing Service
Are you sure you fully understand how to craft a solid college paper? If not, there is a solution.
Any Format
Any Level
Any Subject
Any Deadline
How to Become Successful in Essay Writing
Do you ask yourself, "Can someone write my essay?" If so, then EssayShark is the service you need. In case you believe that you can not be taught to write a good essay yourself, our writers will complete your assignment for you. It doesn't matter what question you need to answer in your essay – we can help with any.
Our customers know that our writers make only brilliant essays. They have already written lots of papers and our customers remain satisfied with what they got from writers. When you ask us, "someone write my essay for me," you can be sure that the most suitable writer will complete your order.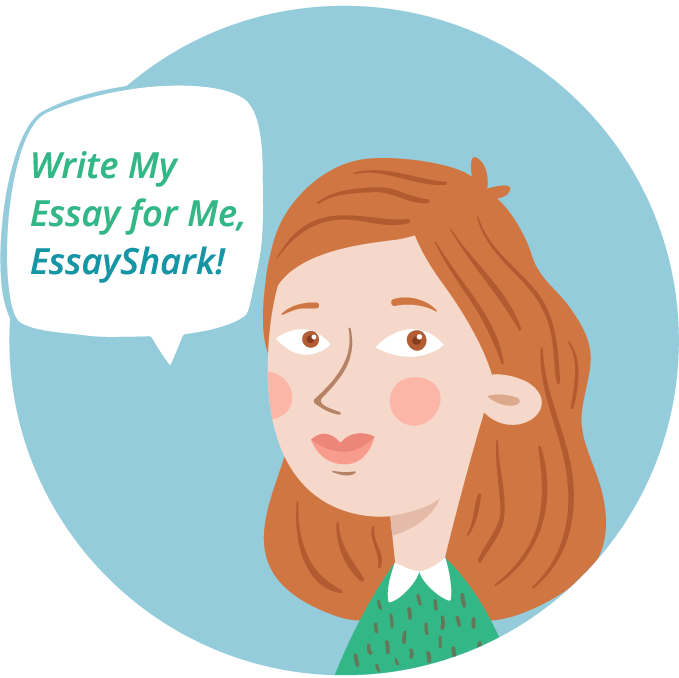 You don't need to apologize because you haven't written your essay, as our writer will complete your task for you. If you think, "I need to pay someone to write my essay," then our writing service is what you need. In general, we can help you with any type of essay. Our writer will analyze every aspect of the issue and come to a strong conclusion.
If you are overwhelmed with your writing assignments, we can help you. We know what your teachers want to see in your papers – that's why you shouldn't be surprised when your teacher will say, "This is an excellent essay. The arguments are just brilliant." So if you think, "I can't write my essay," simply leave it to us.
If you order an essay on our site, you can be sure that the writer will stick to the word limit. It is not enough to just write an essay; it should be written according to the requirements and academic standards. Our writers understand that and strictly follow all of your instructions.
Just place an order with us and make sure we provide qualified help.
Why You Should Use Our Service
You can describe us your problem – place an order with your requirements and set the deadline, and we will cater our service to your needs.
Students like our service – you can find a page with testimonials on our site to ensure that we are the best option to solve your writing problems.
Our writers go through all stages of paper writing: there is a problem, and a writer decomposes it into parts, finds the opposite, chooses arguments, and writes your essay.
We are available 24/7 – you can contact us any time you want. It is quite convenient, as students from all over the world have different time zones. We can help you with papers for any disciplines and of any topics.
Your essay will be properly structured – it will contain an introduction with a thesis statement, body paragraphs, and a conclusion. Ideas will be presented in the right order: what happened in the beginning, what happened in the midst, and what happened in the end.
You can contact a writer directly via chat during the whole writing process. He or she will answer any question that you may have related to your order.
If you get a completed paper from us and don't like something in it, you can get free revisions.
We have reasonable prices – any student can afford using our service.
Our writers work fast – you will get a completed order even before the deadline.
Get writing assistance from professional writers! We can give you solutions to any writing problem.
Why choose us?
Writers
Experienced writers with the highest satisfaction rates.
Prices
Lowest prices on the market, no upfront payments.
Guarantee
Security, confidentiality, and money back guaranteed!
Just place an order with us and make sure we provide qualified help.