10 Years of EssayShark – Greetings Flash Mob from Our Writers

Here we go – we are 10 years already. It's still hard to believe. We've got some greetings from our writers – your favorite helpers with writing and studies. We want to share them with you and say thanks for their warm words and creative greetings. As well for their devotion to our company and providing top-notch assistance to the customers.
Happy 10 years anniversary, EssayShark!
academiashredder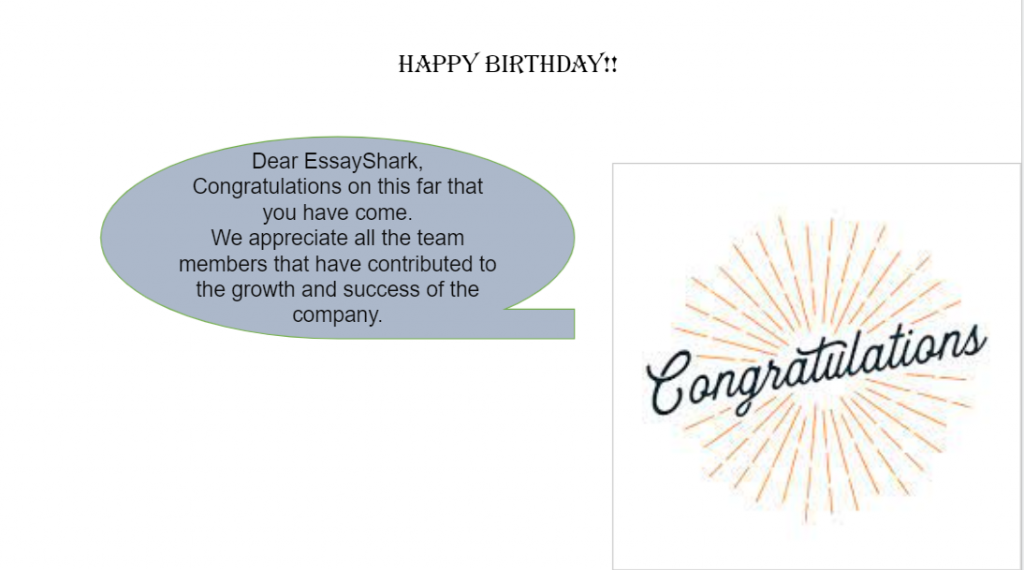 CoralineSn
Exact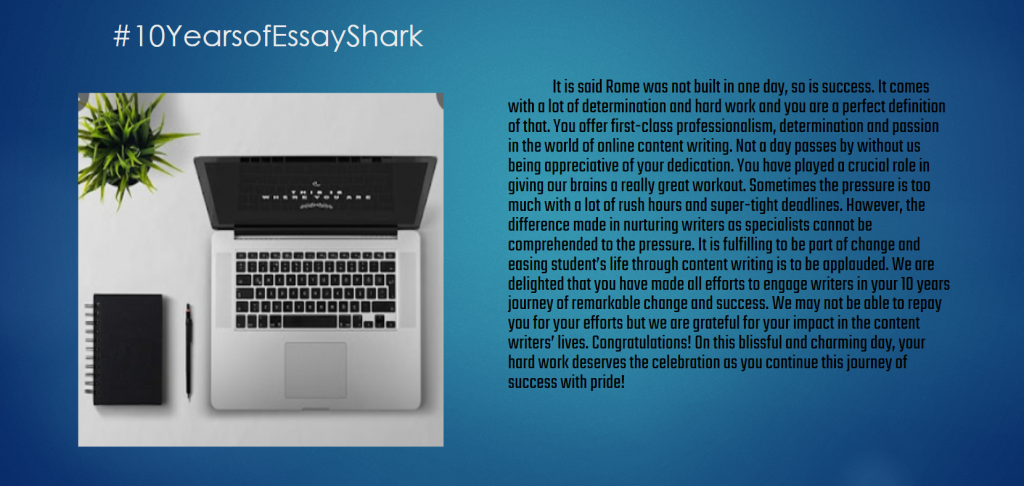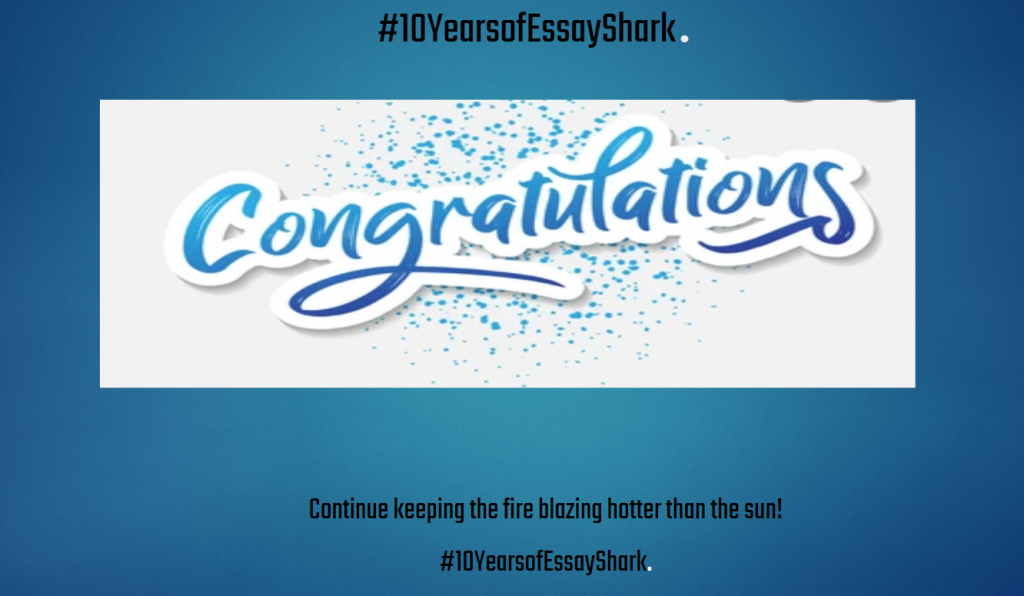 FairyLights
A Poetic Entry for EssaySharks' 10-Year Anniversary
10 years of writing, editing, and the works,
of academic refinement, and of literary quirks..
10 Shout-Outs to scholars brought together by words,
and to our coolest, friendliest, most out-there nerds!
gkmnbvdser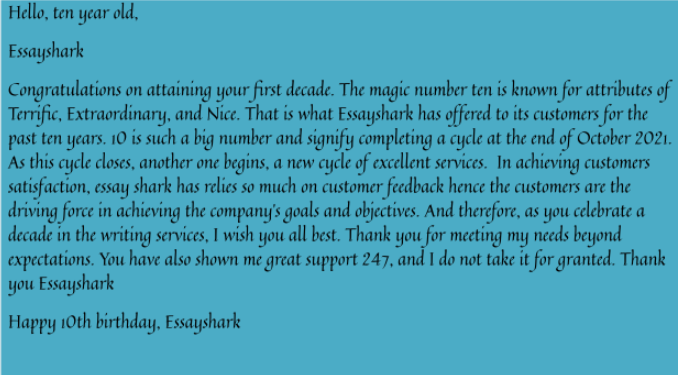 Helena2075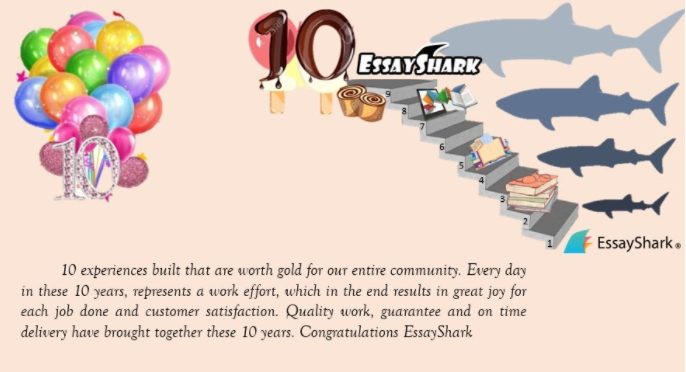 jaysunshine90
Ten Reasons to Love EssayShark
Let's start with number 1,
Trust us with your paper, we will get it done,
You'll love number 2,
We will finish writing before your paper's due,
3 is for the best,
Give us the instructions, we will do the rest,
Sing with me on 4,
Your satisfaction is what is at our core,
And here's number 5,
Quality and timeliness are what makes us thrive,
Gratitude for 6,
There is no problem the Support Team cannot fix,
7 makes me smile,
Referencing for papers? We know every style,
Hurray for number 8,
Drop us a message, we won't make you wait,
Let's hear it for 9,
Our unique work, really makes us shine,
10 is here at last,
Happy Birthday EssayShark, a fantastic decade passed!
Oriental687
I feel great working with an esteemed company such as Essay Shark. For the few months I have been here since I got the privilege to be accepted as a writer, I have always been in high spirits. The large numbers of available orders at any given time are a clear indication of Essay Shark's excellent reputation. Invariably, I feel very proud in being a part of the Essay Shark family.
On its 10th Birthday, I wish Essay Shark the very best in the future, and total success in its endeavors.
Warm regards,
Mohd Gulzar Joiya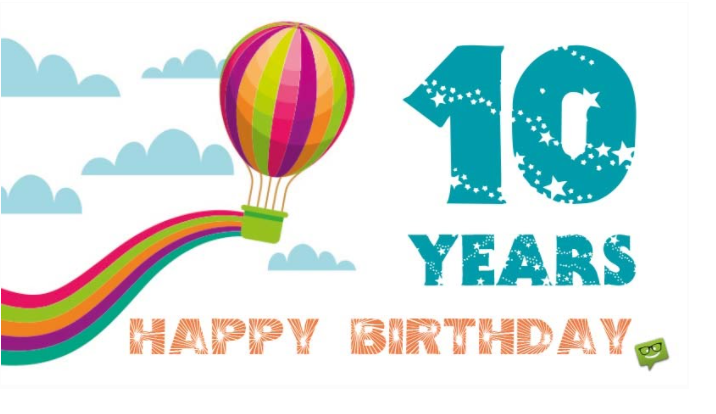 Persson
Happy 10!
I am informed that EssayShark is celebrating its 10th anniversary on October. Congratulations on reaching this milestone with great success. For the 10 years you have been operating, you have helped clients to get quality services. EssayShark has the best reputation because of the services it provides to clients. The support team is always ready to help anyone who encounters issues at any time. It has been my pleasure working with you throughout this period and I am hoping to continue being part of the team for the next years.
Good luck to the EssayShark team!
PhDConsult
Only half get past their 5th,
And only one in three see their 10th,
At least that's what the stats tell with vigor,
But yours is a tale even numbers can't figure.
For there is hope, sweat, tears, and joy of triumph.
Ever the guiding hand since your baby steps,
Through last minute task sprints
And month-long marathons of projects,
Your journey has been ours too.
A dependable guide through the lonely midnights.
All starred generals chasing the mastery of every word,
The pen truly is mightier than the sword.
And every paper a battle for the elusive 10-star.
10,000 hours it takes to be an expert
With 10 years you are a grandmaster.
Congratulations your birthday, may this victory be tenfold.
Make merry today, for tomorrow the adventure resumes.
PurpleViolet16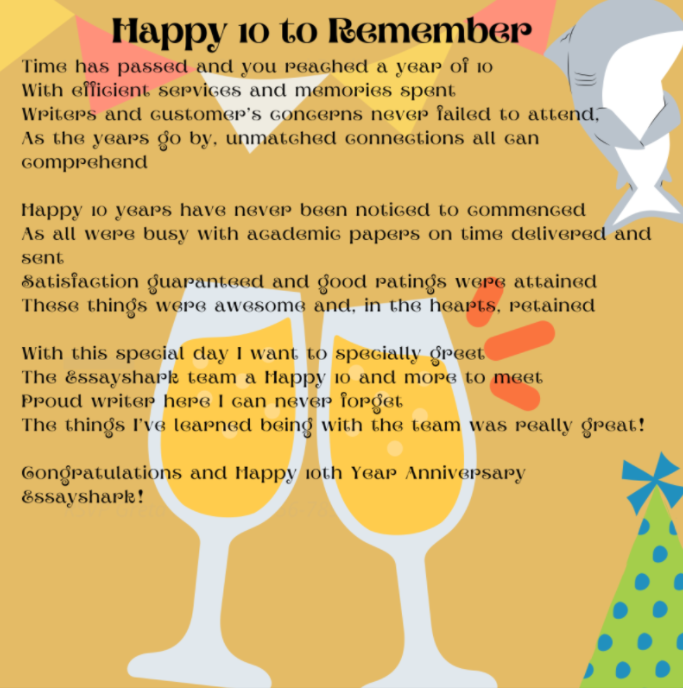 RM013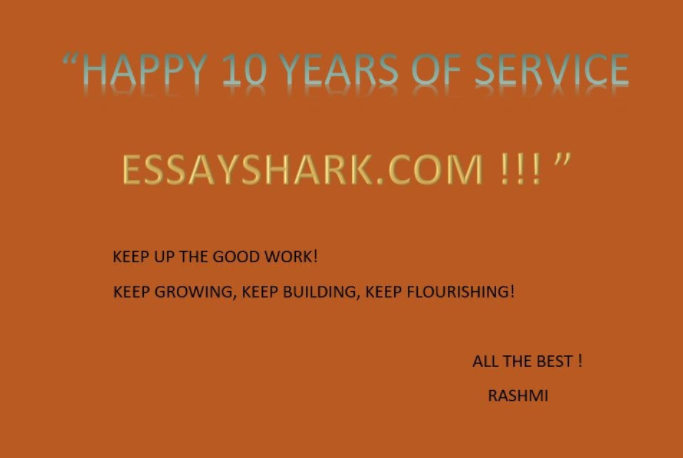 techpro12
Warmest congratulations to the entire EssayShark fraternity for marking such an incredible milestone. 10 years in the service industry is quite an achievement worth celebrating. The company's success is a manifestation of diligence, commitment, and a strong focus on the mission and vision. As a "young" member, I feel at home and in the right hands to continue soaring to greater heights. I feel honored to start a new chapter with the entire team as we focus on maintaining the principles that bring us together and build us stronger. Congratulations!
Toshiba321
A HAPPY 10!
On this anniversary,
Enjoy the moment and bliss,
That comes with the many opportunities you have created for people,
For being constantly present to support us,
And so lovingly and firmly correct our mistakes,
Enjoy more precious memories of growth.
May the journey and joy of success continue to flow with you,
For sharing an income generating opportunity for people,
Is a sure sign of compassion and concern for the team,
In all your endeavors,
We are hopeful that success shall be your eternal portion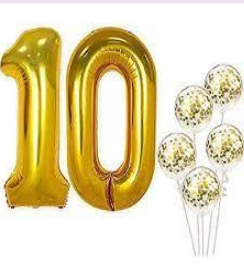 The hard work and support from the mentoring department,
And the communal vision to a common goal,
Is such a significant undertaking to the solid 10,
And more uncountable candles that are yet to be blown.
It's the super and long awaited tenth anniversary,
A long term period of oh so awaited growth,
The accountability of time,
The blood, sweat, and tears that have seen this growth,
Is the reason for this celebration.
It's been an honor to be part of the team.
To be present to celebrate this happy tenth,
And to witness more years of growth and progress,
Working with you can be nothing less than the best worth,
To time that can be experienced by anyone.
This tenth anniversary,
Is an opportunity to look back at the immense growth,
A chance to enjoy the memories of yesterday,
And the time to restructure and create more hope for the future
May this celebration be a chance to be filled with nothing but joy from the past,
And hope for the future,
Congratulations on this milestone,
And cheers to many more!
WonderWriter
Me and EssayShark – Our Story
2014, I still remember that dreadful past
I was sick of my boss as he loaded us with
The target of writing 3000 words a day
Forgetting the depths, he only cared about the width
I had a heated conversation with him
Where he said quantity was all he wanted
I listened to him and calmly stepped out
I wrote a bunch of gibberish and submitted
The next day he called me in his cubicle
In a raging voice, he asked, "What is this?"
I explained that I met the word count target,
"That's what you wanted Sir, now would you excuse me please?"
Next followed a series of arguments;
Where I said writing is an art
My boss said anyone can write
The war was declared, it was just the start
I decided to start writing on my own
I desperately looked for a freelance work
Continued working for my boss
And kept my search in lurk
I so wanted to be my boss
My sole intention was to find peace of mind
I knew I was a dedicated worker
I just needed a job where I could work and unwind
After searching for some time, I found Essayshark
It was exactly what I was looking for
A given deadline, some rules to follow
That's all they wanted, no constant supervision anymore
The first order was hard to fetch
And then suddenly, my plate was overflowing
I resigned from the full-time job
Then I focused on Essayshark, kept it going
Seven years have passed, now Essayshark has turned 10
The opportunity made me self-sufficient
I will always be grateful for that, without them,
I would have never tasted the satisfaction of being self-reliant
I wish the entire family of Essayshark
A pleasant journey to the height of success
May you keep being the savior for people like me
May you flourish and celebrate several birthdays
Photo by Adi Goldstein from Unsplash