21 Top AI Content Detector Tools: Free and Paid

New alternatives to the popular ChatGPT emerge with phenomenal speed. More and more people are using AI to generate content for their blogs, websites, assignments, etc. At first sight, these AI tools seem to be useful and practical. However, AI-generated content can easily damage your academic performance, personal brand, and prospering business. That is why there are so many AI writing detector tools. In this article, we will analyze the top AI detection writing tools and explore their functionality.
Why Do We Need AI Content Detection Tools?
Let's take a closer look at the ways in which artificial content can be harmful. First, we need to state the obvious facts: AI-generated content often lacks creativity and originality. It can't enrich texts with your personality and unique perspective. All it does is analyze the existing articles and present a general overview. While this function can be excellent for research studies, you can't use it to create impressive and non-trivial literary pieces. Moreover, you can't rely on the facts and figures AI tools include in their answers as this information is often inaccurate.
Reading an article with incorrect data and no unique perspectives on issues is not at all valuable to human readers. When you publish such an article somewhere online, Google and other search engines will not rank it highly. Similarly, an essay generated with the help of popular AI tools will never compare to an essay written by a real expert.
How Can AI Detecting Help You?
Unfortunately, these tools can't fact-check AI content. You will need to double-check the generated information by yourself. However, some of the tools can help you avoid plagiarism issues. On top of that, many of the reviewed tools highlight AI sentences for you to rewrite them. Remember that teachers can also use detectors to check if some parts of your assignments are AI-generated. AI detectors will definitely help you avoid penalties from teachers. Also, you have one more reason to rely on your creativity and unique perspective when doing writing assignments.
To test the most popular AI writing detector tools, we generated a short text with the help of ChatGPT. Upon our request, it wrote a text that most of the AI content detection tools would recognize as created by a human. Here's a fragment of the text:

Therefore, all of the reviewed tools have the same input content. Here are the results of our research study.
Best AI Writing Detectors 2023
#1 Writer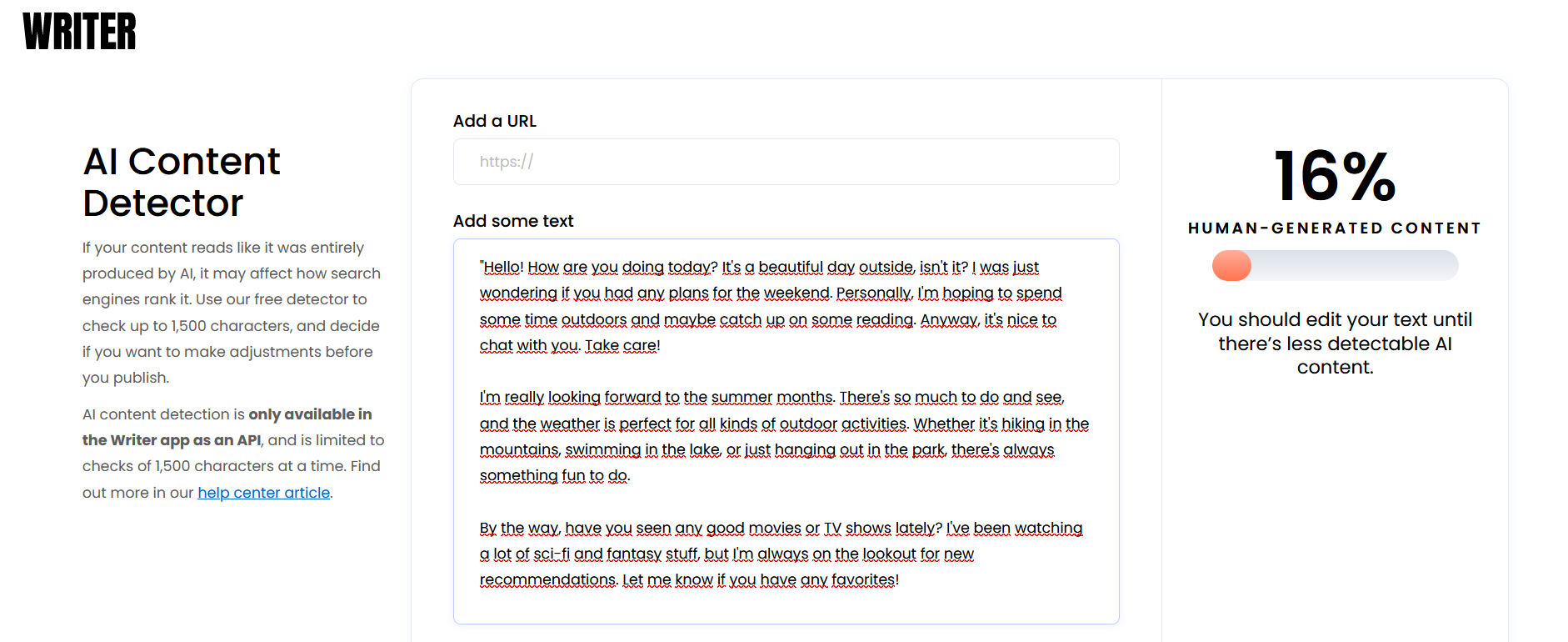 It is a simple-to-use tool with a robust business-oriented positioning model. It combines many useful functions like an AI content generator, AI content detector, free grammar checker, and a style guide to help clients create consistent content. To check your text, you just need to paste it and push the "Analyze text" button or enter the page link you want to analyze. It is a free AI content detector.
Pros
High accuracy in detecting the content generated by GPT-3 and ChatGPT
Availability of multiple other writing tools
Availability of the add-on for Chrome Browser
Cons
The number of words you can analyze with this tool is limited to 350 (or 1,500 characters)
It does not show you the specific parts of the text that it recognizes as created by AI; it only shows the overall percentage
#2 Grover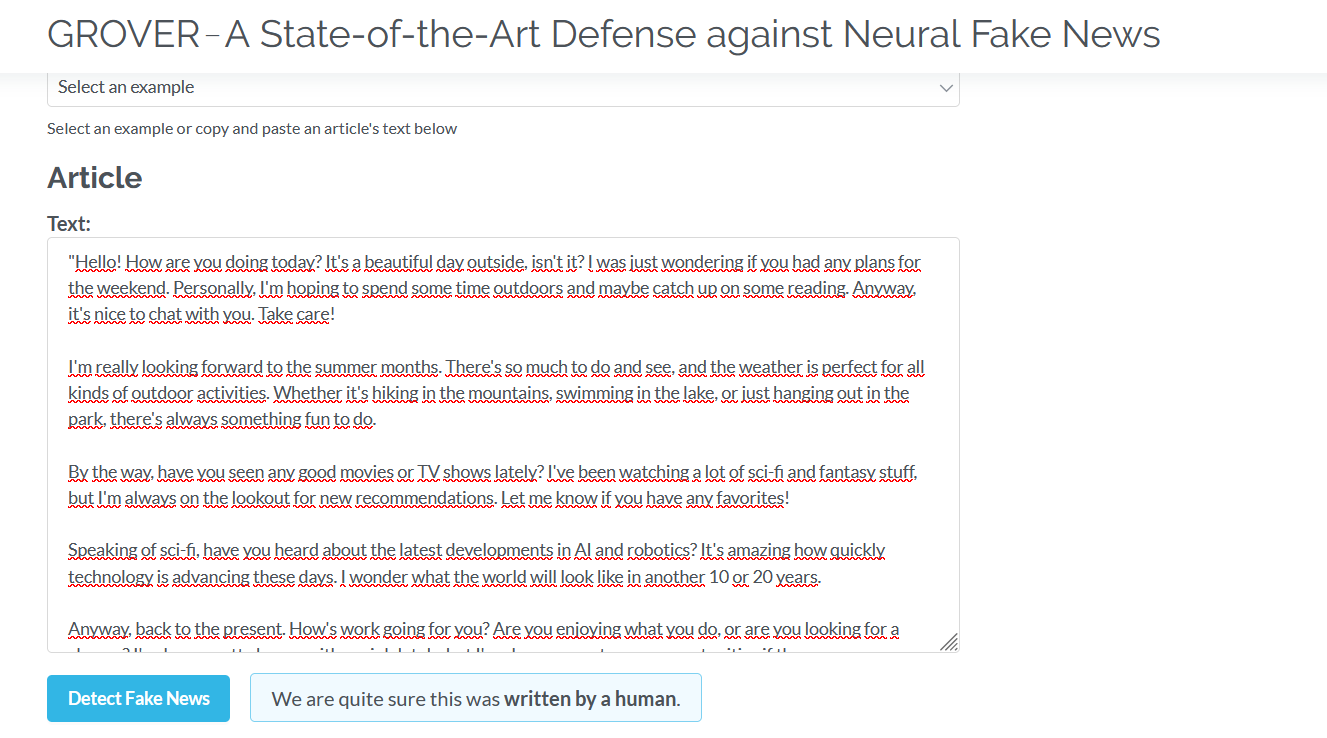 Grover is a new system developed by computer scientists from the University of Washington and Allen Institute for AI (AI2). It is exceptionally proficient in writing convincing fake news on many topics and styles – and, as a result, it is also very good at detecting it. With its advanced algorithms, this AI text detector can quickly identify fabricated stories that may have previously gone unnoticed.
Pros
Perfect for the detection of fake news
Uses simple algorithms of detection that do not require many actions from a user to input
Cons
Accuracy needs to be improved
Shows only a general result – if the text is written by AI or not
#3 Smodin
It is an all-in-one tool that helps you generate content, rewrite it, check it for plagiarism, and analyze it to detect AI writing. To use it for free, you need to register. You will get three free credits per day and can use them any way you want. The free option allows you to analyze texts that are no longer than 5,000 characters. To increase this number to 50,000 characters, you will need to choose the "Essentials" plan, which will cost you $10 per month.
Pros
You can see all the sentences classified as AI-generated ones
Availability to check tone and style consistency
Numerous additional options to use
Cons
5,000 character limitation
Fee-based monthly plans
#4 Copyleaks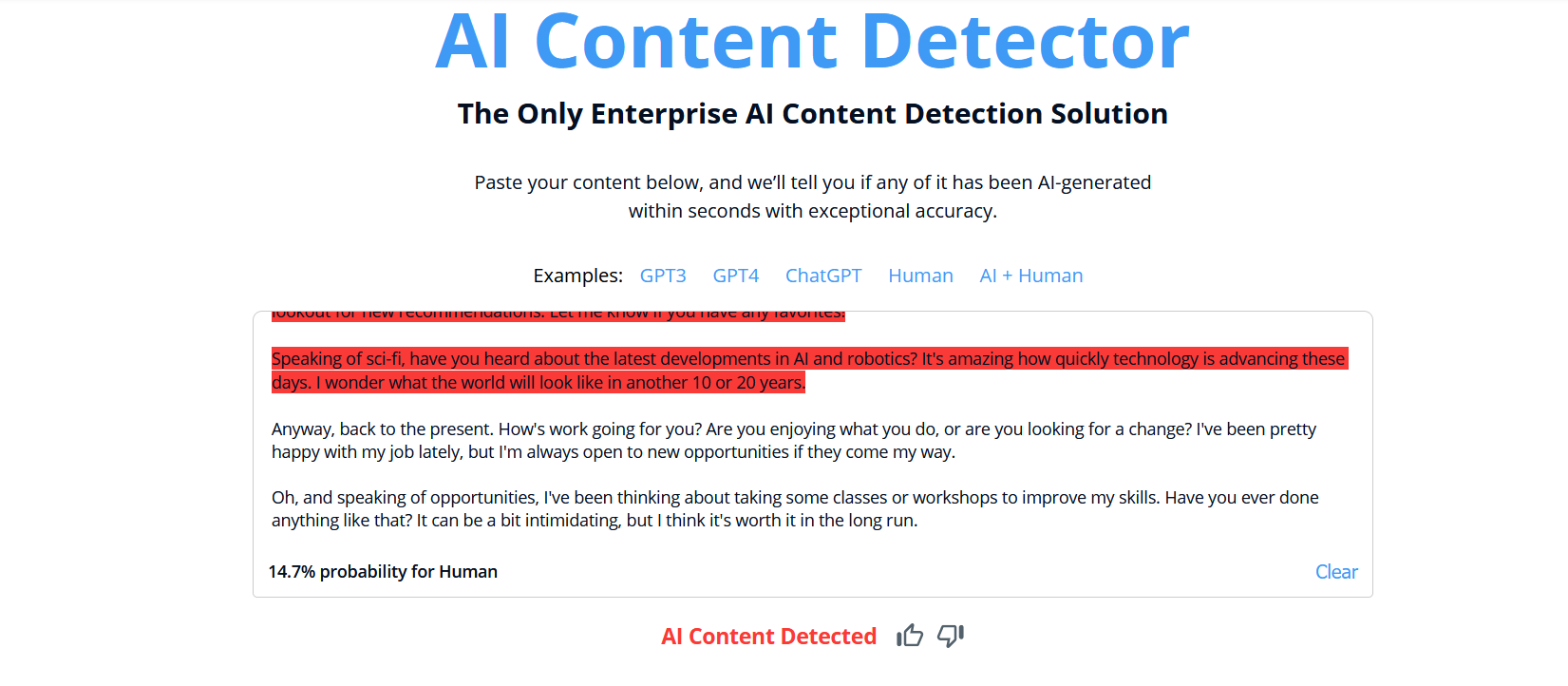 This AI detection tool promises you 99% accuracy. However, it made some mistakes in falsely recognizing human-created content as AI-generated. Overall, it is a fast and easy-to-use tool that presents results in the blink of an eye.
Pros
Easy to use
You can use it for free
Shows an overall percentage of AI-generated content and a specific percentage for different parts of the text
Has a Chrome extension
Cons
Needs accuracy improvements
#5 TraceGPT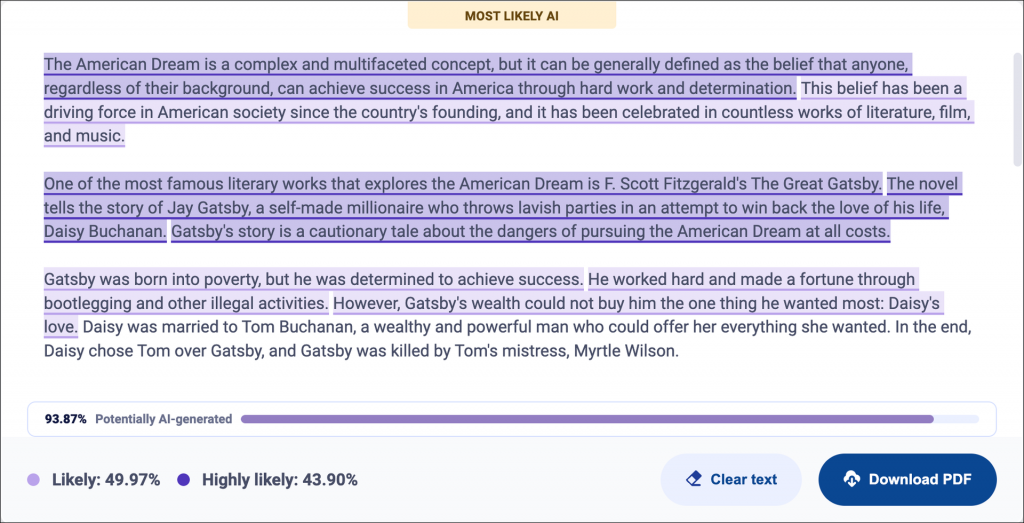 TraceGPT is an accurate AI content detector that analyzes various parameters to detect AI content from ChatGPT, Google Bard and different AI bots. Provides user-friendly results, minimising false positive, when a human text is recognized as AI text.
Pros
97% accuracy
Saves texts from being leaked or reused
Download a pdf report
Cons
#6 Sapling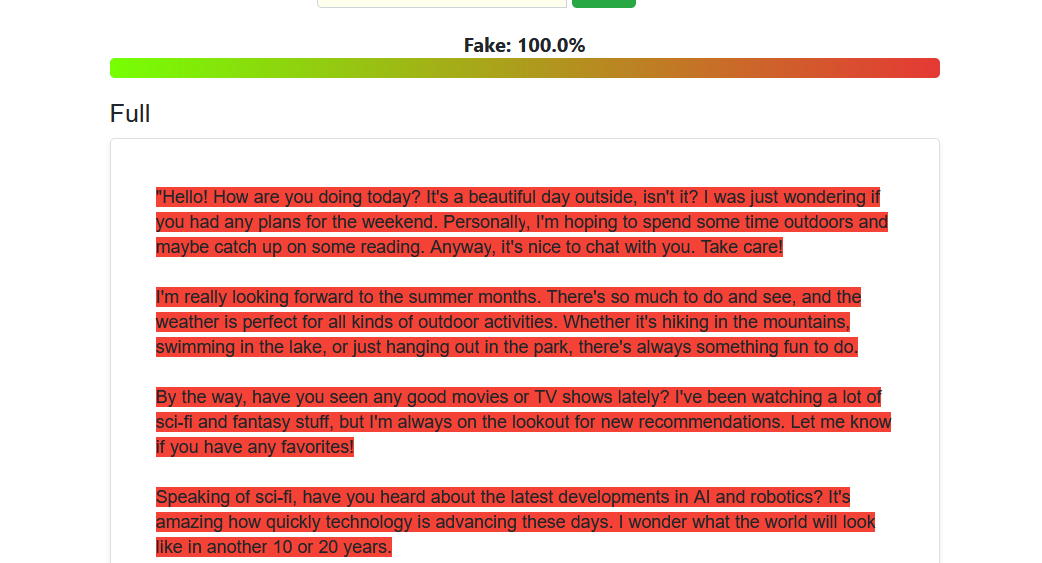 It is another AI content checker with high speed and a simple interface. You simply need to paste the text you want to examine to get a thorough analysis of its origin. The level of accuracy is high, as our fake text was recognized as AI-generated. The tool currently has 2,000 characters limitations for its free version. If you become a Pro subscriber, you will be able to check up to 8,000 characters.
Pros
Shows a detailed analysis of the text, marking all the artificially created sentences
Easy to use
Has different browsers, Outlook, Word, and Google Docs add-ons
Cons
Can unexpectedly collapse while processing your text
2,000 characters restriction
#7 Kazan SEO

The tool offers many services for your convenience in addition to its AI writer detector including: text extractor, content optimizer, bulk detector, keyword clustering, etc. It will help you analyze massive data sets in no time, which makes it perfect for SEO specialists.
Pros
Works fast
Easy and free to use
Great for massive pieces of content and numerous links analysis
Cons
Does not show which sentences are AI-generated
Needs better accuracy
#8 Crossplag

This AI text checker uses machine learning algorithms and natural language processing techniques to detect the origin of content. Even though it is free to use for the general public, you should be aware that it's the early version of the tool. The developers state that it is intended mainly for illustration purposes. Therefore, you should not rely solely on Crossplag when checking your articles.
Pros
Works fast
Free to use
Team of developers works on its improvement
Cons
Only shows an overall percentage of the artificially created content
Presence of bugs
Need for accuracy improvement
#9 GPTZero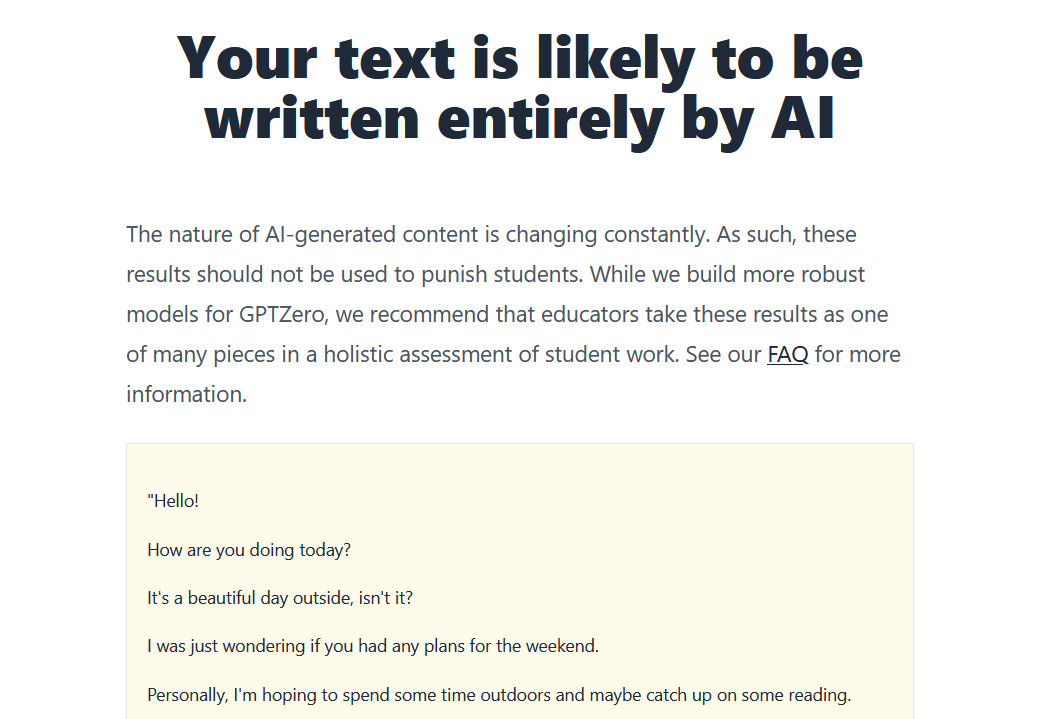 It is one of the most popular AI-generated text detector tools so far and has over a million users. It is a great tool for students and teachers as it is easy to upload multiple files or paste a short text in the corresponding field.
Pros
Highlights the sentences that are likely to be developed by AI
Provides additional statistics on perplexity and burstiness
Free to use
Cons
Only 5,000 characters are available for check for free
Analyzes only English-written texts
#10 Hugging Face

This AI checker GPT tool is a bit outdated already, as it can detect only the content generated by GPT-2 version. However, it is quite accurate. Just make sure to double-check your texts elsewhere to avoid misrepresentation of your content. As you can see, the tool made a false assumption that our ChatGPT-generated text is 44% real – meaning written by a human.
Pros
Free to use
User-friendly interface
Cons
Needs accuracy improvement as it is able to identify only GPT-2 generated content
Shows only general score without highlighting the sentences that need rewriting
Takes up to 10 seconds to analyze a short text
#11 GLTR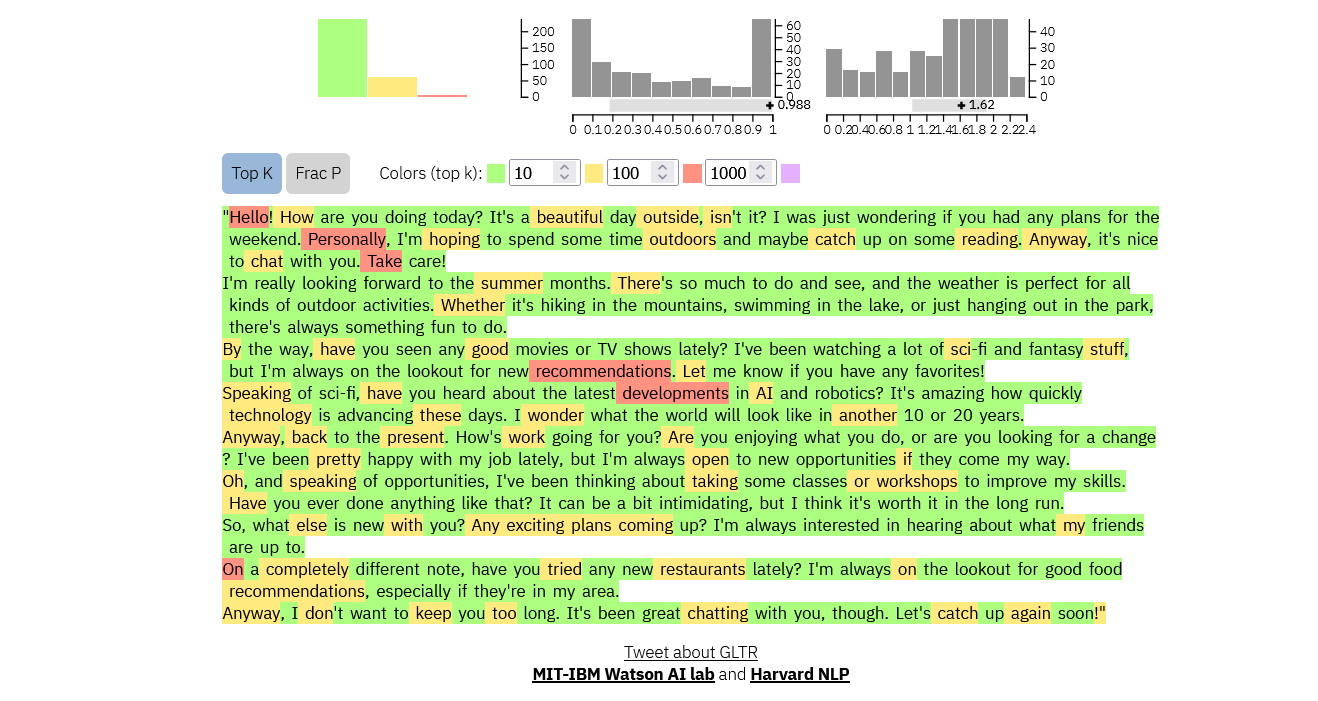 It is one of the early versions of AI writing checker tools and, therefore, can successfully analyze GPT-2 texts. It has a very interesting algorithm for processing input texts. It analyzes the predictiveness of using every word after the word to the left. The green color here means that the actual word used is in the top 10 predicted ones. Carefully read the explanation on the website to understand the result you get. As our test text analysis shows, there is a high probability of the sample text being AI-generated.
Pros
Perfect for scientific publications analysis
Quite accurate for analyzing early versions of ChatGPT
Visually presented results
Multiple metrics
Cons
It might be difficult to understand and interpret the results
Outdated tool
#12 GPTradar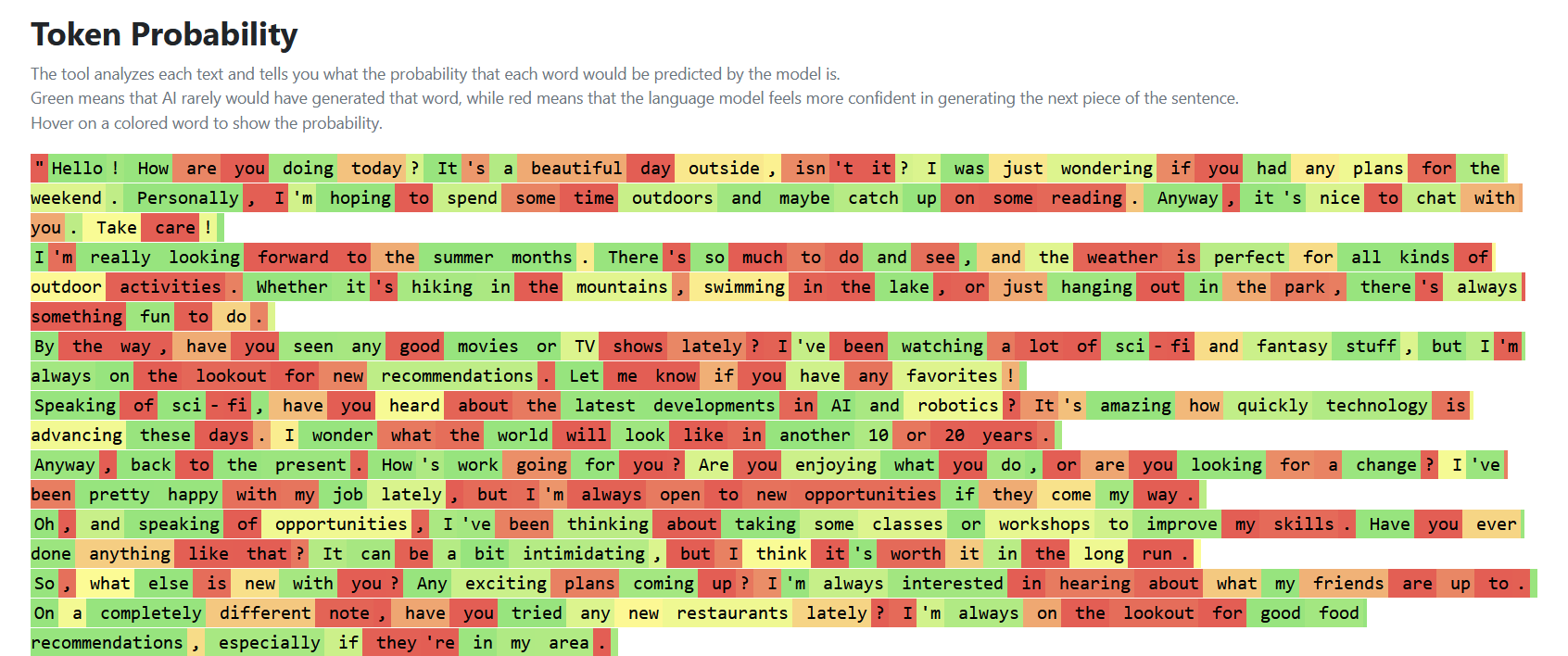 Its creators used GPT-3-generated texts to train GPTradar. Therefore, it should be a reliable tool to bring up any content to Google's standards. However, its accuracy can use some improvement as it recognizes our test text as human-written. The tool has a reasonable pricing of $0.02 per credit, where one credit equals approximately 125 words.
Pros
Visually delivered results
Detailed presentation of results
Cons
Needs accuracy improvement
It can be confusing for new users to understand the results
#13 AI Detector Pro

The only disadvantage of this AI writer checker tool is that it can analyze only short texts up to 200 words. In every other aspect, it is an effective helper. You can free your content from artificially created parts by GPT-3 and GPT-2.
Pros
Fast text processing
Offers a detailed analysis
Presents visually-based results
Free to use
Cons
Up to 200 words per one analysis limitation
#14 Winston AI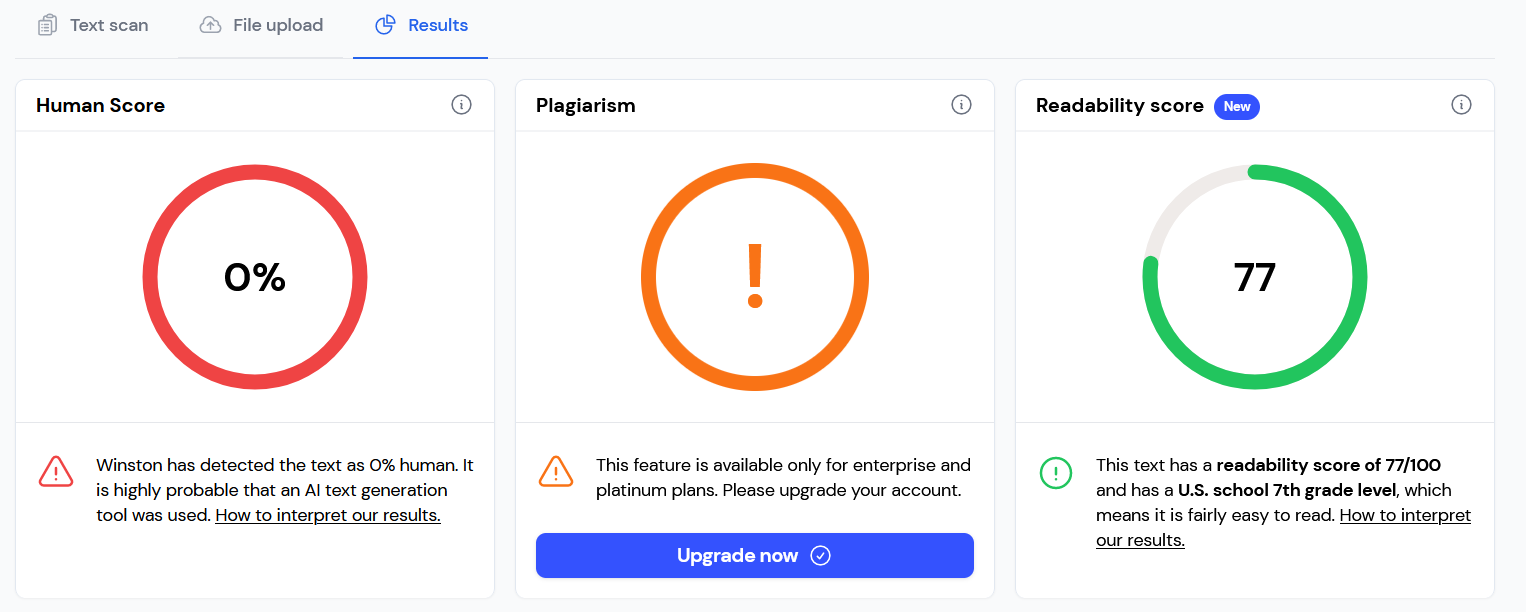 It is one of the recently developed AI detection writing tools and, therefore, is more accurate than many older versions of similar tools. The developers trained Winston AI using GPT-3, ChatGPT, Jasper, Copy AI, and other modern AI models. It is the only tool with optical character recognition so far. You can get access to multiple tools by choosing one of the upgraded plans (e.g., Growth for $14 per month).
Pros
Shows a detailed sentence-per-sentence analysis
Can extract and analyze texts from scanned docs and handwritten notes
Offers printable PDF reports
Cons
Plagiarism checking is a fee-based feature
3,500 words scan limitation
Might need accuracy improvement soon
#15 Content at Scale

It is a relatively new AI content detector that works great with texts generated via GPT-3 and ChatGPT. It is also a great tool for creating content. This platform combines three AI engines, Natural Language Processing (NLP), and semantic analysis algorithms to create the kind of content that other detectors cannot mark as AI-generated.
Pros
Gives a detailed analysis of texts with a sentence-by-sentence breakdown
Provides additional statistics
Completely free to use
Limit of 25,000 characters which is more than other free detectors allow
Cons
Has lower accuracy than some of the paid tools
#16 OpenAI Text Classifier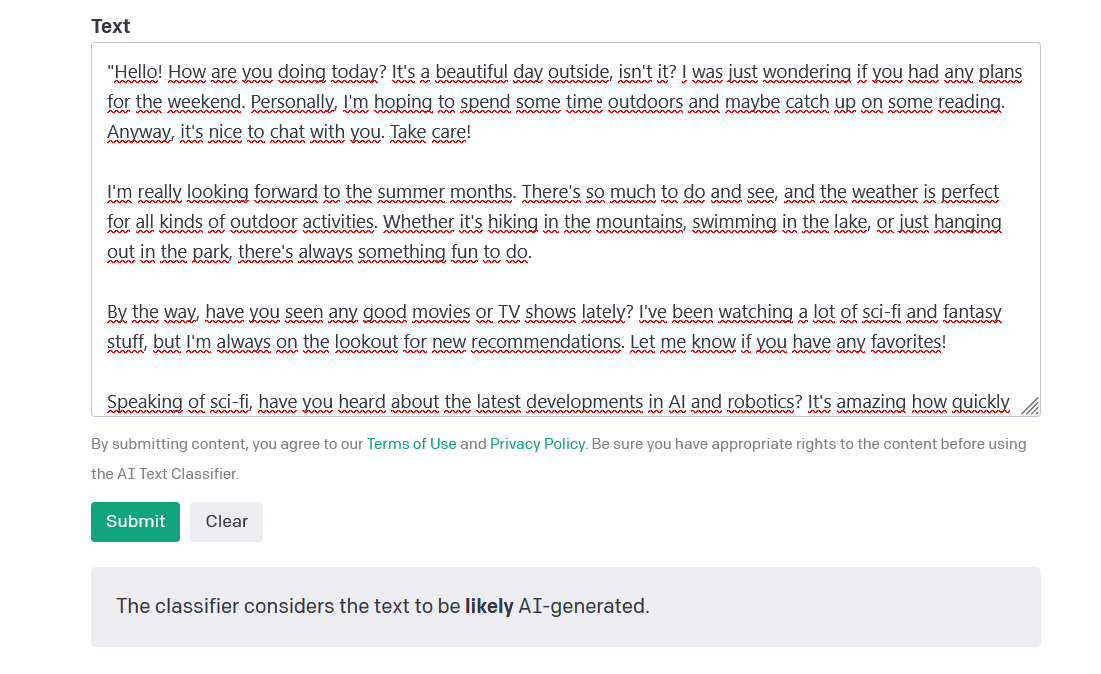 It would be logical for the most popular AI content generator to have an effective AI text detector. However, this tool has so far failed to show impressive results. Just like it is in the case of using ChatGPT, you need an account to start analyzing texts. All you get after the analysis is a sentence that reads: "The classifier considers the text to be likely AI-generated."
Pros
Free to use; you just need to create an account
No word number limitations
Cons
Accuracy issues
Requires a minimum of 150 words to start the analysis
Presents only an overall score without giving any explanations
No plagiarism check is available
#17 ZeroGPT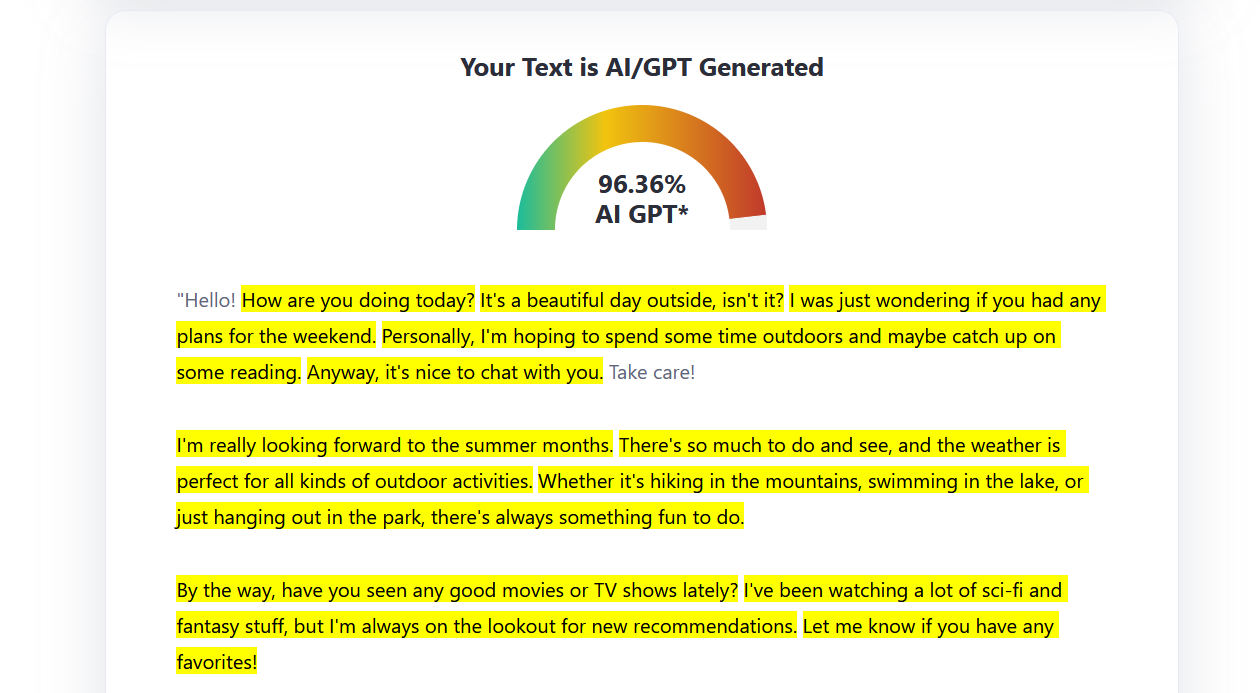 It is another free AI essay detector with no limits as to the number of words you can input. Therefore, it is a nice option for students. Nevertheless, students might still hire an essay writer to make sure their assignments are plagiarism-free and meet the requirements of academic writing. Even though the algorithm promises an accuracy rate of over 98%, it can still use some improvement. It often classifies human-created content as artificially generated.
Pros
Highlights the sentences that are most likely AI-generated
Free to use
No word number limitations
Cons
Does not give you any additional information about the analyzed text
No plagiarism detection
#18 Corrector AI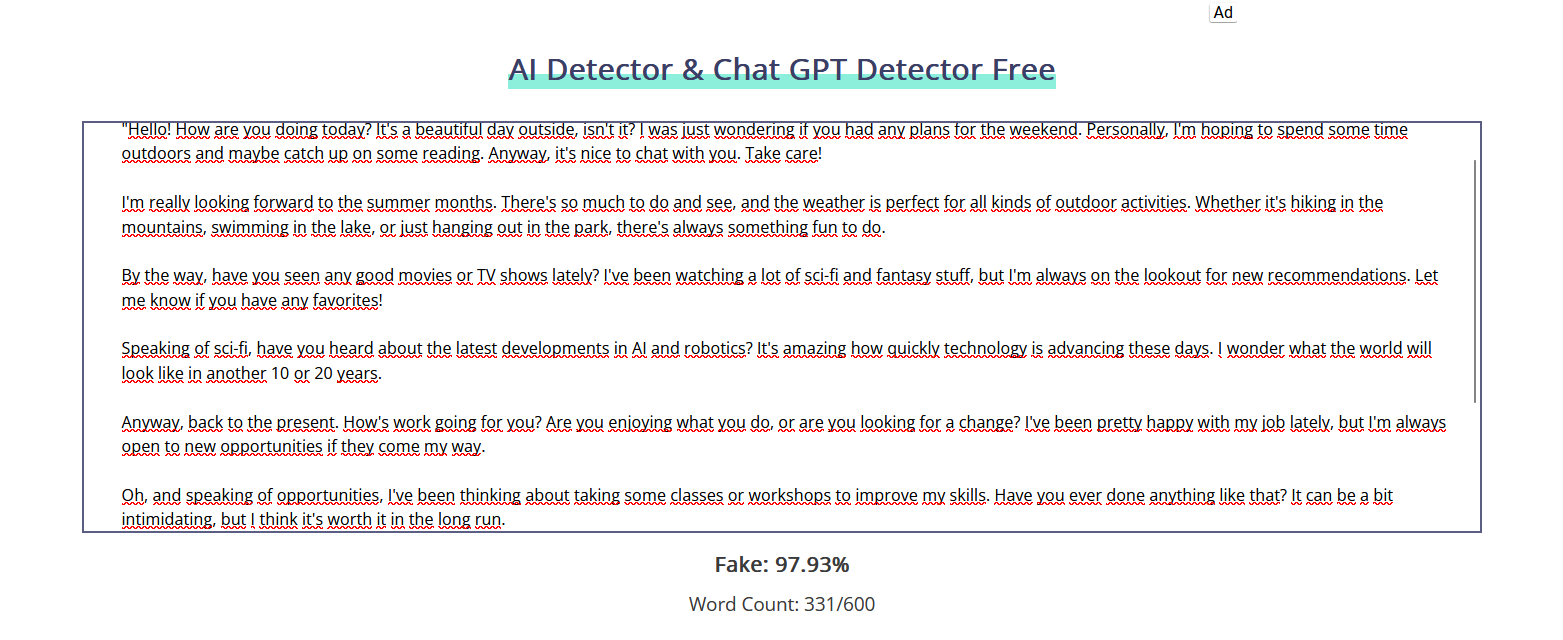 This free AI detection tool works fast but presents only a general analysis of texts. You will not get any details or highlighted sentences. You will need to request a demo version to get a more detailed overview.
Pros
Free to use
Relatively high accuracy
Cons
600-word count limit
No detailed analysis, just a percentage score
No plagiarism check
#19 Writefull GPT Detector

It is another AI essay detector that is great for students to check their assignments as there is no word count limit. However, you still might need to turn to a reliable essay writing service to check your piece for plagiarism and get editing tips from experts.
Pros
Free to use
Many additional services like title generator, paraphraser, and abstract generator
No word count limits
Cons
No detailed analysis
No plagiarism check
#20 Hive Moderation AI-Generated Content Detection

The detector has an impressive accuracy level and works fast. You can also see the score percentage of every input text segment. It is an effective platform to use for quick checks, although you will need to create an account to use it regularly.
Pros
High accuracy
Free to use
Shows a score percentage by text segments
Cons
Maximum of 8192 characters
Sign-in request after several uses
No plagiarism check
No detailed analysis
#21 Paraphrasing Tool AI Content Detector

As you might have guessed from the name of the tool, it helps you rephrase sentences that do not sound human-written. You will see highlighted sentences that need rewriting to bypass AI detection. You can either do it yourself or create an account and let the tool do it for you.
Pros
Free to use
Highlights the likely AI-generated sentences
High accuracy
Cons
No detailed analysis
No plagiarism features
#22 AI Writing Check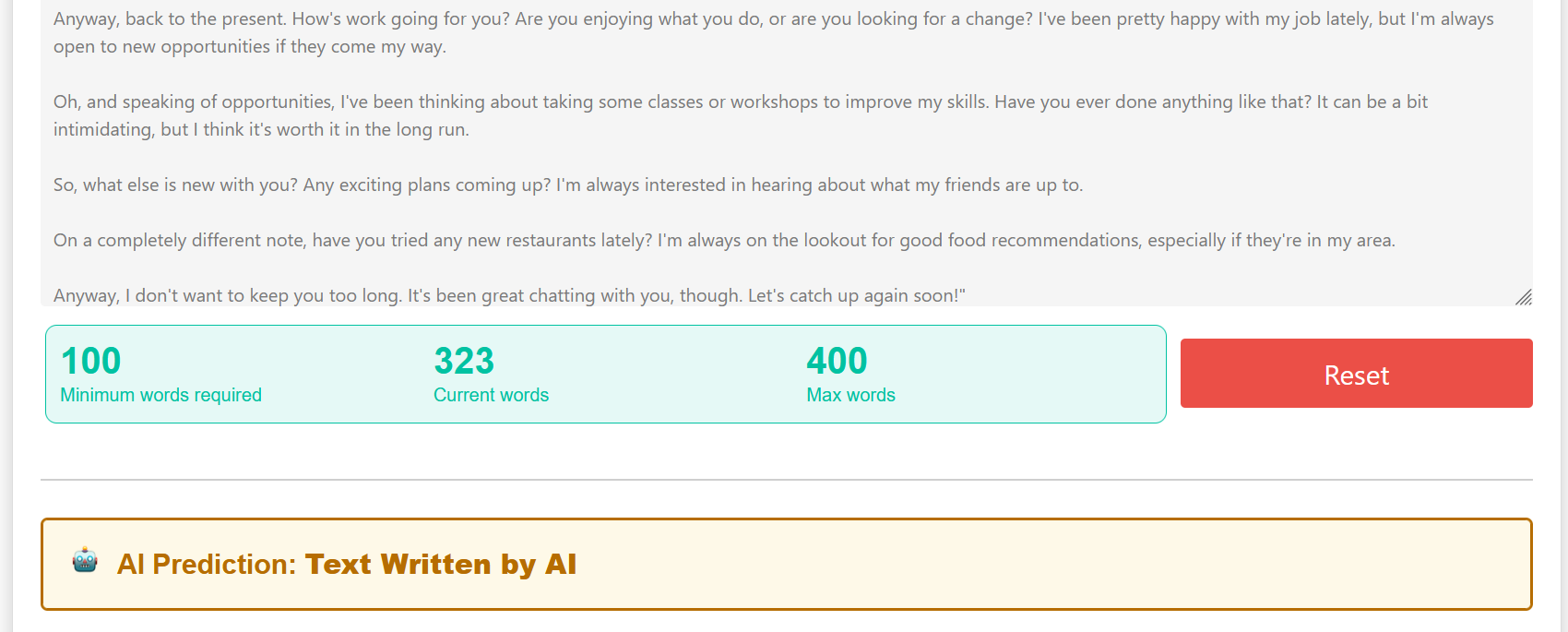 Another quite accurate free AI content detector that has a word count limit. It does not highlight AI-generated sentences or provide additional statistics. It is just a simple and fast tool to use.
Pros
Cons
Maximum of 400 words
No plagiarism check
No detailed analysis
Summing Up
As you can see, for now, AI text checker tools have many limitations and accuracy issues. Still, they help detect artificial content and can aid you in adding a human touch to every piece you write. You can use ChatGPT and similar tools to do academic assignments faster. You can create an outline or get a list of helpful resources for your research. However, copying and pasting the generated paragraphs to your essays is probably a bad idea. The goal of any assignment you submit is not only to make it look human-created but to make it have your unique viewpoint.
It is hard to say if AI tools will someday reach the level of human writing. But you can use some of the mentioned resources to improve the quality of your content. Subscribe to some of them to get the latest updates and be the first to try out new features. Undoubtedly, it is one of the fastest developing segments of the IT environment today.
FAQs on AI Content Detector Tools
What are the limitations of AI writing detector tools?
Most of the tools are unable to show you the sources of information in order for you to verify the accuracy of facts and figures. Therefore, it may lead to plagiarized content that can get you into trouble. Naturally, AI-generated content is far from perfect right now. However, it is often challenging for AI writing detector tools to differentiate artificially created content from human-written. That is why they often mark entire passages as AI-generated even if you wrote portions of a text yourself. In most cases, the accuracy also needs to be improved. There are only a few fee-based AI writing detectors that are relatively good at drawing the line between artificial and natural content.
Is it possible for Turnitin to spot AI-generated paragraphs?
Turnitin has always been a tool that urges students to work harder on their assignments. With the emerging popularity of AI content tools, it was predictable that a tool like Turnitin Originality would appear. Its algorithms have AI-detecting capabilities. A workaround however, is to turn to a writing service with your "help me write my essay" request. Then, you will get original content that has no plagiarism issues. Also, you will save time when collaborating with talented experts.
What factors does the accuracy of an AI text detector depend on?
The main factor is predictability. Many of the reviewed tools use this logic while making an analysis of your texts. They analyze how predictable every word used in a sentence is. If it's too predictable, the chances are it is AI-generated. Even though the generated text may sound natural, it does not mean it is. Similarly, if you write a boring and excessively predictable piece, the tools will mark it as artificial. Thus, you have a new reason to be spontaneous and unpredictable in your articles and other literary pieces. Just ensure that these improvised passages are somehow relevant to the topic of your assignment. As you can see from our overview, some tools are more accurate than others.
What is the algorithm of AI detection?
You might have noticed that many generated texts have repetitive ideas in them, even though they might be written with different words. That's the way AI content generators work. They process texts relevant to your inquiry and spit out the key points. The detection process includes finding these repetitive fragments. Also, you will find many writing techniques in human writing, while AI language models use standard boring text as a guideline. You will not find sarcasm or irony in artificially created texts, for example. These elements are still based on human initiative. A human can make a mistake or a typo, but a machine will never do that. Of course, it does not mean that you should write with mistakes. But it does reveal whether a piece is more likely to have been written by a person.
Main photo by Steve Johnson from Unsplash