A Quick-Start Guide on How to Write a Term Paper

Writing a term paper may be a hard task. We don't want to sugarcoat it. Creating term papers and other academic papers can be frustrating, and cause worries who can write my term paper. There is a learning curve and you may not be pleased with your first paper.
In the article below you will find recommendations and detailed tips on how to write a term paper. In addition, you will find out what term paper format looks like, and an excerpt of a written term paper sample.
What is a term paper
A term paper is an academic paper that can take the form of a report or research paper. Typically it is assigned at school, college, and university at the end of the term. The term paper has a great value in the final score for the subject.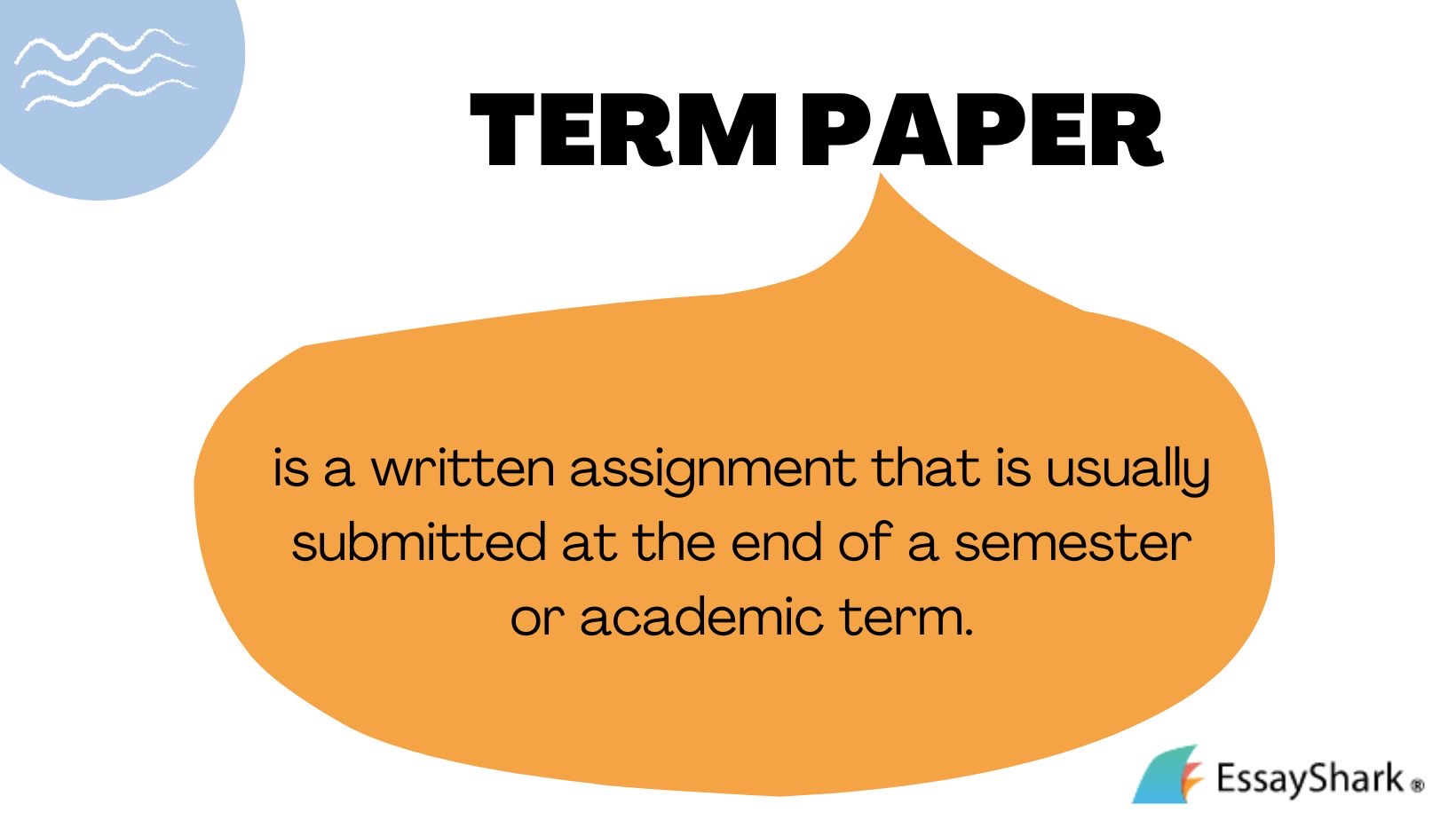 Every course typically has various requirements for writing a term paper. In the following guide we offer a standard approach and elements to writing a term paper.
Typical term paper format
Before we get too deep into how to start a term paper and how to find the best topic for it, here is the typical format of term paper.
Structure matters. All well-written academic papers have a clear structure, as it helps the reader easily absorb information from the text. Also, a good structure will help you not to get lost in the variety of information and write a concise paper. Let's look at the format below.
Title page. This page usually contains the title, name of the student, course and code, instructor's name, and the date.
Abstract (optional). The abstract is a short summary of the main ideas, theoretical approaches, and findings you are going to highlight in the paper.
Table of contents. This section is needed for easy navigation between the paper sections. Generally includes headings of every section and page numbers.
Introduction. This is the opening paragraph that tells the reader basic information about the paper.
Main sections. This part of the paper may consist of several sections, as the topics of term papers are diverse. The parts should follow each other in a logical framework.
Conclusion. The conclusion is the last part that ties the paper up in a logical ending. Here the author needs to restate the main findings and indicate the importance of these findings to the current circumstance.
References. All sources that were used and cited in the paper should be listed in the reference list in alphabetical order.
Appendix (optional). The purpose of the appendix is to provide information that would be distracting in the body of the paper. Typically authors place in the appendix large tables, questionnaires, images, and other documentation and materials.
Also, you can add a list of figures, tables, or abbreviations if needed. Some term papers have a lot of information that can't be placed in the text, so it can be attached after the references.
Term paper structure
This example hits all the right paragraphs to create a well-structured term paper. Once you've got the basics down, it's up to you to determine the best way to write the term paper.
Before writing a term paper
If you want to make something great, you need to prepare greatly. As the term paper is usually a longer paper than essays, you will need to make a more detailed plan before writing it.
Carefully read the assignment. To realize what the instructor wants to see from a term paper, just read the instructions attentively, like each essay writer does before writing a paper.
Highlight the keywords. You should have already faced such assignments that begin with: analyze, comment, compare, describe, discuss, etc.
Rewrite the requirements. It may happen that you will skip an important point when briefly skimming over the instructions. Rewrite the assignment directions in your own words and try to keep the same meaning. You can also print the requirements and place them before your eyes.
Point out questions that should be addressed in the paper. On the basis of your assignment you can make a list of questions that should be addressed in the paper.
Conduct research. The research should be aimed at finding a distinct amount of information for the chosen topic. During this stage you need to use these skills: active reading, effective note-taking, and critical thinking.
Find out and analyze the existing information related to the topic. While reading, always keep in mind the sole question. Consider the author's main point and how he or she supports that point. Decide what sources you can use as a basis for your paper.
Make notes as you read and mark the most significant information and quotes that you can use in your paper. Don't forget to mention where you have found the information.
Use mind-mapping, charts, diagrams, and clustering to get more ideas about the topic and gather the main points in one place.
Make an outline. On the basis of the obtained information, you can create a plan. As you can see in our "Term Paper Format" section, you can give titles to each section of your future paper. Also, we recommend you to add topic sentences to each section – this will ease the writing process.
Create a calendar. Divide the paper writing process into several steps and list them in your calendar. Term papers take more than one night to write, so make sure that you have planned enough time for it. You can make a hard copy of the timetable or save it on your computer.

How to pick sources for a term paper
Every builder knows that the foundation is the core part of the building. Without a strong foundation, the building may quickly fall to ruin. The same refers to academic writing. Without reliable sources and information, you will construct a poor paper, and will look for someone to write a term paper for cheap.
On the internet and at the library you may find tons of information related to your topic. How can you pick a reliable source? Imagine that you are Sherlock Holmes and you need to find the truth hidden in the text. You don't need superpowers to learn how to do it.
Use your critical thinking skills while looking through each source. Let's see what you need to pay attention to:
Design and layout. Check whether the source looks professional.
Date. Define whether the information is relevant.
Author. It should be easy to find the author of the source. Think on what you know about the authors and their credentials.
Objectivity. It should be clearly seen that the source was created for an educational or professional purpose. If you notice that the source tries to sell something, skip it.
Writing style. If you have noticed grammar mistakes or typos, there is a high probability that the source is unreliable.
Amount and quality of information. Look how much information is presented in the source and whether it contains graphic information, numbers, a reference list, etc. Broken links and the absence of external links may indicate a poor source.
Suitability for your topic. Think about whether the source meets the limitations of your topic.
Reputation. Check whether the source is non-biased. Use a fact-checking website that uses only authoritative sources.
Tip: Reading general texts from the journals and articles can help you clarify your thoughts at the beginning of your research and deciding what point you can consider on your paper.
 Acceptable sources:
 Unacceptable sources:

Science and educational sources that are based on scientific articles and publications (.edu)
Government statistical data, official research results, etc. (.gov)
Open educational resources (.org)
Scientific books, journals, textbooks, conference recordings, etc.

Wikipedia
YouTube
Personal blogs
Fox News (and other news sources)
Most of the websites with a ".com" domain
Tip: Most search engines use the data from your web browser to sort information according to your preferences. It is also known as a "filter bubble." Delete your browser history and cookies, and tune into the incognito mode to get another list of search results.
When you obtain a certain amount of information, you can create an extended outline. What does it mean? Take your old outline and add any new points that you have found in the sources. Think in what section you can incorporate new facts, examples, quotes, or expert opinions.
Writing the first draft of a term paper
There are many approaches to writing a term paper. The key to success is simple: be prepared before you start. Have a clear purpose, a thesis statement, enough background information, and a clear plan.
1. Write the abstract.
This first section should focus on what your research is about. But the best decision will be writing it after all subsequent sections. Mention major findings in your research so even a person unfamiliar with the topic can read and understand it. Keep it simple and informative.
A good abstract should consist of the following sections:
Intro. State the issue you are addressing in your paper. Explain why the chosen topic is important. What practical, scientific, or theoretic purpose does your research have?
Body. Highlight the major points of the research and what investigating strategy you have chosen. Describe the nature of the results.
Conclusion. Explain how the results can be implicated.
To write an abstract, you need to reread your paper and underline the key statements related to research objectives, methods, results, and conclusions. Copy these sentences and you will receive the first draft of the abstract.
Tip: The abstract should be limited to 120-250 words (depending on assignment instructions).
What is the difference between the introduction and abstract? An abstract presents the essence of the paper: it lists the main points of the paper, including results and conclusions. The introduction provides background information on the topic, gives the proposition (or thesis statement), and outlines key issues that will be discussed in the paper.
2. Write the introduction.
Strong introductions can make it harder to put the paper down. Think about how you can "sell" your paper to the reader. What is the main point of your term paper?
Grab attention. A good introduction starts with an interesting fact, surprising statement, contradiction, or a statement that points out the importance of the topic.
Provide an overview. The introduction should provide a brief description of the issue and state the goal of the paper. Also, it is important to mention how this specific topic meets a broader context.
Write the thesis statement. Tell the reader what you are arguing or what question you are addressing in your paper. Don't announce your intentions.
The introduction should contain only general information about the paper. Its aim is to give an overview of the term paper. Examples, quotations, and excess details are not accepted.
Tip: Don't be boring or too general. Immediately dive into the essence of the topic and draw the reader's attention deeper into the paper.
3. Write the body sections: generating ideas and text.
Once you have received certain research results and notes, take a look at what you've found. Record the outcomes of your research and cut unnecessary materials.
One of the best ways to start writing body sections is drafting topic sentences referring to the outline. Write complete sentences on its basis and add supporting details.
The number of paragraphs will depend on the topic and assignment instructions. Frequently, a term paper body section consists of a literature review and the research itself.
Tip: Each paragraph should begin with a topic sentence. It should be a very clear introduction of the paragraph's main idea.
How can you write a literary review? Present the analysis of the literature you have found on the topic. You need to present what materials you have found and how you have connected this information to the context of your research. Summarize the arguments and theories of various authors you agree with. Also, you need to highlight what points were absent or not considered in the author's research.
Here are general recommendations while writing the body sections:
The text should be well-structured and divided into sections or subsections. Each chapter should have a title and refer to one particular idea or main point.
Develop arguments gradually. All your ideas should move from the general to specific.
A good academic text needs evidence. All quotations, ideas, and data should be referenced according to the required formatting style.
Prioritize the following points depending on your assignment instructions and objectives: analysis of primary and secondary sources, current issues and state of research, and personal point of view.
Avoid simple summaries of existing information. Incorporate citations to prove your own point of view on the topic.
Don't rely on the sources only. It is your paper and it should contain your original idea about the topic. Keep the balance between the source material and your own ideas.
Avoid writing lengthy body paragraphs. If you want to put a great amount of information into the paragraph, it would be better to divide it into subsections.
4. Write the conclusion.
When you finish writing the main part of the term paper, it's time to summarize what information you have received and discuss the further implication of your research. Consider the following points in your conclusion:
Refresh the points that you have already highlighted in the body paragraph and restate the thesis statement.
Note: Don't present any new information in this paragraph.
Describe the final results of your research.
Explain the implication for future studies.
How can I evaluate my research results?
What meaning does my research have?
Does my topic intersect other topics or areas?
Write the concluding sentence.
For example: "Forgiveness therapy is a new approach in psychology and has much need for testing, but it is an important practice in the treatment of many psychological disorders."

Revising and polishing the first draft
If you have succeeded in writing your first draft and have some time left, it's time to proofread your text. Don't neglect the possibility of reading the term paper once more. Many professors perceive misspellings, as well as punctuation and grammar errors as a personal insult. These mistakes may draw more attention than your original ideas and significant results. So, how can you make your text look better?
First, you need to read your first draft and think about how you can make your paper cleaner or more convincing. Look at the ideas that don't fit the context and remove or modify them. Then, look at what points need more detailed support. And finally, add transitional phrases or words to connect ideas.
Second, when the content is logical and well-structured, it's time to check for errors. Correct all grammar, punctuation, and spelling errors.
Last, check whether your paper has the right format and layout. Make sure that pages are numbered correctly. Images, tables, diagrams, and other visual materials also should be numbered and titled appropriately. So, check the same things you check when you finish write my essay process.
How to write a term paper in 7 steps – infographic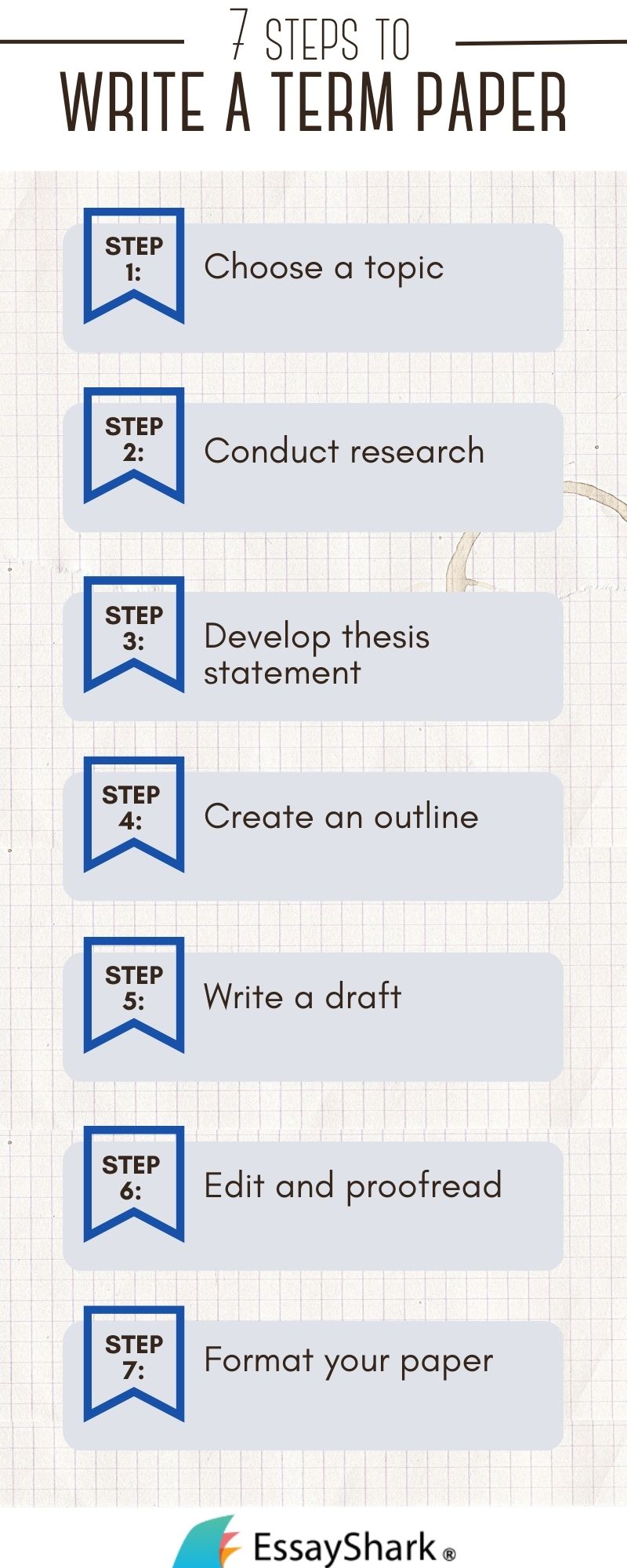 Mistakes to avoid in term paper writing
Using unreliable sources. This means that all sources you have based your work on should be professional. Use newsprint, magazines, statistical data, and publications.
Plagiarism. Whenever you are reusing someone's ideas or incorporating expressions from other sources as your own thoughts, this is considered plagiarism. Pay attention to correct citation style and document outside sources.
Not supporting your statements. Always back up your point of view with references or your own findings.
Using nested sentences, repetitions, and passive voice. The text should be objective, clear, and correct.
Choosing a topic too broad. As a result, it will be hard to meet the word limit and highlight the topic in the right way. Also, you will face the problem of having excessive amounts of information on the topic. A good term paper requires a narrow topic.
Failing to proofread the paper. Even editing the text once may not be enough. Don't rely on the computer's spell check. Ask a friend or someone else to read your paper.
How to find excellent term paper topics
Paper instructions that you receive from a teacher typically provide a list of term paper topics to choose from. Luckily, sometimes students are given the freedom of choice.
First, you can start with a fairly broad idea of the area you want to research, such as "body image." As you can see, the topic is too general and if you start googling about this topic over the internet you will get a great amount of information. You can narrow it down considering other areas:
| | |
| --- | --- |
|  Advertising |  in terms of illustrations, advertising trends |
|  Policy |  in terms of government regulation |
|  Health |  in terms of impact on health, eating habits |
|  Social issues |  in terms of cultural values, shopping behavior |
|  Children |  in terms of eating habits, mental disorders, behavior |
Narrowing down the topic will make your research more manageable. You can add more limitations to your research:
| | |
| --- | --- |
|  Time |  Consider historic trends or analyze the current state of affairs |
|  Discipline |  Conducting research within a particular discipline |
|  Country |  Choose a particular country, a region, or make it worldwide |
|  Gender |  Consider all genders, or only males or females |
|  Age |  Choose particular age groups (e.g. toddlers, children, adolescents, adults) or in general |
|  Type of material |  Only recent journal publications or overview of all existing relevant sources |
Sometimes it's difficult to pick a topic on your own, as there are so many interesting topics to write about! We are happy to propose you a list of interesting term paper topics that you can reuse for your own paper.
Economics
Analyze the influence of the shadow economy on the productivity of a country (your choice) from a macroeconomic perspective.
What is the meaning of inflation/deflation/hyperinflation? Explain the causes and consequences. Support your claims with evidence.
Define the meaning of middle class. What is the economic meaning of the middle class?
Legal Issues
Discuss the approaches to providing censorship in social media and over the internet.
Compare government regulation for physical desecration of national symbols in various countries.
Discuss the meaning of mental disorder defense. What are the peculiarities?
Bioethics
Is it the right idea to hide the truth from a dying patient in palliative care?
Find out the reasons, consequences, and legal regulations of organ donation.
Is it ethically right to test new drugs on dying patients?
Education
Should parents determine what the school should learn?
Should the discipline in the school be more strict?
Discuss streamlining in the context of the educational system of a particular country.
Tip: On our blog you can find more information on how to choose topics for term paper writing and get inspired with a list of term paper topics on technology, economics, political science, sports, media and culture, and health.
Term paper topic ideas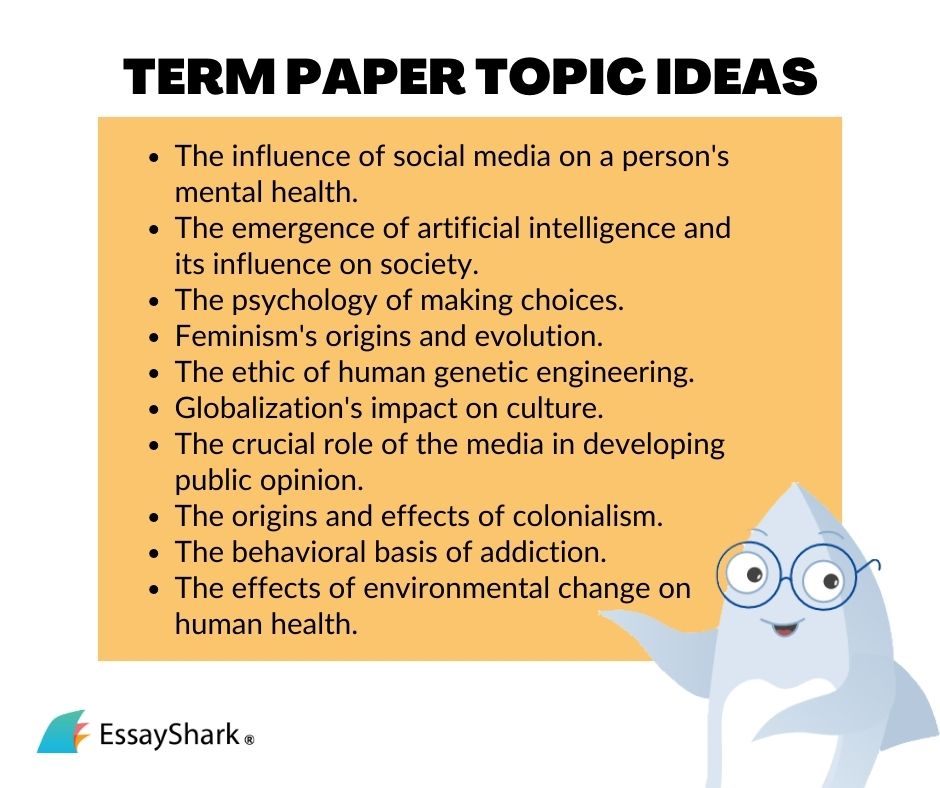 Term paper sample about healthy lifestyle promotion
In the text below you can see a portion of a term paper written by our college essay writer. It should help you understand the theoretical approaches that we have written above. Also check the comments below.
Title: The Promotion of a Healthy Lifestyle Through Social Media
Abstract
This paper discusses the growing popularity of healthy lifestyles in social media. It looks into the methods of health promotion through evolving technologies. The research was built on questionnaires and existing information on the issue. The paper presents a plan for actions aimed to keep the topics about health popular over social media. (…)
Table of Contents
1. Introduction
2. Overview of Social Media
3. Plan of Action
4. Conclusion
5. References
Introduction
Social networks are some of the most popular websites over the internet. Social media use has been increasing in health promotion because it removes geographic and physical barriers. However, social media still has the potential to increase the influence of healthy lifestyles. (…)
Overview of Social Media
According to articles published in NBC Statistics, the most popular social media sites estimate more than a billion visits every day. The statistics show that more than 77 percent of people in the US have a social media profile. The majority of Americans use Facebook and Youtube on a daily basis.(…)
One of the researches has measured the change in knowledge, attitudes, behavior, eating habits, weight, energy and fat intake, self-efficacy, and sharing in social media (Hoshi, 2017). The amount of information, even in small doses, has an influence on promotion of healthy habits.
Welch et al. (2016) studied the effectiveness of health promotion campaigns in social media as Facebook, Twitter, and video sharing like YouTube. The research has shown the increased effectiveness of social media interventions in improving healthy habits among youth and older adults. (…)
Plan of Action
Social media campaigns should relate to the specific topic and plan ahead. To construct an effective campaign, we should collect the relevant information, pictures, videos, and texts.
Facebook activities. This social media platform has a wide list of events that can be used for promotion.
Wellness events
Health volunteers
Sharing healthy recipes
Tips for improving health habits
Healthy competitions and challenges (…)
Conclusion
A healthy lifestyle is one of the main things that every person should apply in everyday life. To help the person make the right choice, government and organizations should spread the information about tools and advice to promote a healthy lifestyle. (…)
References
Hoshi, T. (2017). SES, Dietary and Lifestyle Habits, Three Health-Related Dimensions, and Healthy Survival Days. International Perspectives on Aging the Structure of Healthy Life Determinants, 121-141.
Smith, A., & Anderson, M. (2018, September 19). Social Media Use 2018: Demographics and Statistics. Pew Research Center. Retrieved from http://www.pewinternet.org/2018/03/01/social-media-use-in-2018/
Welch, V., Petkovic, J., Pardo, J. P., Rader, T., & Tugwell, P. (2016). Interactive social media interventions to promote health equity: An overview of reviews. Health Promotion and Chronic Disease Prevention in Canada: Research, Policy and Practice, 36(4), 63–75.
FAQ about term paper writing
1. What is the format of a term paper?
Speaking about the format standard for a term paper, we need to mention MLA, APA, and Chicago/Turabian as the most common format types.
In addition, students may create a specific format of term paper when it comes to its structure. The format will include several obligated elements such as title page, abstract, introduction, conclusion, and references.
2. How many pages should a good term paper be?
The standard term paper must contain at least 10-12 double-spaced pages. Term papers of 15-20 pages are also appropriate, but you must consider the quality of the content. It is always better to make the paper shorter but informative than make it longer with bland, repeated statements.
3. What is the difference between a term paper and a research paper?
The core difference between a term paper and a research paper is in the approach to sourcing. A research paper assumes a deeper investigation of a topic and analysis. When it comes to structuring, there are specific differences as well. A term paper consists of such core elements as an introduction, the main body, a conclusion, and a bibliography. A search paper includes methods, results, discussion, and other aspects of a deep analytical paper.
4. Want is the fastest way to write a term paper?
If you have a strict and short deadline, you must act quickly, skipping the outlining stage. Start with a brief brainstorm. Afterward, you will require providing research on a chosen topic. You will then have to draft a paper and quickly polish it. If you have some minutes left, read your paper to edit it or skip the proofreading stage.
5. How many citations are considered suitable for a term paper?
It depends on the discipline and the topic involved; skilled authors suggest supplementing a term paper with at least five citations, with a maximum of ten.
Term paper writing help from industry experts
Want more term paper examples? Check out our EssayShark blog. If you compare our examples, you will see that they all share three qualities: they are interesting to read, they have good grammar and style, and contain in-text references to reliable sources.
We know how writing a term paper can be a struggle. A lack of time, missed deadlines, a sudden flu, tons of homework, and other troubles may spoil even the most accurate writing plan. There is no need to get discouraged while you have a trusted term paper writing service at hand.
Even if you have never tried such services, you need to know that it's the ultimate solution for students who need urgent help with their assignments. EssayShark experts can help you with term papers for any course, discipline, and school. Also, our experts can help you pick the right topic for the term paper, write missing paragraphs for existing parts of the paper, and edit your first draft.
Get a unique and polished term paper help before the deadline and live your life to the fullest!