How to Create a Powerful Essay Introduction

It's the surface that defines the impression we get from most things. We judge things by their cover, driven by the "hints" our nature gives us. People, cars, smartphones, books, and academic papers – this all catches our attention only if it captivates us from the first sight, or from the beginning. In essay writing, the first impression is an uncompromised keystone of the reading experience, for it determines whether or not the reader will proceed with this piece of writing. And what underlies this impression is an essay introduction, the "cover" or the "surface" of the paper you've developed.
Therefore, the introductory part of an essay is the most important among all its elements. Making your introduction engaging and informative is the crucial step to developing a weighty and plausible essay. In this insightful guide, we will demonstrate backwards and forwards how to generate a great essay introduction to make the reader devour your text!
What is an essay introduction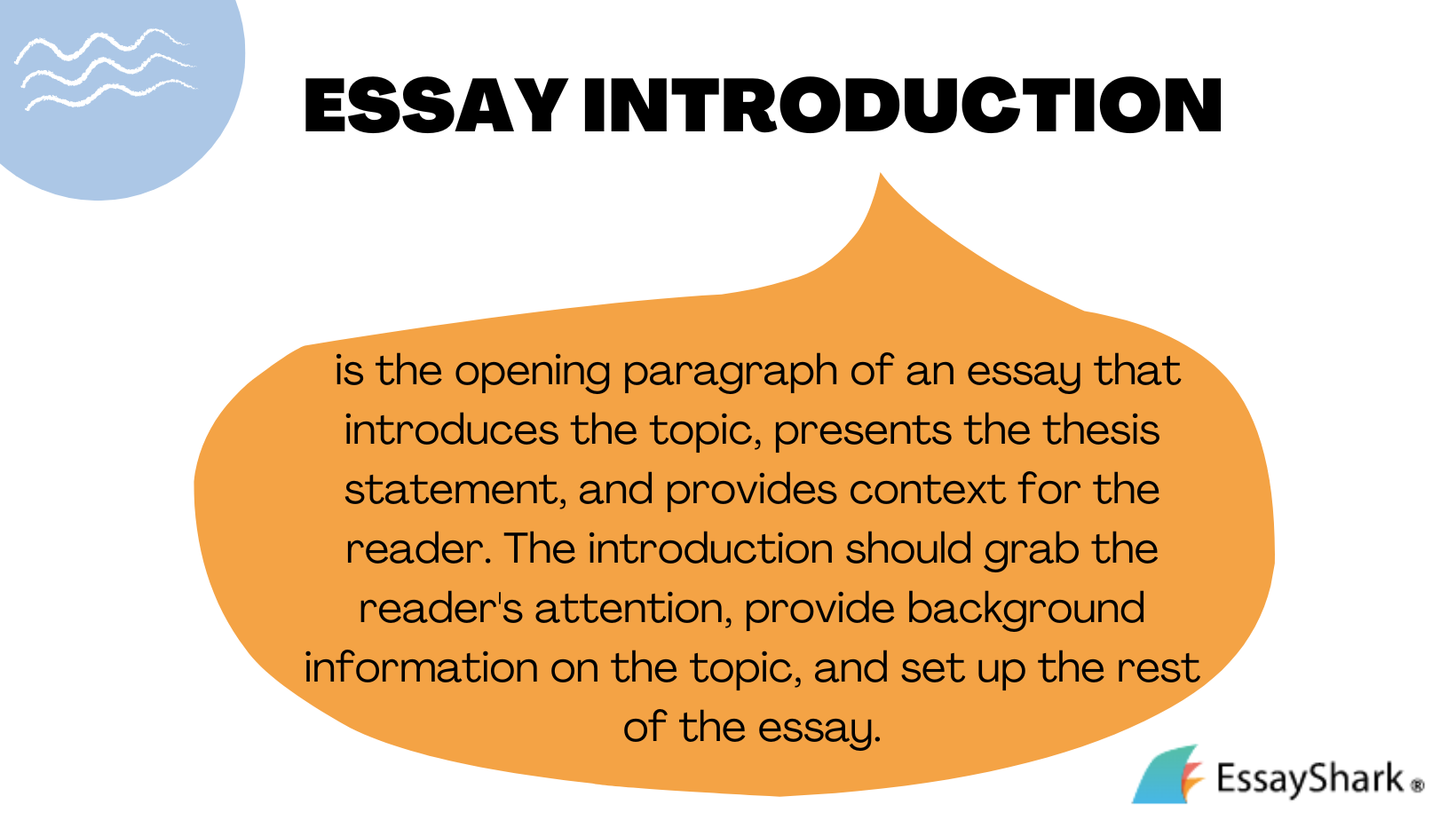 What should an essay introduction be?
The introduction to you essay should clearly and concisely explain to the reader what this piece of writing will be dealing with. An introduction is aimed at hooking your reader to delve deeper into the essay, having a clear and comprehensive notion of what it will cover. In this regard, in the introduction part, you need to provide the brief but exact information about the topic you are about to cover, along with exposing the main idea of your essay.
You should also keep in mind that an essay introduction sets the tone for the entire piece of writing and should be devoid of any generic and superficial information such as digressions, general statements, or other writing devices making your text shallow and meaningless. Sticking to a more inward writing style especially applies to an argumentative essay introduction, where the author is expected to provide an accurately generated contention and state the main point with exceptional exactness. Therefore, when thinking of how to write an introduction for an argumentative essay, be certain to focus mainly on the precision of your writing.
The main aims of essay introduction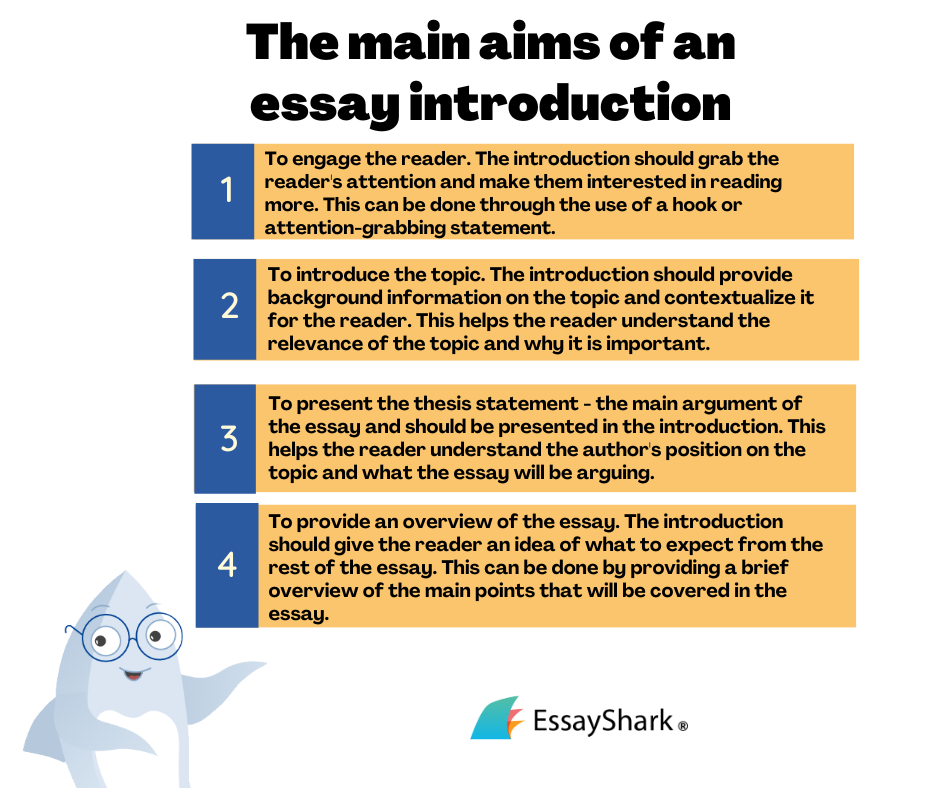 The essentials to be included in the intro
An essay introduction paragraph has to contain some key points forming its informativeness and comprehensibility. These fundamental parts are what enables the reader to perceive the essence of the essay in a smooth and overarching way. Here, we have generated an essay introduction outline that features a thorough and systematic array of the key elements that an essay intro should comprise.
First of all, you have to engage the reader. If the introduction as a whole plays a crucial role in your essay, then its first sentence is the matter of paramount importance. The first sentence of your introduction has to be catchy and attention-grabbing. Come up with something creative and solid that relates to the subject of your essay and is sufficiently surprising. The superiority of the hook over the other introduction constituents is brightly demonstrated in scholarship essay introductions. The hook is what you primarily need to consider when settling with how to start a scholarship essay introduction.
It's worth noting that your hook shouldn't be shallow and garish, such as the following example "The racism in today's society has become a critical problem." Make sure not to overdo the bait for your reader by making some bold but unreasonable statements, going to extremes with your element of surprise. Try to utilize some solid facts substantiated by statistics that emphasize the topicality of the essay's main idea and its subject matter.
The thesis statement is the central idea underlying the theme of your entire essay and the reason why you are writing it. Expressing this main point in your intro is called a thesis statement, which should be placed right at the beginning of your essay. This necessity lies in the fact that your reader needs to know what you will be arguing in your essay as soon as they start perusing it.
If the reader gets a somewhat vague understanding of what the essay is about, they will either quit reading or keep going through your text, only with a biased approach. The latter being the case, they will skim through the essay rather with prudence and scant credulity, no matter how compelling and worthy its body is.
In order to equip the reader to perceive the information they will be introduced to further in the essay, you need to provide some brief but exact background info in your introduction that will contextualize your main topic. This information should include only the facts that are relevant to the topic and add to its significance and value as a research subject. Your background may feature a historical, social, or linguistic context depending on the subject you're addressing.
The contention and the supportive arguments
The contention, the main argument backing up your thesis statement, should also be included in your essay introduction. The contention of the essay should be backed up by supportive arguments, which will enhance its significance within your research.
Ways to write an introduction to an essay
There are numerous effective ways to architect an essay introduction. Most often, they are represented by tips for creating an intro, serving as great solutions for producing a worthy beginning of your essay. Now, let's view the most powerful tips for writing an introduction to your essay.
1. Appeal to the readers' emotions and problems in your hook
In the previous section, we covered the basic and critical aspects that an essay's hook should feature. And now, approaching this vital introduction element in a more specific way, it's worth noting that using your hook to address the reader's own problems and needs will indeed enhance the tone of your intro. Once the readers notice the connection between their own challenges and pains and those represented by your topic, the odds that they will want to look deeper into your essay will get higher.
Yes, dealing with any social, political, or environmental problem, your essay is already appealing by its nature. But what makes this less significant in terms of reader retention is that if you start highlighting these matters only halfway through your essay, you can't be sure that the reader will make it there, as we stressed earlier.
Apparently enough, it's mostly your essay hook where you can use your touching topic as a perfect bait for the reader, appealing to their personal struggles right in the intro to your essay. If your paper focuses on the racism problem, trigger their emotions by using something like the following: "Racist biases prevent most Afro-Americans from paving their way to self-development and professional accomplishments." Let the audience relate to the problem your essay centers around in the beginning of your writing, driving them to plunge further into your text.
2. Employ a thought-provoking question
Including a though-provoking question as an intriguing prompt in your introduction will help you activate the readers' attention and thinking. Get your readers diving into the problem of your essay by instigating them to think over this critical and all-embracing question and ponder of the possible solutions that can be applied there.
3. Avoid cliches and platitudes
When developing an essay intro, be careful with using trite and overused statements and arguments, even if they might be relevant to your main point. As was emphasized earlier in this guide, generalizing your writing and using a rather hackneyed manner of highlighting your major idea devalue the essay and demonstrate the writer's poor academic skill. Instead of applying general and skin-deep language, go for more specific and subject-oriented "vocabulary" to adopt in your writing.
4. Keep it incisive
Keeping consistent with what was mentioned earlier, try to stick to exact and concise language when writing an introduction. The accuracy and clarity of your message are the fundamental elements that will make your intro striking and engaging. Your readers don't want to make their way to the core idea of your essay through an infuriating abundance of irrelevant digressions and other distractions many writers turn to in their writing.
Argumentative essay introduction
Basically, developing an introduction to an argumentative essay requires following the guidelines and rules we provided earlier, only it has somewhat distinctive peculiarities. In general, an argumentative essay introduction should include the same key elements you perused in the beginning of this guide, with the emphasis placed on certain aspects that are defining in this essay type.
In your argumentative essay intro, your hook needs to contain the essay's main argument itself. You have to state your main claim right in the first sentence of the introduction, giving the reader the clue of what you will be arguing further in your piece of writing. This will keep your readers from the various pitfalls of guessing what the main purpose of the essay is and trying to track it down throughout the text.
Scholarship essay introduction
Similarly to the type of essay we covered earlier, a scholarship essay introduction has to start with a captivating note. Based on the highly peculiar nature of scholarship essay, engaging the reader in the intro should be your prime concern – since scholarship essays are targeted at touting and lauding its author, the readers approach it rather biasedly and in an untrustful way, giving no further consideration to the author's candidacy once the intro loses them.
Persuasive essay introduction
As the name of this essay type suggests, this piece of academic writing centers on clearly and plausibly substantiating why the reader needs to agree with the writer's argument. That being the case, you need to apply some effective methods of explaining why your statement deserves acceptance and approval. And this succinct validation of your standpoint should be provided right in the hook, which is supposed to give the reader the proof to what you will be corroborating from now on in your essay.
How to start an essay with a quote
Employing a quote to begin your essay effectively and creatively is a great tool to consider. A quotation serves the purpose of hinting what your essay is dedicated to and what idea it's built around. Therefore, choosing the right citation for your piece of academic writing should be a matter of pivotal importance for you.
However, many writers mistakenly regard the quote element as something secondary and easy to tackle. Do not follow this misleading tendency and be careful not to adopt a rather perfunctory approach to dealing with your introductory quote. Instead, aim for thorough and considerate research into what quote suits your essay best. Also, make sure not to utilize some painfully trite and overused citations, no matter how brightly and accurately they resonate with your topic.
Drawing the line
A good beginning makes a good ending. The essay introduction sets the significance and value of the whole piece of writing, shaping its overall message and the thematic element it features. By conceiving a solid and meaningful prologue to your paper, you ensure the attention and regard the essay will get from the reader, who is often too fastidious and busy to consider your writing unless they spot its unique value in the beginning.
How we can help you
Crafting a notable essay introduction is intimidating and tedious. Some essay masters will go to extremes with their intro, spending on this fundamental part half the time they allocate to the entire essay. So here rises the question: why burden yourself with the draining challenge of an essay introduction if you have a life-saving academic writing service at hand?
EssayShark, a reputable writing company, will gladly take over your introduction issues and generate a compelling beginning for your academic paper. Our outstanding team of writing "sharks" will grab your studying pains and bite them down to academic perfection! And it's not only the essay prologue we can help you with, but the essay itself, too. We can handle the whole paper for you, making it good enough to be inducted in the hall of fame of academic writing. Let our skilled and expert writers find the right solution to your awkward studying problems!