How to Write a Book Review: Everything You Need to Know

When we read a good and interesting book, we want to share our thoughts about it with someone else. The best way to do that is to write a book review. For students, it's hard to evaluate great literary masterpieces without any guidelines. Analyzing the text, composing an outline, and structuring your thoughts is a challenging task, especially if your writing skills are not professional.
But, there is nothing impossible with well-written and simple instructions. Below, you'll find a comprehensive guide on how to write a book review. We'll describe every stage of the writing process and give you a wide range of useful tips. On our blog, we also have numerous book review examples that you may find using the list of links at the end of our article. Don't hesitate to start reading and learning!
What is a book review?
A book review is a critical evaluation and analysis of a book presented in written form. Book reviews can be classified both as academic and creative papers, as it depends on the purpose of writing. At university or school, professors often assign students with writing a book review in order to evaluate their writing skills and critical thinking on a particular subject. However, book reviews are frequently written by expert literary critics, as it is a part of their professional activities. Finally, anybody who wants to present his or her opinion about the book in written form may write a book review.
As a rule, the book review format depends on the requirements specified by your instructor or your own preferences. The structure type varies, but we highly recommend you to choose a standard essay format that includes an introduction, main body, and conclusion.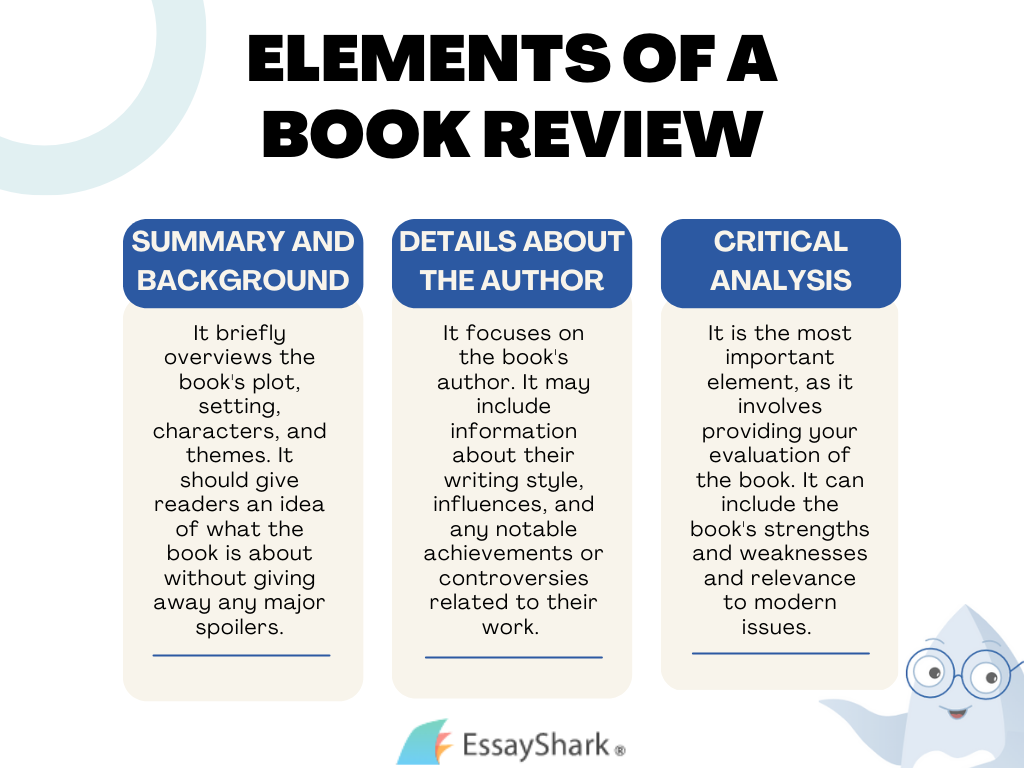 5 common book review formats: make your choice
If your instructor always specifies all the details of the assignment, you have nothing to worry about. However, sometimes, you have to make a choice by yourself. Below, we'll describe five popular book review formats to try. As a rule, you may pick any of them no matter what book you analyze. But choose wisely!
General impression
This type of book review may seem the easiest, but the first impression can be deceptive. If you miss a crucial aspect, your review will be superficial and insufficient. We recommend you to choose this format of writing a book review for short stories, as there is not so much material to analyze. A general impression includes a brief plot summary, analysis of the main aspects, and your overall evaluation.
Issue development
Every book focuses on one or two main issues, but there can also be a few additional themes. Such book reviews can be useful both for studying a particular book and for analyzing a concrete social, psychological, or moral problem. Thus, this format of a book review can be assigned to students who study not only English literature but also a wide range of other disciplines.
Character portrayal
This type of book review can be extremely interesting for those who study psychology. Literary characters are similar to human creatures. In high-quality books, authors create lifelike heroes who behave and evolve, just like real people do. This book review format might seem similar to a character analysis essay. However, in a good review, you don't simply analyze a chosen character. You also have to evaluate how the writer managed to make the character realistic and vivid.
Aspect analysis
This type of book review will be perfect for novels where the author develops many various topics, describes lots of characters, and addresses different problems. You can pick any aspect and provide a deep and detailed analysis. Before writing a review, make sure that the chosen element is presented in the book at a sufficient level, and not in one short dialogue.
Comparative review
If you enjoy writing compare and contrast essays, you should certainly choose this book review format. You may compare various aspects in the books of the same or different authors: writing style, issue development, an opinion on a particular topic presented in the novel, etc. As in essays, you may analyze both similarities and differences in your book review.
Finally, you know what options you have when you need to compose a review. We also want to mention that you may combine different formats if you want and create totally unique types of papers. Your creativity should have no limits, especially when it comes to creative book reviews!
Let's take a closer look at the writing process itself!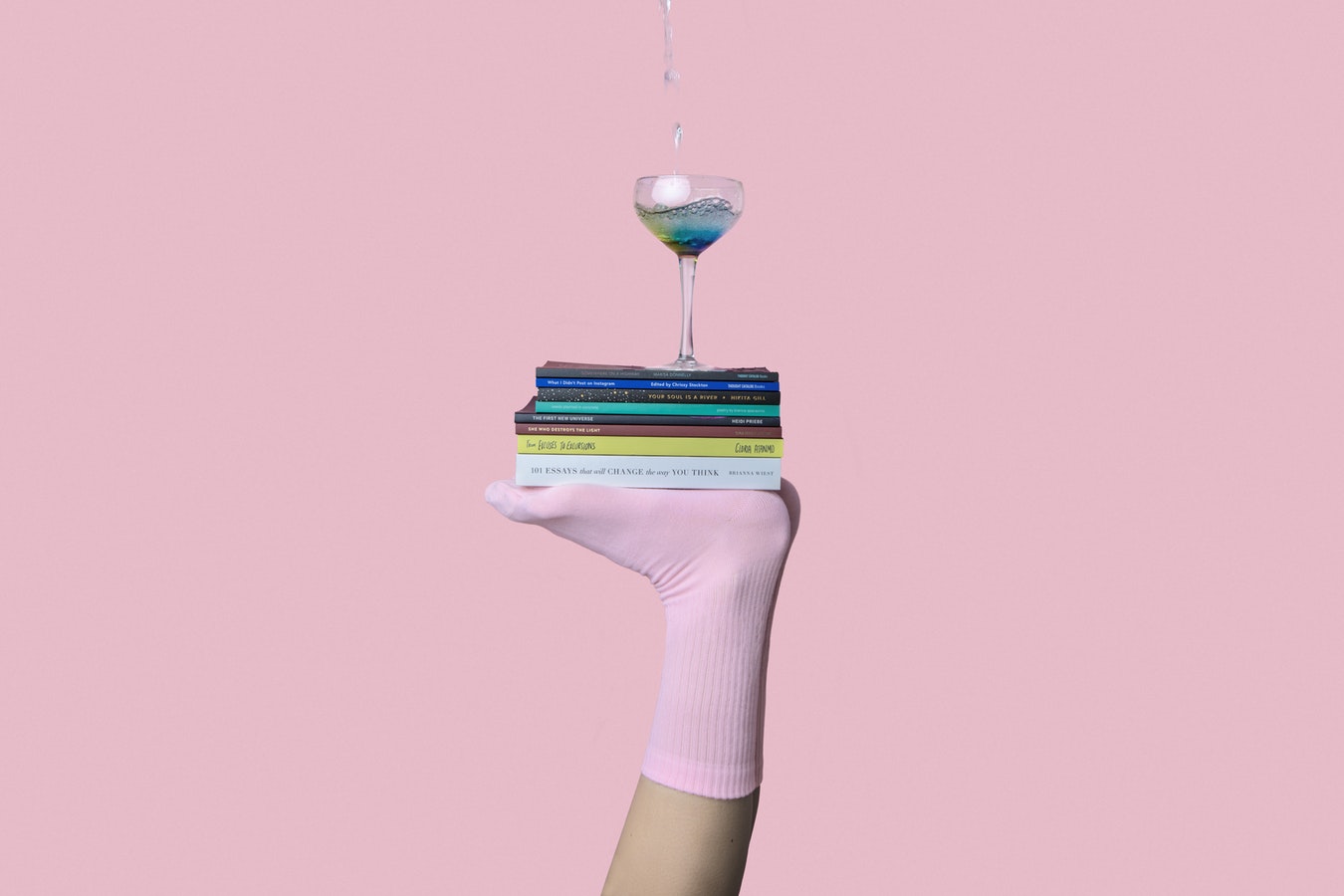 10 simple steps to writing a book review
Planning makes any task much easier. You feel confident when you know what exactly you have to do at every stage.
Learn how to write a book review step by step and start working immediately!
1. Read a book
This step is so obvious that it isn't worth explanation, is it? Did you think you could get a good grade without reading the primary source? Actually, you may try. But we don't recommend you to take this risk. Moreover, if your book is short, you can read it twice to get a better impression.
2. Make notes
Sometimes, your instructor may ask you to attach your notes and drafts to the final version of your book review in order to evaluate your writing process. Even when it is not necessary, the notes will be utterly helpful for you to memorize small details. You can also write down a few quotations that will help you to prove your point of view in the review.
3. Read critical articles
You don't have to use additional materials in your writing if it isn't specified by the instructions. Anyway, you may read a few articles in order to get inspiration or some ideas for your review. Please, avoid plagiarism! If you like the critic's idea, don't copy it thoughtlessly! Use paraphrasing or direct citation to use someone else's opinion in your writing. Don't forget that you should use only reliable sources like reputable newspapers, scientific journals, online encyclopedias, etc.
4. Choose a book review format
Pick an appropriate option from the list above. Take into account your instructions, personal preferences, word limit, and book genre.
5. Specify your topic and thesis statement
Without a clear understanding of your purpose, you won't be able to compose a high-quality book review sample. Choose a particular problem and define your viewpoint on it. Do you agree or disagree with the author's position? Did the author manage to develop a theme or not? Remember that you can change your thesis statement later if it is not relevant to your review. However, you need a starting point to begin with.
6. Brainstorm
Time for creativity! Look at your topic from different perspectives to get a full picture. Use various brainstorming techniques to achieve the best result: associations, questions, rolestorming, mind mapping, etc. Unfortunately, you may not use group brainstorming for individual assignments, but we are sure that your excellent mind will be more than enough for a book review.
7. Create an outline
Now, you have a collection of great ideas. The next step is structuring. Imagine how your book review will look and what parts it will have. Then, choose one main idea or a keyword for each section and write it down. For each point, select suitable expressions and quotations. In such a manner, you'll get a solid foundation for your writing.
8. Write the first draft
You have everything you need to do this, believe us. Overcome your fear of writing the first sentence! You don't have to make it perfect on the first try. But you need something to start from, okay? The first draft is always filled with inspiration and your personal voice. You can correct grammatical mistakes later, so don't worry!
9. Proofread
And this is the less inspirational part of the writing process. Unfortunately, you can't write a book review without proofreading. We're sure that your paper will be great, but even the smallest mistakes can spoil the general impression. Before you start the editing process, have some rest. Your brain needs a restart to be on the appropriate level of concentration.
10. Add finishing touches
Bring it to perfection! If possible, get feedback from your friends or family members. A fresh perspective never hurts. Check your logic, argumentation, and wording. If you really like your book review sample, other people will like it too.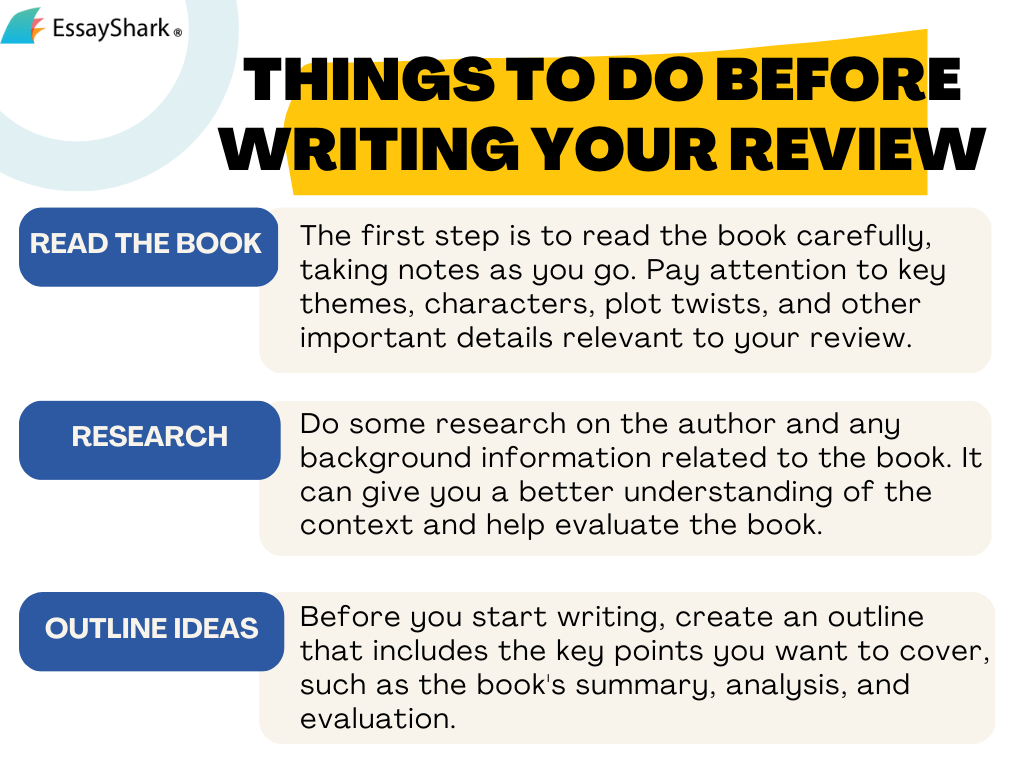 At this moment, you have a proper plan on how to write a review of a book. You're ready to find out what the most common mistakes in reviews are. We'll also explain to you how to avoid them efficiently!
6 mistakes to avoid while writing a book review template
Maybe you've already heard about these mistakes, but it is our duty to remind you of them one more time. We want to be sure that we've done everything possible to improve your writing.
Book reviews are not summaries. A short summary can be included in the text of your review in order to inform your readers about the main plot events and characters. Don't focus on details if they aren't important for your topic. Unnecessary information will make your book review boring and wordy.
Along with a short summary, an assessment is an indispensable part of a good review. Don't be afraid of expressing your personal opinion directly! Avoid words like "rather," "enough," and "almost," as they will make your statements vague and uncertain. On the other hand, a bold statement without any arguments won't be taken seriously. Always provide your readers with examples and other strong pieces of evidence.
Avoid a superficial manner
This mistake is the most common for novel reviews. The author can't focus on one particular aspect or character and must write a few sentences about everything. Such a review won't be useful or interesting for the general public. If you've decided to provide a general overview of the whole book, you have to make sure that your review is long enough to cover all the essential topics of the novel. Otherwise, you won't be able to present the book in a proper way.
Stick to the writing style
Have you ever read formal letters that end with "XOXO" or "With love"? We doubt it. Before writing a book review example, define your purpose. If you compose a review as your academic assignment, stick to the formal writing style. If you create a review for your personal blog or just to share your thoughts with the general public, you don't have to follow strict rules or formatting style. Sure, we still recommend you to avoid jargon, but you can freely use first-person pronouns and expressions like "In my opinion," "I believe," "My first impression," etc.
As in any other type of paper, argumentation is essential for a well-written book review. Each of your statements and ideas should be proven by one or several arguments. For book reviews, we recommend using examples, quotation, and comparisons as the best pieces of evidence. Remember that you can't just say "I like/don't like this book." You have to be consistent and follow certain argumentation logic in your writing.
We will never tire of repeating this rule. We refuse to believe that you have no personal opinion or original thoughts! No doubt, you may look for inspiration in the articles written by professional critics, but you should never underestimate your writing skills. We believe that you're able to create a fantastic text and avoid plagiarism.
Okay, that's enough about mistakes for now! We're sure that you'll avoid them in the most elegant manner. If you need more tips for writing a book review, you can always check our amazing books for academic writing!
Our guide on how to write a book review is almost completed! The last thing you should learn about this type of paper is its structure. We'll describe the essay-type structure for a review that will be appropriate for academic writing. If you choose a creative book review, you can break all the rules and compose the most extraordinary book review sample.
How to write a book review: simple structure
 Introduction

Background information on the author and book (important biographical facts, rewards, publishing date, the main idea/topic)
Hook (bold statement, rhetorical question, impressive statistics, or quotation that will intrigue your readers)
Thesis statement (your starting point that establishes the structure of the whole book review)

The main body

Three or more paragraphs (a new paragraph for each idea/point)
Transitional words and phrases (they allow the readers to follow your thoughts easily)
Logical structure (strong arguments and connections)

 Conclusion

Restate the thesis statement (don't rewrite it verbatim, try paraphrasing)
Mention your overall evaluation (it should be based on the ideas and arguments presented in the main body)
Provide recommendations for potential readers (tell whether you recommend this book or not and specify the categories of readers that might be interested)
We have told you everything you need to know about writing a book review. However, we have one more thing to surprise you with! Awesome book review samples from our talented writers are waiting for you below! Follow the links and find your inspiration in our texts!
Book review examples and how to use them
As we promised, we will share all these book review samples with you! Please, don't copy them thoughtlessly to present as your own work. This will be considered as plagiarism, or in other words, theft of intellectual property. However, you have many legal opportunities to use our samples. They will teach you how to make a book review better than any theoretical guides. So, there are four ways to use our texts and make the writing process easier:
Our writers use only reliable sources of data when they look for information about the topic. They avoid Wikipedia articles, personal blogs, and magazines to provide you only with valid facts and expert opinions. Thus, you can use our samples as a source of information without any fear of being misinformed.
This is an important technique to avoid plagiarism. Create a proper citation according to the required formatting style, and you'll get a good piece of evidence for your argumentation! Don't forget to list all your sources in your reference list!
This method is a bit more difficult in comparison to citing, as every college has its own rules of proper paraphrasing. Before writing a book review, ask your instructor to specify his or her requirements with regard to paraphrasing. Formatting mistakes will negatively influence your grade!
Finally, well-written samples may help you to overcome writer's block and the fear of the first sentence. Inspiration and motivation are an indispensable part of the writing process. So, let the Muse be with you!
The Hound of the Baskervilles Book Review Sample
This example of a book review demonstrates how the writer can look from a fresh perspective even with the pieces of classical literature. The review is focused on the issue of guilt and its nature developed by Arthur Conan Doyle in his crime novel "The Hound of the Baskervilles." A well-written sample will surprise you with an in-depth psychological approach.
Book Review Sample on Canadian History
If you have to write a book review about a history book, this sample will be a great help for you. The writer provided a detailed and well-structured analysis of the book "Alliance and Illusion: Canada and the World, 1945-1984" by Robert Bothwell. The review is a balanced combination of a summary, analysis, and critical evaluation.
The Book Thief Review Sample: Liesel Character
Here, we've placed an example of a different format of a book review. The writer is focused mostly on the main character of the novel, Liesel Meminger. The review analyzes her character and attitude. The writer examines how the character changes through the book and what causes these changes.
This text is a short book review example about the novel "Little Women" by Louisa May Alcott. Although this book was written in the 19th century, it still develops feminist views and other social issues. This sample will be a good template for your own writing.
The author of the review sample examines how the novel written by Harriet Beecher Stowe pictures the social issue of slavery. The release of this book had both positive and negative consequences for the image of African Americans in the 19th century. If you're going to create a book review about "Uncle Tom's Cabin," our sample will be a great starting point for you.
Flowers for Algernon Book Review Sample
"Flowers for Algernon" is an amazing novel written by Daniel Keyes. It deserves thousands of reviews, and you won't be disappointed if you decide to write another one. In our sample, the writer focuses on the theme of intelligence developed in the book. You can pick another aspect or follow the steps of our expert. It depends on you.
Now, we're finally done. It has been a long path, but you can call yourself a real "book review guru"! Writing a book review is not as hard as you imagine. You just need to find a book that you'll like and a good guide like the one above! Of course, you'll also need inspiration, time, and energy. If you're limited in one of these resources, there is always a way out!
Book review writing assistance from our writers
Apply to our EssayShark team to get immediate expert assistance! Our talented authors will solve any writing problem flawlessly. We work 24/7, so you may contact us anytime whenever you need a helping hand. Affordable prices and a user-friendly system are also waiting for you on our website. Forget about your deadlines with our EssayShark writing service, or even engineering coursework writing service!