How to Write a Thematic Essay

What is a thematic essay?
A thematic essay is a type of essay where the writer develops the main theme in literature using particular literary devices like personification, imagery, metaphor, and so on. The significance of the theme should be expressed by the writer. The main challenge for writing this type of essay is that each writer has his or her own interpretation of the central theme. In any case, a good thematic essay should include logical arguments supported with literary devices – you should know these facts whether you are going to write an essay yourself, and if you are going to order an essay.
How to choose a thematic essay topic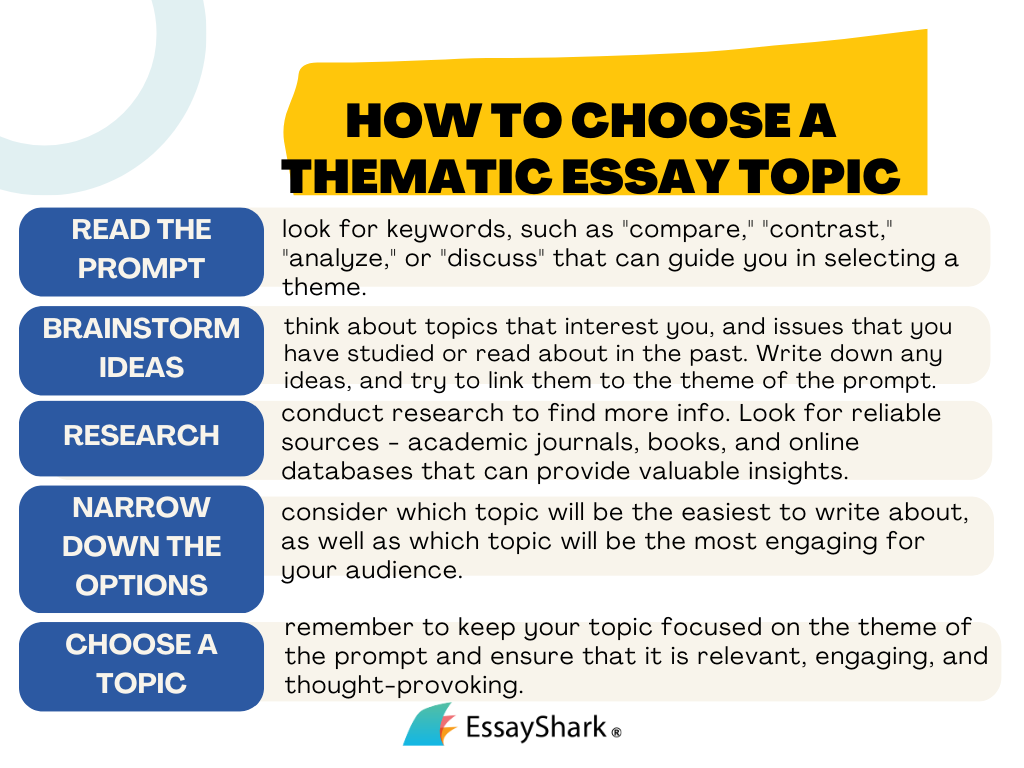 How to write a thematic analysis essay in 6 steps
Prepare for writing. Find the source material that you are going to use (such as abstracts of read literature, recording the results of discussions, or your own considerations about the theme). It is important to process the available source material (its organization, reasoning, and arguments) in the proper way.
Take notes when reading. When you are taking notes, you pay attention (after making the appropriate decision) to those moments that are key (literary devices in our case). While making notes, you select the relevant material and develop your understanding of literary devices which are used.
Write an introduction. It should include a summary of your understanding and approach to the answer to the question. It is very useful to cover what you intend to do in the essay (your goals), and how you are going to analyze the theme. Presenting literary devices themselves should be given in the main part of your essay. Write a thesis statement that will grab the reader's attention.
Write the main section. This part assumes the development of your analysis. This consists of the main content of your essay, and this is the main difficulty: you have to substantiate (logically, using examples) the analysis you are proposing. Filling the sections with your analysis, limit within the paragraph the consideration of one main idea.
Write a conclusion. The final part of the essay may include a brief summary of your analysis, but try to make it very brief. Don't include any new information in your conclusion. Restate the thesis statement that you have included in the introduction. Summarize the main claims from your body paragraphs.
Edit the essay. Reviewing the first draft is of great importance to writing an essay. When writing a draft, your main task is to develop analysis, refine the basic ideas, and arrange them in a strict sequence, accompanying them with examples. After writing the first draft, leave it for a day or two, and then go back to work on checking and improving, with a fresh mind. When checking, first of all, pay attention to the strength of your analysis. Does the essay you completed coincide with your intentions you had before writing? Is it coherent and convincing? Are the examples used enough?
Thematic essay sample
You, apparently, want to get a good grade for your thematic essay, and a sample can help you with that. We want to present you a thematic essay sample on relationships between a human and a dog in the novel "The Call of the Wild." Get some ideas from it if you want to write a quality paper and get a good grade.
How Is the Relationship Between Human and Dog Presented in the Novel The Call of the Wild?
Connected Feelings
Dog is man's best friend. This is considered a cliché because we all know the "uses" of dogs in our lives. They can be guard dogs, hunting dogs, herding dogs, guide dogs, and police dogs ("Dog"). Clearly, it is not different with what Buck's responsibilities are. Normally, humans return the devotion with friendship. But is the friendship offered by the owner enough in return for the adoration a dog gives? In the story Call of the Wild, a human showed that we, people, can give more than just friendship and companionship.
At the start of the story, we can see the importance of Buck to Judge Miller's family was not simply as a pet to be pampered but more likely to be a reliable companion and protector. Buck and his father Elmo were consistent hunters and protectors of the residence. No wonder they were treated well, resulting in good experiences for Buck with men. Unfortunately, one life-changing experience showed him of the fiercer way of life.
We see how the people treated dogs ruthlessly. They forced dogs to pull heavy weight despite their tiredness and the cold weather. Dogs were not compensated enough with sleep and food even though they worked hard throughout the day.
Heaven came to Buck and his mates when they met their savior through the personality of John Thornton. For the first time, he experienced a passionate love he never felt from his former owner Judge Miller. Thus, Buck returned to his master Thornton with total devotion. However, one day, Thornton died. With a devastated and broken heart, Buck took his revenge for his master and then joined a pack of wolves. Despite his new wild life, he always returns to the place where Thornton died to mourn for his one-of-a-kind, loving master.
At the end of the story, we can see that time and death never became a hindrance for the dog to show his connected feelings with his master. Indeed, loyalty is not the only thing a dog can give. The dog can also shower its owner with unconditional love and adoration. It is no wonder that Robert Wagner, an American actor, quoted, "A dog will teach you unconditional love. If you can have that in your life, things won't be too bad."
Works Cited
"Dog." Wikipedia: The Free Encyclopedia. Wikipedia: The Free Encyclopedia, 12 Oct. 2017. Web. 13 Oct 2017, https://en.wikipedia.org/wiki/Dog
London, Jack. The Call of the Wild. 1903. Ibiblio. Web. 14 October 2017, https://www.ibiblio.org/ebooks/London/Call%20of%20Wild.pdf
How to find a central theme
The core of a thematic essay is finding the central theme. Not every student can handle this task. Here are some tips that can help you to choose wisely.
Think about the core element of the book that you are analyzing. Usually, this is not a problem, as the author makes the core idea clear. To paint a clear picture here, we advise you to take notes. Stay focused in order not to miss important things that may help you to write your essay.
Differentiate the theme from the subject of the work under analysis. The general topic of the conversation is a subject. For example: love, hate, or brevity. A theme is more specific and is based on the subject.
To understand what the essence of the essay presents, look at the point that is brought up often in the book.
Find out what the main point is that the author tries to present. Don't worry if you can't see this point immediately.
One of the most important things is overall significance. Think about how a reader can benefit from the author's message and what lesson he or she can learn.
Tips for writing a thematic essay
Have you carefully read the relevant literature (chapters from books and other sources relevant to the theme)? Did you read the question carefully? Have you thought about what the approach will be for writing a thematic essay? These questions should be answered before you start writing your paper.
You should develop a detailed plan for your writing before you start your work.
The essay should be written according to the teacher's requirements and academic rules.
The introduction should be concise and correspond to the topic.
You should formulate one clear main question in each paragraph.
Paragraphs should be presented in logical sequence.
Your claims and examples should be used effectively.
Reference to the sources should be presented correctly.
You should avoid descriptions without analysis.
The conclusion should be concise and relevant.
Don't forget to make a bibliography indicating all reference materials.
Keep in mind that you should hand in your essay at the appointed time.
How to analyze the prompt
You need to carefully read the teacher's instructions. You may be faced with the following tasks:
 – To discuss. You need to make observations using arguments, logic, statistics, and so on.
 – To describe. You need to use numerous details to illustrate the topic.
 – To show. You need to point out something, to state your opinion.
 – To explain. You need to present things in an understandable manner using reasons and causes.
Mistakes to avoid in writing a thematic essay
You are unable to answer the question.
You organize your answer badly.
You are not able to adhere to the answer to the main question.
You don't include enough examples.
You present too extensive a narrative, which is not backed up by analysis.You state other
points of view without expressing your own position.
You repeat your thoughts unnecessarily.
We hope that you get much inspiration to write a thematic essay on your own. Using this guide, prepared by our essay writer online, is the best option to write a quality paper. You can always look for ideas in the samples we present on our site. Having a guide and samples is the simplest and most reasonable way to write a good paper on any topic.