How to Write an ACT Essay – Get Prepared for the Test

An ACT essay is one of the standardized tests students must complete. Within specific time limits, you need to answer the prompt in a well-structured essay. Don't worry, we will explain how to write an ACT essay in easy steps.

The essay is an optional section of the test, and it is designed to assess a student's ability to write a well-organized and coherent essay that presents and supports a clear argument.
Steps on how to write an ACT essay
Plan
You'd better not omit this stage if you are going to write a quality essay. Read the prompts and make sure you understand all of them. Before you start writing, take some time to organize all of your thoughts. You need to come up with your own perspective related to the prompt. You should select the perspective you know the best.
Brainstorm evidence
You need to use several pieces of evidence in your ACT essay. At this stage, you may find out that you have more evidence to support another perspective. In this case, switch to another one, as you haven't started writing yet. You can write about your personal experience to support one of your points. You can use statistics as evidence. History or current events can also serve as evidence.
Brainstorm counterarguments
There is no single way to respond to the perspectives given by the ACT. It depends on your viewpoint. You should have solid arguments not only for, but also against the perspectives.
Organize an essay
You need to organize an essay so that it makes sense. Make an outline that will include an introduction with a thesis statement, your main points in the body, and a conclusion. Think of transitions that you will use while writing.
Write an introduction
Start with an introduction, the first paragraphs of which should grab the reader's attention. If you don't know how to start your introduction, leave some space for it and come back after you write other parts of your essay. Keep in mind that the thesis statement should be stated clearly.
Write body paragraphs
When you are writing the first paragraph of the body, think of the first sentence that refers back to this paragraph. For creating a unified argument, start each paragraph by referring back to the thesis statement. Don't forget to include an argument that opposes your own argument. In several sentences, you need to explain the evidence that supports the perspective. Tie back to the thesis statement to explain a counterargument to the perspective.
Write a conclusion
To wrap up your essay, restate the thesis statement. Don't include any new information in this part of the paper. Summarize everything that you said in your body paragraphs.
Revise and proofread
Don't forget to review your essay. Correct all the mistakes that your paper may contain. Excluding overly complex words or phrases makes sentences simpler and easier to comprehend.
Tips on how to write an ACT essay
Ideas and analyses. Try to generate an argument that engages with several perspectives on the issue. Your argument should establish a thoughtful context for your analysis. Tensions, complexities, and implications should be addressed by the analysis.
Development and support. Development of ideas and support for claims are important for a quality essay. The significance of the argument should be shown by purposeful reasoning.
Organization. You need an effective organization strategy to write a quality essay. The ideas should be presented in a logical sequence. Ideas from different paragraphs should be connected with the proper usage of transitions.
Language use. The right word choice is important for any essay. The structure of sentences should be clear and varied. Keep in mind that you shouldn't make errors in grammar, style, or punctuation.
Dos and don'ts for writing an ACT essay
Dos:
Write only relevant information according to the topic.
Revise all paragraphs.
Make sure you have transitions in each paragraph.
Don'ts:
Don't avoid examples; don't use examples unrelated to the topic.
Don't leave mistakes without proofreading the essay.
Don't add as many complicated words as you can.
How to be prepared for ACT writing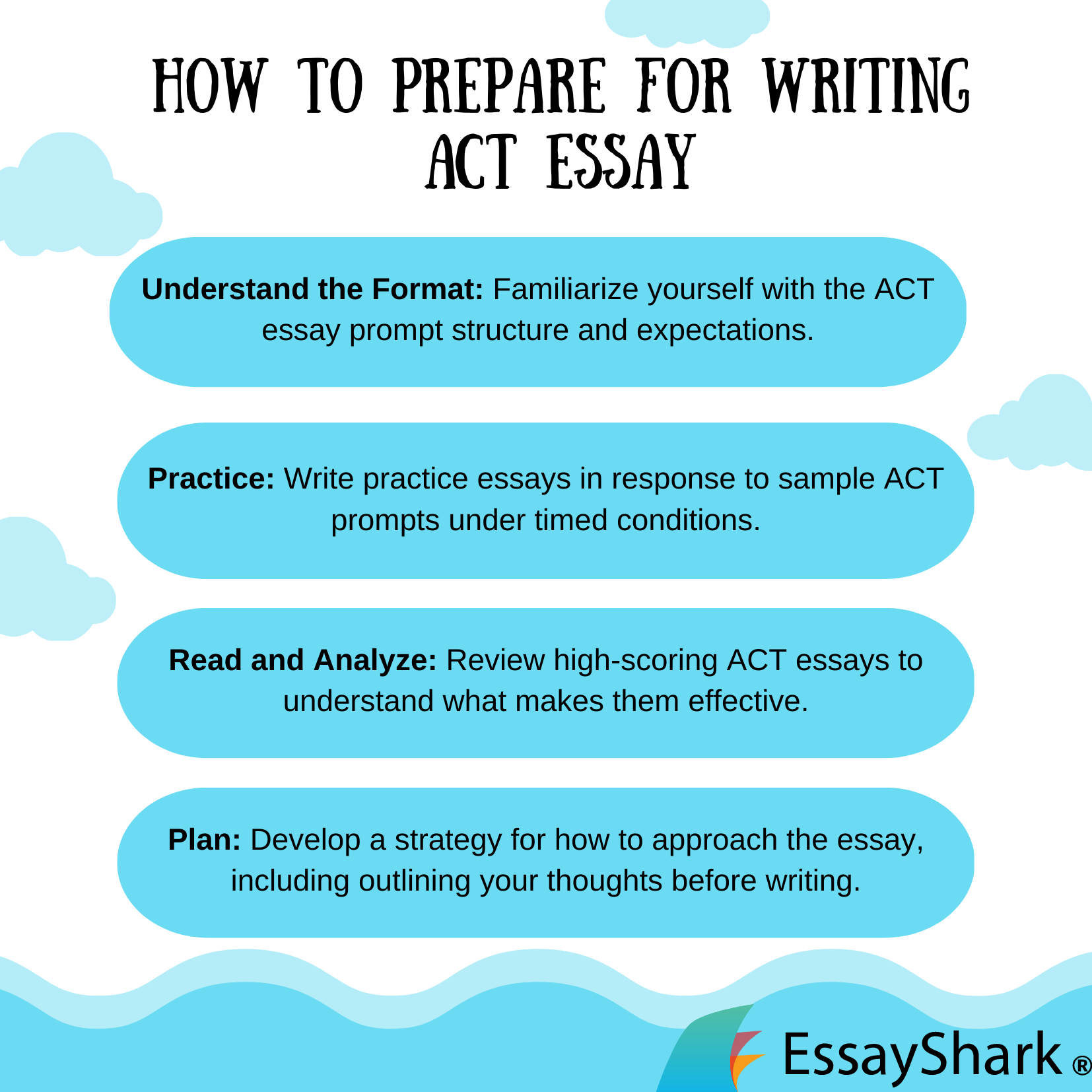 – Find lists of ACT essay prompts on the internet.
– Make a list of evidence that you can get from history, literature, personal experience, and so on.
– Ask your teacher about your weaknesses in writing and try to overcome them.
– Try to write an essay within 40 minutes, the time you will have during the test.
– Try to become more confident – nervousness will not help you.
If you are assigned an essay but don't know how to write it, you can buy it on our site. One of our professional writers will write a paper on any topic for you. You can always contact the writer if you have questions or want to check the progress of the order. If you get a completed essay and want something to be changed, then you can request free revisions.
Improve your scores by getting essay helper assistance from us!