How to Write an Explanatory Essay: Authority Writing Guide

What is an explanatory essay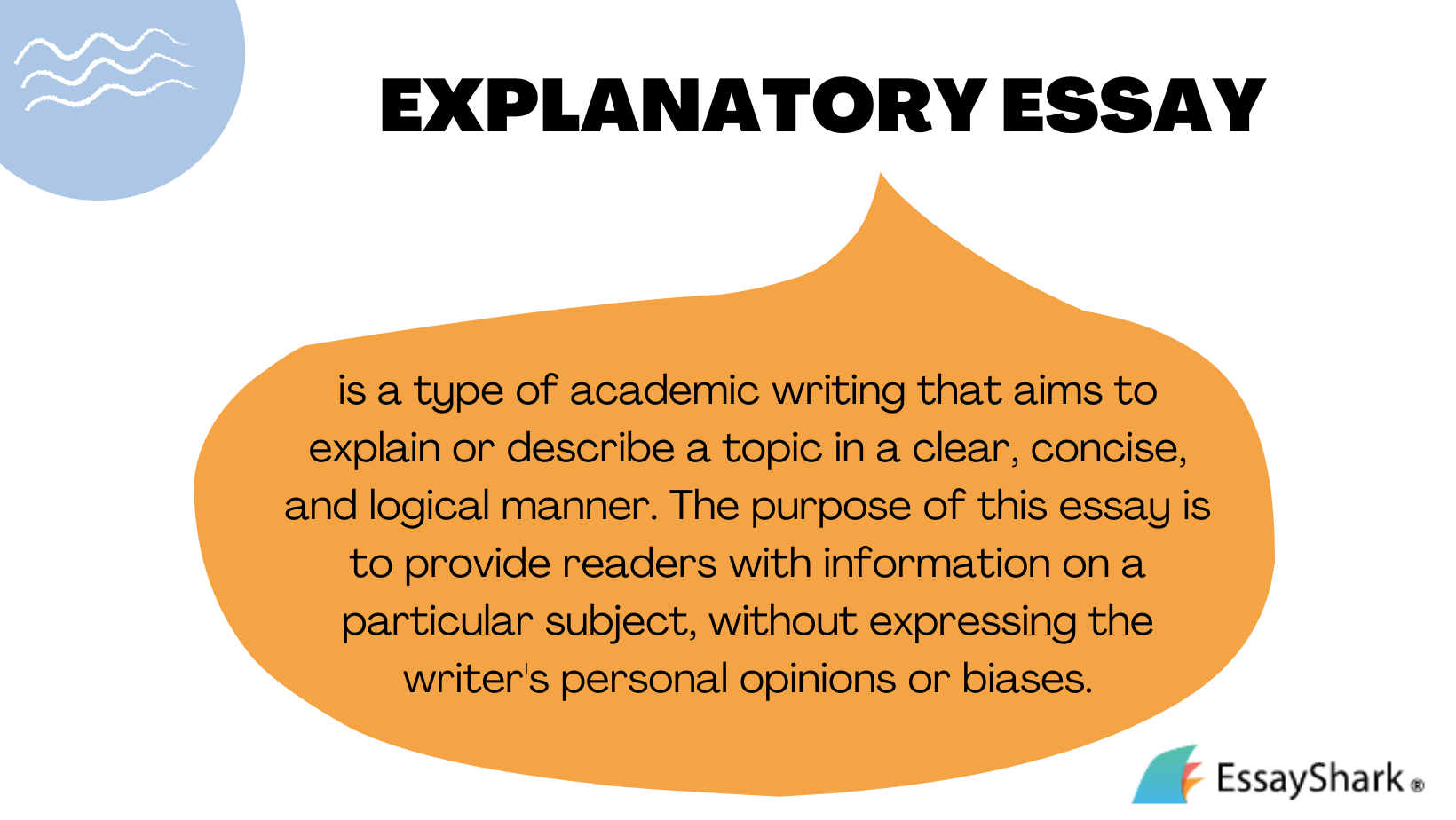 Explanatory essays have many purposes, but the primary explanatory essay definition is to explain an unknown subject.
In an explanatory essay, the writer presents information, facts, and evidence to support a thesis statement, which is a clear and concise statement that expresses the main idea or purpose of the essay. The essay may analyze, compare and contrast, define, or provide a cause-and-effect analysis of a particular topic.
Explanatory essays are common in academic settings, including high school and college courses. They can be assigned as a standalone writing assignment or as part of a larger research project. In addition, explanatory essays can be found in various forms of media, such as news articles, instructional manuals, and technical reports.
Overall, the goal of an explanatory essay is to educate readers on a particular topic, providing them with a deeper understanding of the subject matter.
The author's role in an expository essay is much like in any other academic paper: to take a position on a particular topic and use evidence to support and defend that position. The difference between this type of essay and more personal writing is that the author does not share personal opinions or experiences in an expository essay.
How to start an explanatory essay
Begin an explanatory essay with a sentence that defines the topic. Next, write a sentence that includes background information about the subject. Write another sentence with the main idea of the essay. Following that, provide reasons why the reader should care about the topic. To complete your essay, write a conclusion sentence that briefly describes the points you have made in the body of your essay.
Explanatory essay format
The main idea behind an essay of this type is to provide a detailed description of an object, event, person, etc., in the most objective way possible. The main difference between explanatory essays and other types of writing lies in the fact that explanatory essays do not aim at proving or disproving anything or relating any sort of personal experience. Instead, you should focus on building your explanatory paper around a central idea that you present to your readers.
The main point is to show the readers a new perspective on something they already know or at least have some background information about. However, you need to do your research, analyze it, and then put it all together in an exciting way so that your readers don't get bored. When writing an essay of this type, keep in mind that you need to stick to a particular format provided below and avoid any direct accusations, attacks on other authors, and judgments.
On the other hand, If you come across a specific problem that you cannot solve on your own, get help from qualified writers with degrees in relevant fields. These writers will make sure that your paper is original and written according to the highest standards.
Explanatory essay example
Check an explanatory essay example written by one of writers of our essay writing service.
How Can a Person Remain Optimistic Amidst Negativity and Hardships?
Negativity and hardships cause anxiety and unrest, negatively affecting a person's decision-making ability. One may think it is easy to remain optimistic when things go sideways, which is not valid. According to Bradberry (2016), the actual barrier to being positive when challenged is that our brains are conditioned to look for and focus on a threat. A person must focus on achievements to motivate them to stay positive that they will overcome the hardship. Staying optimistic requires a person to focus on the positive side rather than the negative crucial for finding the motivation to overcome difficulties.
Positive thoughts are crucial in refocusing one's brain to be attentive. When faced with hardships and dominated by negative thoughts, one must find a positive thing to shift their attention to (Bradberry, 2016). An optimistic view acts like a reset button needed to refocus our thoughts and energy towards being optimistic. A person can use a previous success as a positive element to refocus their attention. It may not be easy but refocusing on positive thoughts helps people remain optimistic. Without seeing the positive side of the problem, one is likely to fail because of giving up.
Also, gratitude helps eliminate pessimistic thoughts when faced with hardships. Contemplating what we are grateful for at work reduces stress hormone cortisol by 23% to improve our moods and attitude (Bradberry, 2016). When faced with a hardship about a project, being grateful for having it in the first place improves a person's spirit motivating them to work on it. It helps settle their nerves by reducing any panic or stress-related incidence by elevating their positive mood. Thus, being thankful for small achievements help a person remain optimistic.
Spending time with the positive and the right company is crucial in helping a person remain optimistic through hardships. The people one interacts and associates with when facing difficulties is responsible for cultivating positive attitudes to aid them to cope with the problems. Negativity and positivity have been established to be contagious, and an optimistic company can help improve a person's self-esteem needed to attain the set goals to overcome the challenge (Santos-Longhurst, 2019).
Spending time with an opposing company will discourage one from achieving the set goals. The person is likely to become distressed, especially if the hardship threatens their livelihood, making company a critical component to consider if one wants to remain optimistic at times of trouble. Thus, spending time with positive people is an effective way of remaining positive even at times of hardships because they motivate us to stay focused and overcome challenges.
Furthermore, opening oneself to humor and related fun activities helps a person relax and remain optimistic that they will find a solution to the hardship and, in the process, overcome negativity. Psychologists propose that laughter lowers stress, anxiety, depression, and other co-occurring conditions by elevating one's mood and improving coping abilities (Santos-Longhurst, 2019). When faced with a challenge, our reaction will determine whether we will cope or will be overwhelmed and lose control of the situation. One way of remaining in power is to ensure that we do not panic during hardship, and humor can help us stay relaxed. It does not matter who is the source of relaxation at times of adversity; the aim is to ensure that the negative thoughts do not cloud the already established positivity. To summarize, our brains are wired to identify threats making it crucial for people to refocus their thoughts and actions to positive outcomes to stay happy. The objective is to engage in activities that promote positive reviews to suppress the negative ones at times of hardship.
References
Bradberry, T. (2016, Aug 23). Three powerful ways to stay positive. Forbes, https://www.forbes.com/sites/travisbradberry/2016/08/23/2/3-powerful-ways-to-stay-positive/
Explanatory essay outline
An explanatory essay is a short piece of writing that explains and describes something. This type of content usually concerns a physical object, building, or event, although it can also include abstract concepts. An explanatory essay aims to explain things in a logical, cohesive manner. Lucid writing is essential when creating an explanation so that readers understand the subject matter thoroughly. Although it might seem relatively simple, the explanatory essay structure is much more complex than it looks.
An adequately structured explanatory essay includes a specific outline to guide you through the first draft process. If you follow this outline carefully and answer all of the questions it asks, you'll ensure that your essay will be logically organized and easy to understand. Essays require a thesis statement so that your article has an overall purpose and readers know what to expect from the content that follows.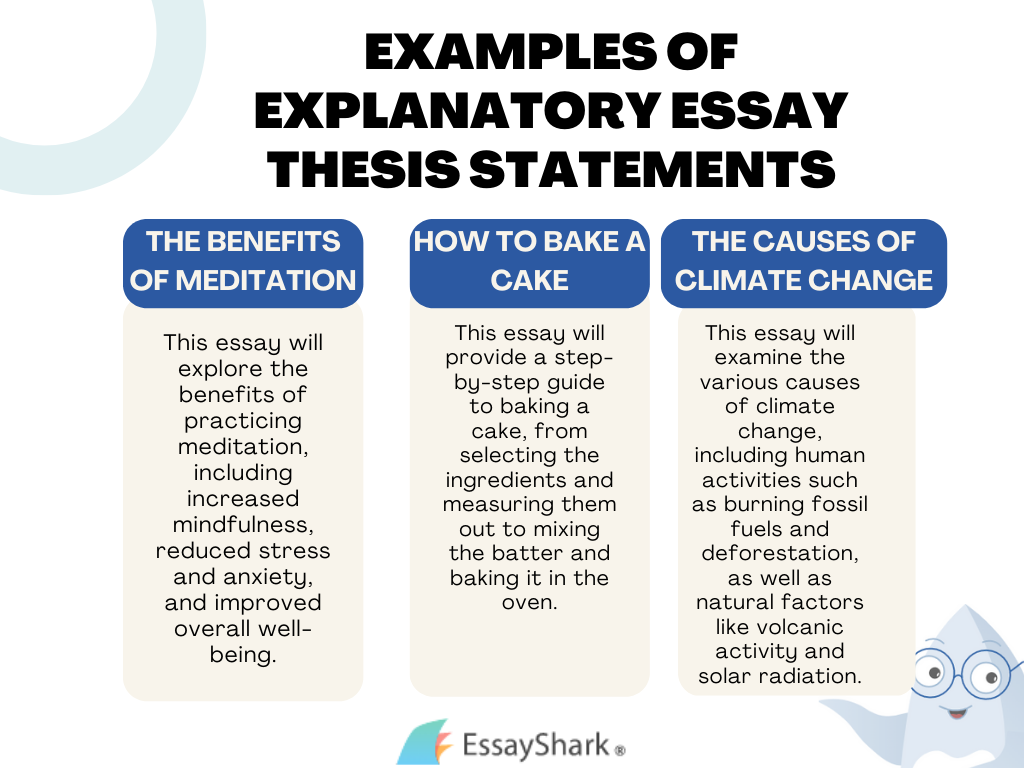 After your thesis statement, you should formulate at least three supporting points which directly relate to this statement. Your supporting arguments must include as much evidence as possible to help prove your thesis statement. At the end of your essay, create a conclusion that makes a final point about your subject and restates your thesis statement.
Explanatory essay topics
An explanatory essay is an essential type of essay that requires you to put your knowledge into context and explain how your ideas connect to other sources. If you wish to present your expertise clearly and concisely, you will be able to write an explanatory essay based on your experience and expand your knowledge.
Explanatory writing is used to inform the audience about something or analyze a particular situation. If you want to make a difference in the world, you will have a lot of opportunities to do so through different types of essays, such as explanatory essays. Explanatory essay topics are usually chosen from various subjects such as geography, literature, history, psychology, science, languages, and other fields of study. If you have selected one of these topics and you are looking for a sample essay, you will be able to find it in different places.
Average Level Topics
My ideal home
My dream project
An admirable person
Defining responsibility
Unique celebrations
Advanced Level Topics
Moral dilemmas
Talking about the generation
Analyzing modern career options
Talking about long-term relationships
Explanatory essay FAQ
 – What is an explanatory essay sample?
An explanatory essay example is a sample essay structure on any topic that people can read to understand how to write a descriptive essay. Illustrative essays are effective because they discuss a specific topic and give background information while also explaining the subject in different ways so that the reader understands the information.
 – What is explanatory writing?
Explanatory writing explains something in detail. Sometimes this type of essay is also called expository writing. It includes all the skills you need to develop a comprehensive understanding of the topic under consideration. There are four major parts to an explanatory essay: explanatory essay introduction, body, conclusion, and title.
 – What is an explanatory essay?
An explanatory essay is a free-writing assignment in which you explain something in such detail that your reader or listener gets a complete understanding. In an explanatory essay, you should include an introduction, body, and conclusion. The entire purpose of the essay is to get readers to understand something better.
Explanatory essay writing assistance from EssayShark
A lot of our incoming customers are people who underestimated how tricky a good essay is and are now looking for help. They come from all over the world, from different fields, ages, and all education levels.
Only after you're done with your first essay will you be able to build up your skills and get better at it every time you try. Our essay help service comes with a wide range of topics to choose from. It is a great idea to choose something you are interested in and something that you know well. This way, writing your essay will be much easier, and you will have fun while doing it.
To give the highest quality of the work, our  humanities essay writer,  or other authors check each essay they write over several times. Also, they constantly improve their skills and knowledge to provide even better essays for all of their clients. If you are looking for something specific – for example, medical language essay help or a superstition essay – then our company can provide you with that. If you need help writing an essay, then put your doubts aside – it's time to act and we are always ready to help. Request write my essay assistance right now.
Photo by freestocks from Unsplash