How to Write an Illustration Essay: Complete Guide

In academic writing, there are types of papers used to corroborate certain ideas and hypotheses prior to studying and analyzing them in larger, more substantial academic works. Illustration essays belong to this category of academic writing – their aim is to prove the existence of a particular thing by demonstrating, or, as the name of the type of the paper suggests, illustrate its validity. The illustration of ideas and things in this type of essay can be done through answering a question extensively, providing solid proof to the idea offered, or exemplifying things and objects.
How to write an illustration essay, then? The process is indeed complicated and highly specific, underlied by a number of requirements and standards. If you doubt in your writing skills, you can always request "write essay for me" help from our experts.
For this reason, in this broad guide, you'll discover the secret on how to write a comprehensive illustration essay. Moreover, in our helpful guide, you will find select illustration essay topics!
What is an illustration essay?
An illustration essay is aimed at proving that a particular idea or thing exists through introducing the reader to valid statements that back up the existence of the subject. This type of essay serves as a fundamental introduction to deeper research to be made in an academic paper. Illustration essays are based on evidence, relevant facts, logical conclusions, and supporting arguments.
As a rule, illustration essays are written by students to learn how to make broader research in their research papers, obtaining the necessary skills that other, more complex forms of writing require. When creating an illustration essay, students learn the basics of science writing, thus getting acclimated to working with substantial research papers.
Now, we can move on to our hands-on guide on how to write an illustration essay.
Elements of an illustration essay
Creating an illustration essay requires a diligent and consistent approach from the writer. The structure of an illustration essay is, in a way, similar to other types of academic writing and comprises several stages that need to be considered by writers. An illustration essay is made of an introduction, body paragraphs, and conclusion.
Introduction
This part is critically important for your essay to be perceived properly by readers. The introductory part is expended to guide the reader into the further understanding of the essay and hook them. In your introduction, you have to provide readers with the brief information on what the essay is about and what exactly you'll be illustrating in it.
Body paragraphs
This is the main and most substantial part of your essay. The bulk of your essay needs to feature information on the subject matter and provide the reader with evidence for why the idea or thing discussed exists. The body paragraphs of an illustration essay include the following points: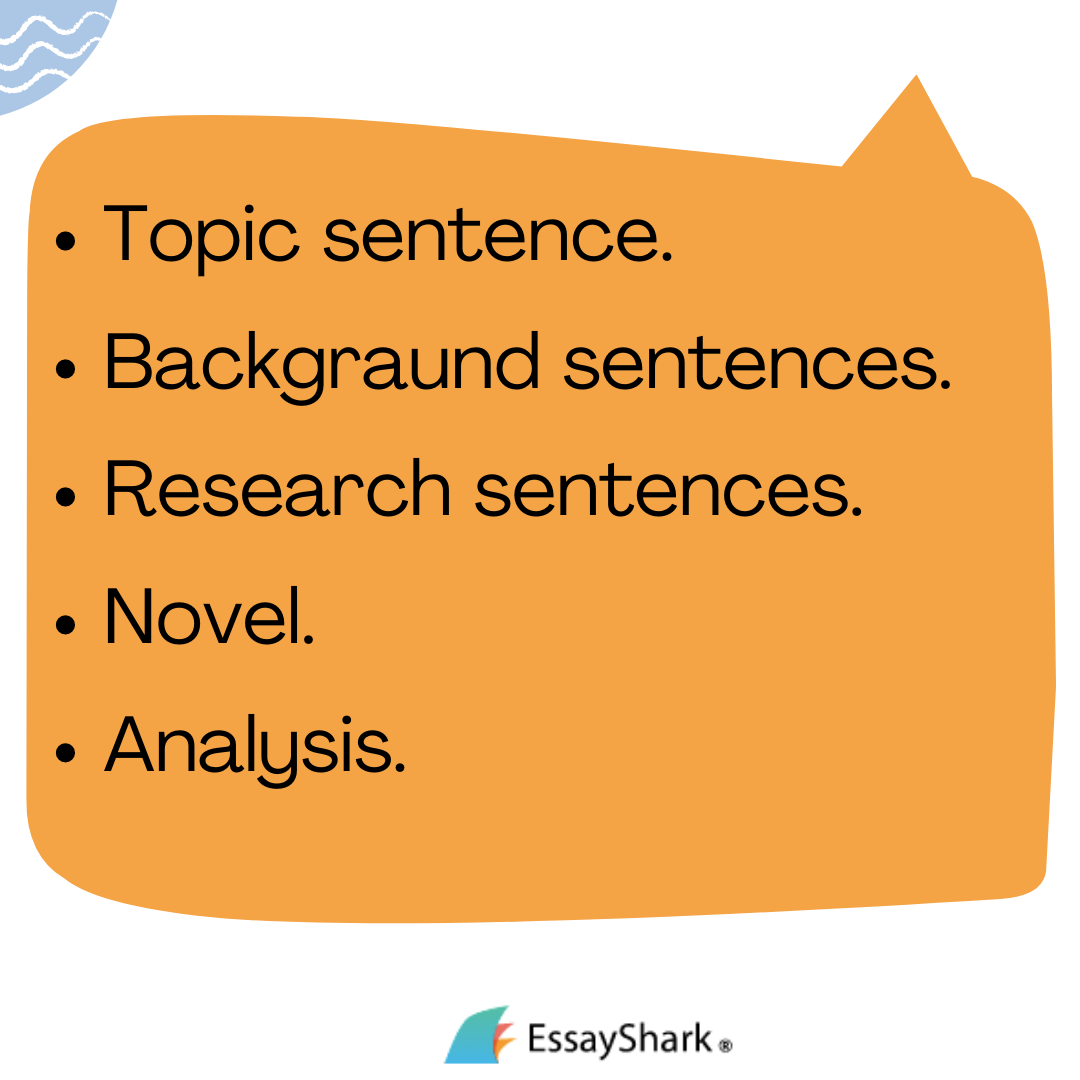 Conclusion
In an illustration essay, the conclusion should recap the entire information provided earlier and briefly emphasize the essay's main idea. You have to summarize everything stressed earlier and let the readers comprehend the essay's main idea.
A detailed guide to writing an illustrative essay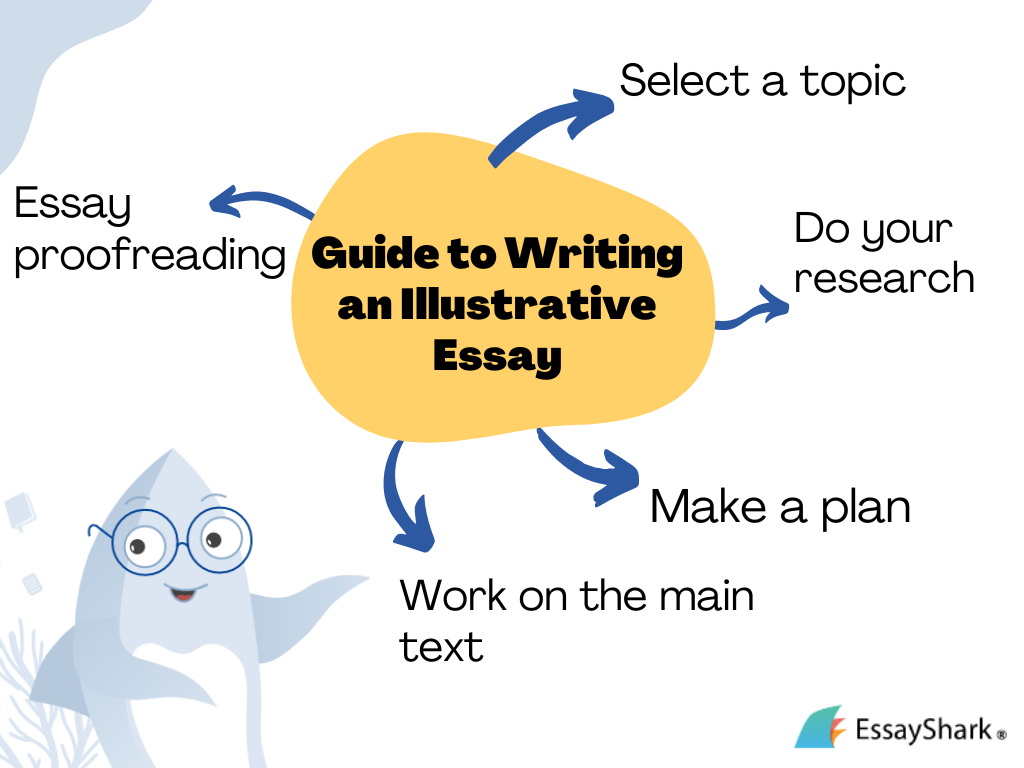 1. Select a topic.
Determine your main idea and think about what exactly worries you to decide on the object. You can use the list of topics we provide below to get an idea of choosing a topic and what to discuss.
2. Do your research.
You may know the topic chosen by you or the professor well, but you still need to study the material more carefully. You can direct your train of thought along a new path while you explore the resources and decide to change your mind.
3. Make a plan.
It would help if you focused on the ideas that arise while searching for information and planning for them. Think about what you want to put in the body text and what is in the rest of the paragraphs. After you think over the program, you will be able to choose the best options for illustration.
4. Work on the main text.
Please make it so that you turn the plan you previously made into an actual academic essay. First, you must write a strong thesis that can hook the professor and show professionalism. Summarize the same thought you described in the view at the end of the essay. Explain your chosen example in each of your main paragraphs.
5. Essay proofreading.
Before sending your essay to a professor for review, you should carefully check it for errors and context. What you have come up with is only the basis that the number of grammatical, spelling, and punctuation errors can quickly spoil. Therefore, checking your essay with a fresh mind after a break for typos and other incorrectness in the text is best. Proofreading will greatly help with good grades.
How to find inspiration and evidence for an illustrative essay
Online and not only, but there is also enough information to look for evidence intended for your illustrative document. Sometimes too much information can make selecting just a few examples difficult if you're interested in how to write an extended essay that your professor will love, start by looking for quality sources of ideas.
For you, the most comprehensive source of ideas is the media. Read the article and learn how to write your creative essay for college. You can find a quote in a suitable book or browse the social networks of celebrities or friends. Inspiration for people often comes from nowhere or from the simplest things in our daily lives. An evening outing with friends or a mundane situation at the supermarket can spark off-the-beaten-path and unique essay ideas. It is straightforward to communicate with people, watch the news, and pay attention to what is happening in the world around you every day.
It is also essential that the format of your research for an essay does not have a plain meaning. You need to use different kinds of sources and naturally make the examples you provide more versatile. You can quickly look for inspiration and ideas for your illustration essay on social networks, Instagram, Twitter, Facebook, Reddit, Linkedin, etc. Scroll through the currently trending posts, then check which tags are trending today. You can also watch some of the current videos on YouTube channels, listen to podcasts, or focus on movies or TV shows. Also, pay attention to resources like online newspapers, which often have interesting posts.
Tips to help you write an illustration essay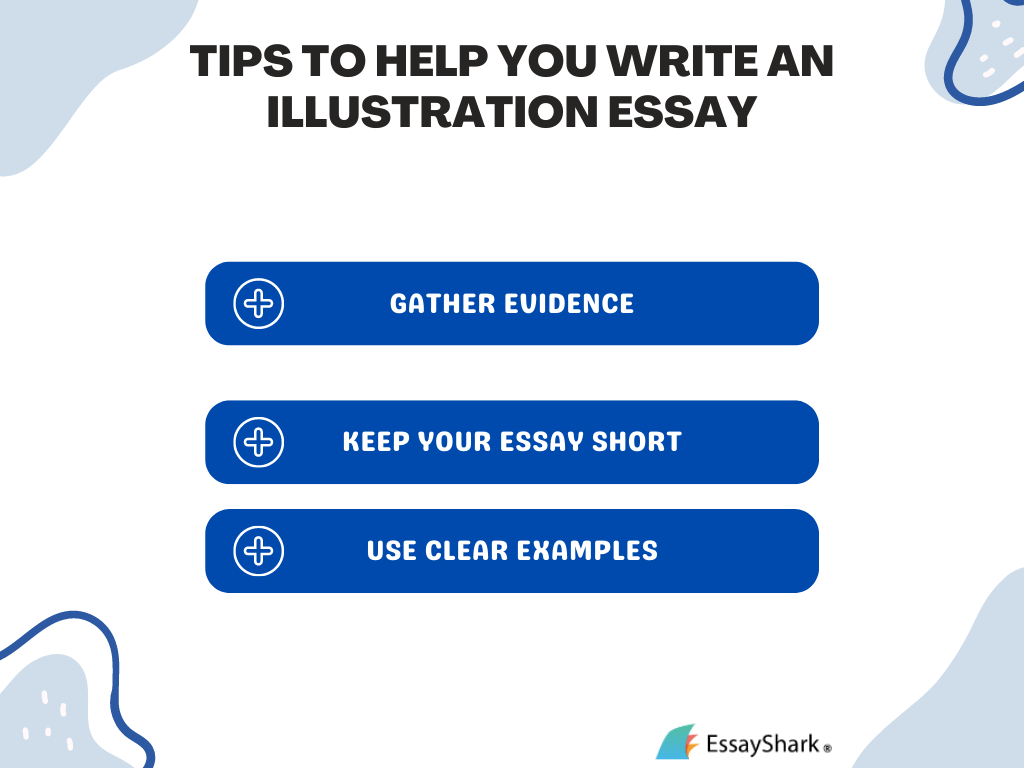 Let's imagine that you will write your essay in four paragraphs, which means you will need to use four illustrations. Still, you should be bold and increase your essay length to at least six points if you have something to say. If you still choose more illustrations than you need, try to narrow it down to a few examples to describe each of them better.
Most often, the essay volume is indicated in the requirements from the professor at the time of issuing the assignment. But if this differs from the case, you should write at least a few pages of an essay. You can describe some of the ideas you have. It would help if you focused on excellent and concise argumentation for your examples. Focus on the evidence that most demonstrates your opinion for the essay.
You must understand that the professor should save time revealing your thoughts and what you had in mind while writing the work. Everything you decide to add to your essay should be exciting and accurate, and sometimes even impressive. Don't be like everyone else. Create something worthwhile, or ask for help with term paper, or essay writing from professionals. Your main task is to evoke emotions in the reader. It is also helpful to incorporate your personal experience into the text. It is also essential that the examples you provide in your text match your readership for easy flow.
Illustration essay topics
Is it true that customers are always right?
Why the environment should be protected.
What makes personal choice a critical asset of human life.
Why people need US medical insurance.
Self-development is a great way to succeed.
Motivation helps college students accomplish large academic goals.
The importance of legislation in regulating LGBT culture.
Why the IT industry needs constant improvement.
Do governments need to go harder on implementing crime-related laws?
Is there any need for an eco-friendly education?
Charity as one of the most progressive forms of modern life.
Illustration essay sample
Why School Uniforms Should Be Banned
Every person is unique and incomparable by nature. And our uniqueness always manifests itself in numerous ways, from what we say to what we wear. When it comes to clothes, however, the common stereotypes and social dogmas right away come into play: people tend to impose their biased values and preferences on others, dictating norms and rules of how they should dress. And this problem is especially critical in the educational sector, particularly in the school realm. As victims of social and cultural stereotypes, school students are forced to lose their individuality to some extent and obey the rules requiring them to wear uniforms.
The progressive lifestyle of today sets its own standards and norms, proclaiming the following: the implementation of school uniforms is unfitting for modern education and needs to be reviewed by the committee boards of schools. According to the latest methods that the secondary education sector is adopting, wearing uniforms is humiliating for pupils, as it prevents them from expressing their unique identities and developing the sense of identification and self-awareness. Based on psychological studies, imposing the rule of wearing a school uniform on students decreases their self-esteem and diminishes their belief in themselves.
References
Srinivasan, P. (2017, March 5.) 5 Reasons why uniforms should be banned. Retrieved from https://medium.com/@PriyaMadhuSrinivasan/5-reasons-why-uniforms-should-be-banned-d369722bcbb6.
Drawing the line
Illustration essays help students to gain the proper knowledge of how to tend to larger academic works and gain skills in researching topics. This type of academic essay serves as a basis for more substantial scholarly papers that require students to develop deeper proficiency in research. Through illustration essays, students can grasp the practice of science writing at large, learning to study topics and substantiate points in their papers. We hope that the super-effective guide from our scholarship essay writing service will assist you in your writing endeavors. Remember that, in order to write like professionals do, you need to read professional recommendations first!
EssayShark can help you out!
Our essay service is famous for providing students with reliable and cheap academic assistance. EssayShark has gathered the industry's top professionals and developed a win-win system for helping college kids from across the world. How to write an illustration essay? And where can you find decent illustration essay topics? Our sharp-witted experts have it all figured out for you. With us, you'll no longer experience writing issues or any trouble finding solutions to your academic pains! Ask us for essay writing help and break free!
Photo by DevidRockDesign from Pixabay