How to Write a Point of View Paper in One Hour

Every smart person has his or her own opinion about pretty much everything. The smarter people are, the less often they express their opinion publicly without a special occasion. Yet, writing an example of a point of view essay is a good occasion to share your ideas and beliefs with readers. You also have to provide a point of view or opinion essay when you pass various language tests like IELTS or FCE.
When you write a point of view essay for your personal use (e. g. for your blog), you don't have to follow any strict rules or limitations. On the other hand, when you pass an exam, you should be accurate and follow all the recommendations and requirements. If you neglect instructions, your grade for the writing task won't be ideal. Don't try just simply to generate such types of papers, as the tutor knows your flow of ideas and any AI content detector will identify not the human written text.
Below, you'll find a short, informative, and helpful guide on how to write a point of view paper. You can use our recommendations both for exams and for less formal writing. WARNING! If you want to pass an exam successfully, you should first consult an exam guide as instructions change a little bit every year.
Ready-to-use templates to structure your opinion essay
When you pass an exam, your primordial task is to demonstrate your language skills, not your eloquence. That's why we suggest you to focus on perfect wording and spelling and use one of the ready-to-use templates. They will make the writing process much easier, as you won't have to reinvent the wheel. Put your ideas into these templates, and you'll get an excellent point of view essay.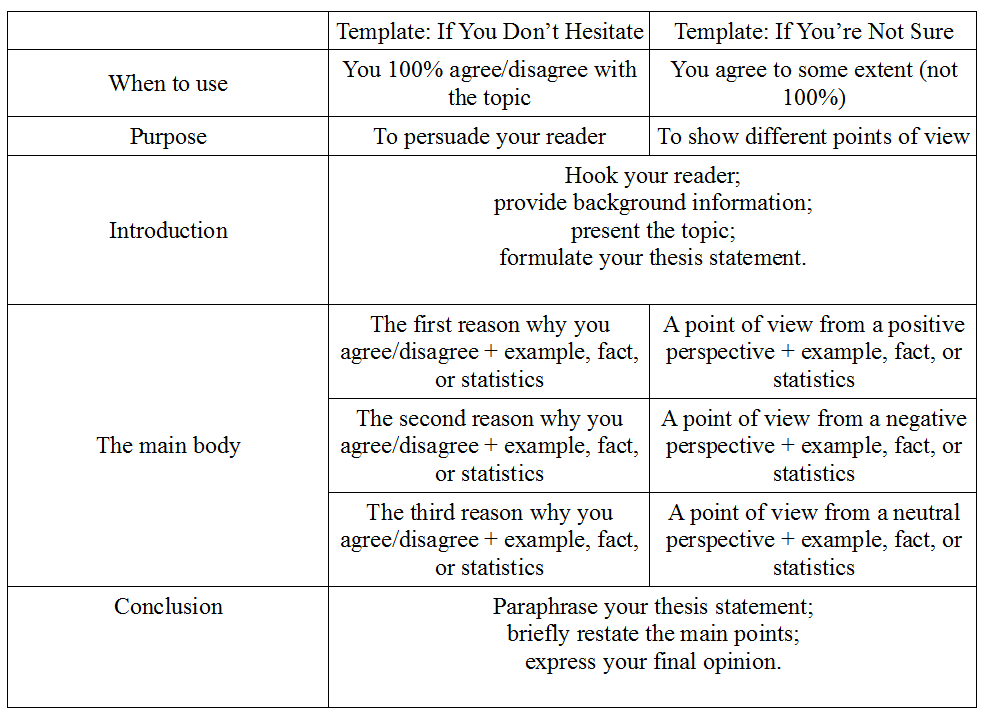 These variants of the structure are appropriate for any topic. Your plan is ready now! So now it's the right moment to find out how to make the content of your opinion essay more original and interesting. Check out our three ideas on how to write a point of view paper creatively!
3 special ideas for an awesome point of view essay
It is hard to come up with good ideas in a limited amount of time. It is especially so if you panic because of the exam or are not familiar with the topic. We'll tell you about easy and unusual ways to brainstorm and make your essay original and impressive.
Thematic flower
This "romantic" method is great when you want to look at your topic from different perspectives.
You put the keywords of your topic in the center, and around them different spheres related to the theme. For example, let's say you have to express your opinion about a universal language for all people. Your scheme will look like this: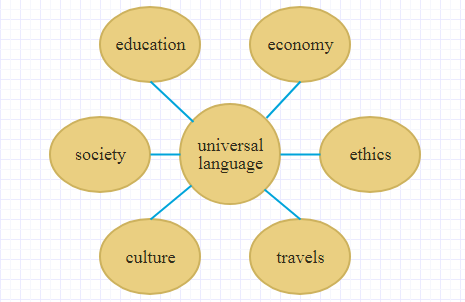 Imagine how exactly the existence of a universal language would influence each of these spheres. For example, it will be easier to provide education as there would be no need for learning foreign languages. On the other hand, the universal language may cause the decline of national cultures. You don't have to use all possible arguments, but you can choose the most persuading ones.
Counter-argument
Have you ever heard about reverse psychology? You probably have. In order to prove your point of view, you present the opposite one. It doesn't make any sense for now? That's fine. You see, you can present the opposite view as unreasonable and illogical. Sure, it doesn't seem fair. But it is rather effective – trust us.
Word game
If you are good at the association game, this technique is perfect for you. Think about your topic and write down all the associations you have with it. Then, write down the associations that come to your mind with regard to previous associations. You'll get a whole associative tree! In such a manner, great ideas will fill your consciousness immediately.
Main peculiarities of point of view papers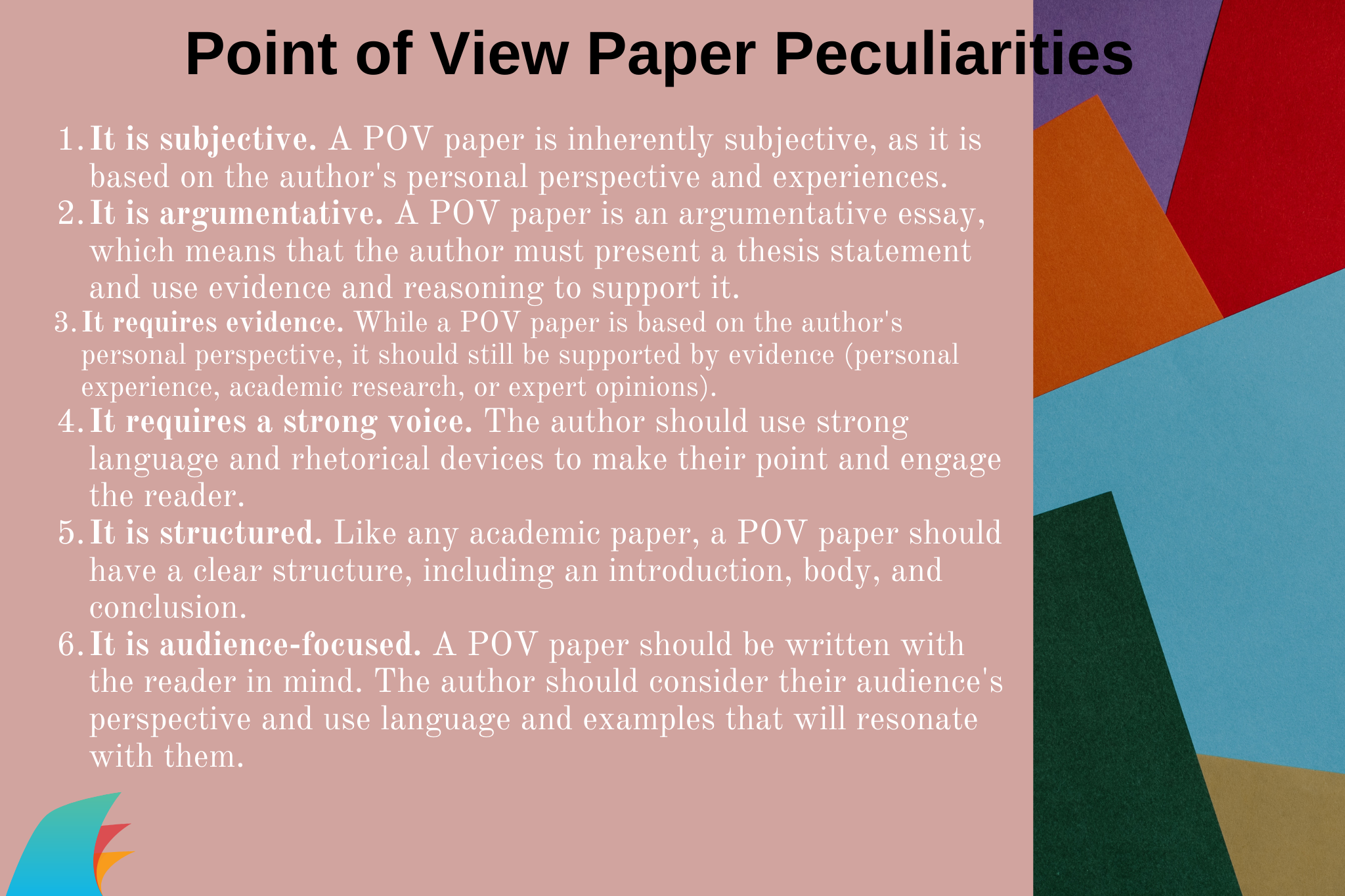 Simple phrases to make your point of view essay better
You don't have to use all these phrases in your text. Actually, you shouldn't, because it will not make much sense. These expressions will help you to make your ideas more structured. They will simplify the reading process and add conciseness to your essay.
1. Phrases to start argumentation:
– Firstly
– In the first place
– To begin with
– To start with
– First of all
– Generally
– First and foremost
– First and most importantly
2. Phrases to present your opinion:
– I believe that
– In my opinion
– To my mind
– It seems to me that
– Personally, I think
– I feel strongly that
– I have no doubt that
– From my point of view
– As far as I am concerned
– Speaking personally
3. Phrases to provide information/example:
– It is widely known that
– It is a fact that
– It is true that
– In fact
– For example
– For instance
– To illustrate
– As seen in
– Based on
– By way of example
– As a matter of fact
4. Phrases to add a few words:
– Moreover
– In addition
– What is more
– Furthermore
– Not to mention
– On the other hand
– Alternatively
– Likewise
– Another key point to mention
5. Phrases to summarize:
– Consequently
– In summary
– To put it briefly
– In conclusion
– Given these points
– On the whole
– Altogether
– All things considered
– Hence
– To sum up
– Therefore
This list will help you to make your example of a point of view essay well structured and attractive to readers.
The last thing we can do for you is to present a well-written opinion essay right here! Read it thoroughly to learn more about the proper argumentation, structure, and writing style. Please, do not commit plagiarism!
Example of a point of view essay
Do Sports Build Character?
It is known that within the proper environment (in regards to leadership and people), a sport provides not only a healthier life, but also the amazing opportunity for children to connect with teamwork, rules, and other social values such as respect, justice, responsibility, kindness, and tolerance. These social skills plus emotional self-control are the keys for future success in many other environments and relationships.
These notions come from the nineteenth century when the British government believed that sports could positively influence young people to become better leaders in their future adult lives. Nowadays, this positive influence has its own challenge due to competitive sports. It is a real challenge to analyze how much pressure, corruption, and competitive behavior are involved in these scenarios (LeBlanc, 1997).
The psychological benefits of playing sports are not an automatic consequence, or a direct effect of the game or activity. Any social skill has to be promoted intentionally (Austin, 2010) and using the self-example (as parents and coaches) to set up a mirror for the kid to imitate that behavior or attitude and introduce it within the game, and the circumstances in their lives outside.
The value of responsibility within sports develops discipline. It is with this discipline that athletes can achieve higher levels of performance and speed. Parents and coaches are responsible to promote this persistence in whichever actions and routines are required by the sport or activity that the young kid is performing. However, kids must have proper attention and cannot be pushed into an activity they don't feel attracted to, even though testing or inviting is not going to damage the kid, for this should be limited and flexible.
Playing sports promotes a healthier life and helps to build character. Many social skills are developed by working within teams and following some rules with respect and tolerance. Parents and coaches are responsible to promote social values and a team spirit rather than adding pressure or competitive behavior.
References
1. LeBlanc, J. E. (1997). Straight talk about children and sport. Mosaic Press.
2. Austin, M. W. (June 24, 2010). Do sports really build character. Psychology Today.
Retrieved from https://www.psychologytoday.com/us/blog/ethics-everyone/201006/do-sports-
really-build-character
Conclusion
Now, you have everything to compose a better essay. Your point of view can be important in many cases so it's necessary to express it in a proper way. Practice your writing skills with EssayShark and become better at academic writing!