How to Write a Visual Essay in the Shortest Possible Time

Visual essay definition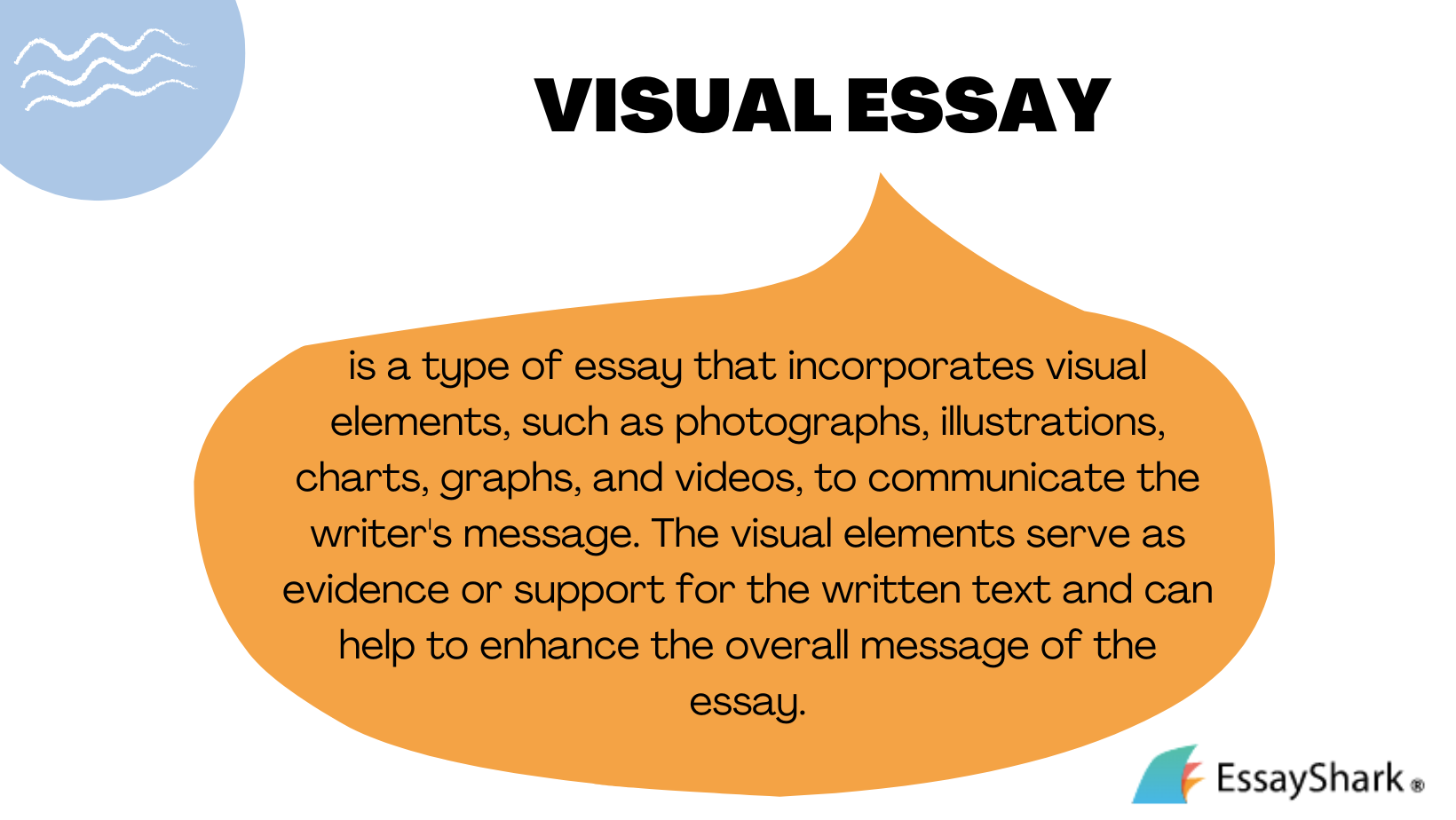 Visual essays are often used in fields such as art, design, and media studies, as they provide a way to explore visual culture and communicate complex ideas through imagery. However, visual essays can also be used in other disciplines, such as history or science, to present data or provide a visual narrative.
The structure of a visual essay can vary depending on the topic and purpose. Some visual essays may feature a series of images with accompanying captions or descriptions, while others may incorporate a mix of text and visual elements in a more traditional essay format.
Visual essays can be powerful tools for conveying information and engaging audiences, as they appeal to both visual and verbal learners. They can also provide a creative outlet for writers and artists to express themselves and explore new ways of presenting information.
How to write a visual analysis essay
In modern creative writing, the concept of "visibility" refers to different types of perception: visual, auditory, and tactile. Only a small group of people have theoretical awareness of visual reality to date. Modernity requires special visual education. Currently, teachers, art historians, and designers believe that children in the course of education should form a visual setting, a special attitude to what they see as a "text," which has a number of meanings.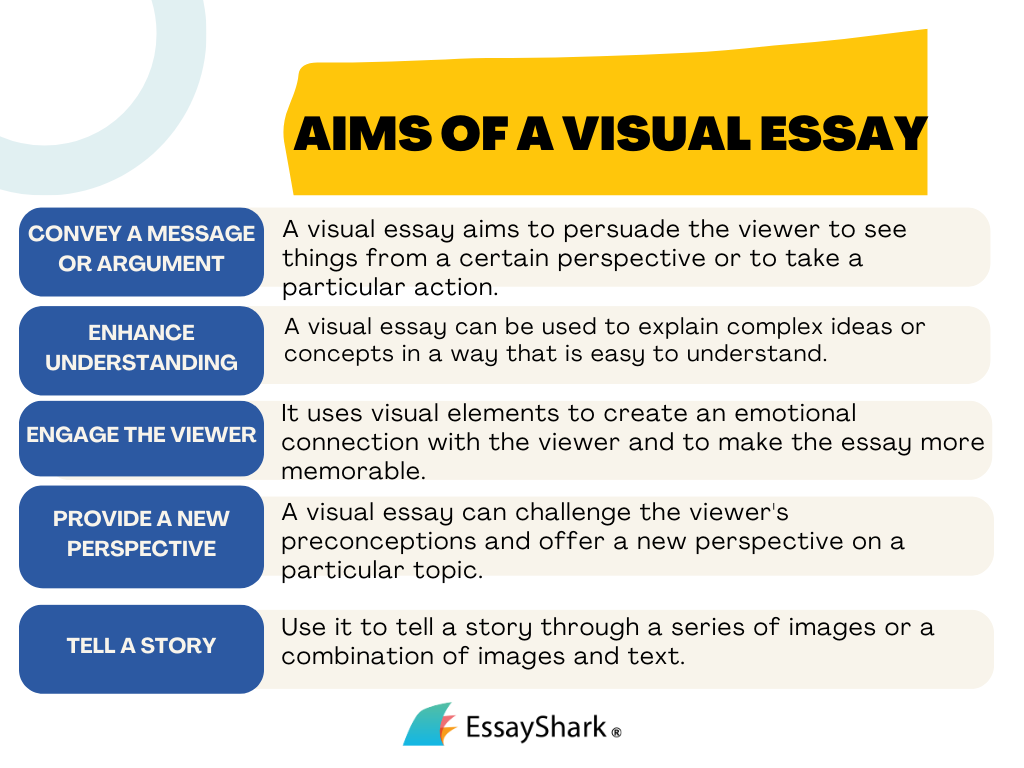 That's why students are assigned writing visual papers; but how to write a visual argument essay, or what points to specify when you order essay from a professional?
Usually, the presentation of images in a visual essay is directed by such elements:
The sequence of images and how they relate to each other, how images are included in the set.
A set of a page on which the image is presented and the set of the next and previous pages.
Short analysis, quotes, keywords, provocative questions, and statements.
Text presented on the image.
Short text in the beginning and conclusion.
Different types of visual presentations can act as a stimulus and visual and semantic support for the creation of students' papers. Reproductions of paintings, photographs, charts, and tables contribute to the development of different types of writing activity, the improvement of presentation skills, the integration of speech and art, and the formation of cultural competence of students. The assignments connected with the picture, the photograph, and the scheme stimulate the speech activity of the speaker, and support and direct his or her presentation activity. Examining pictures, photographs, tables, and schemes triggers thought processes, promoting the development of a student's observation and attentive attitude to linguistic phenomena.
A visual essay is not a common method of essay writing. However, creating a good visual essay is like writing a good academic text and in most cases it can be more difficult to do. Never choose to write a visual essay because you think it will be easier to write than an "ordinary" one – it will lead to poor work. In any case, if you don't know how to write a visual essay at all, it is better to read through as many guides as you can find.
How to use visual elements in your writing
The use of visual elements helps to produce written work, ensuring its logicality, completeness, and lexical and grammatical diversity, organizing the utterance into semantic blocks, isolating the details and forming the main idea of the utterance, stimulating the use of certain vocabulary and commenting on the meaning of words and expressions.
A visual essay usually has the form of a connected sequence, but can be a set of unconnected cards if it better works with your ideas. It can be in the form of a Photoshop slideshow which is presented automatically, combining the image and text in a sequence according to the essay style. Remember that visual essay examples are the key to success, because they can help you to understand how to deal with your own paper.
An interesting choice of visual essay is to write it on a comic book. When you do such an essay, you should include your personal attitude to the comic you have chosen for your paper. Comic books can be given by your teacher, or you can use those you would like to present. The following questions and tasks should be considered while writing a comic book visual essay: which event served as a string, which is the culmination, and which is the denouement? If you don't know how to write a visual essay on comics, you need to read though at least one visual essay example.
A visual essay should be equivalent to a traditional academic essay. It means that you need to do some research, organize the information properly, and make a plan before creating your essay. For example, if written essays contain 1500 words, then visual essays should include 10-12 images and nearly 500-700 words of text.
A visual essay should include an annotated bibliography. The annotated bibliography is an important part of an academic paper. There are effective hints that can help you create a visual essay without any problems.
Surf the web and gather all the useful information for your essay.
Include appropriate images and thoughts in your paper.
To make your presentation more interesting, use graphics, different diagrams, and charts.
All data that you use should be up to date.
Don't forget about numerous means of visualization while defending your essay.
Let your relatives or friends look through your paper before you hand it in. they can give you good advice.
What tools can help to write a visual essay
Presenting your ideas to the audience is one of the most important moments for getting a high grade. To make your presentation more appealing and effective, you can use the following tools:
PowerPoint
Photoshop
Adobe Flash
Microsoft Word
Windows Movie Maker
When you do a visual essay, discard the ready-made templates. They are soulless, dull, and boring to everyone. It is better to create something of your own. Moreover, it is not necessary to have design skills for this. Do not turn your presentation into a rainbow, even if your visual essay is devoted to a children's theme.
Mistakes to avoid in visual essay writing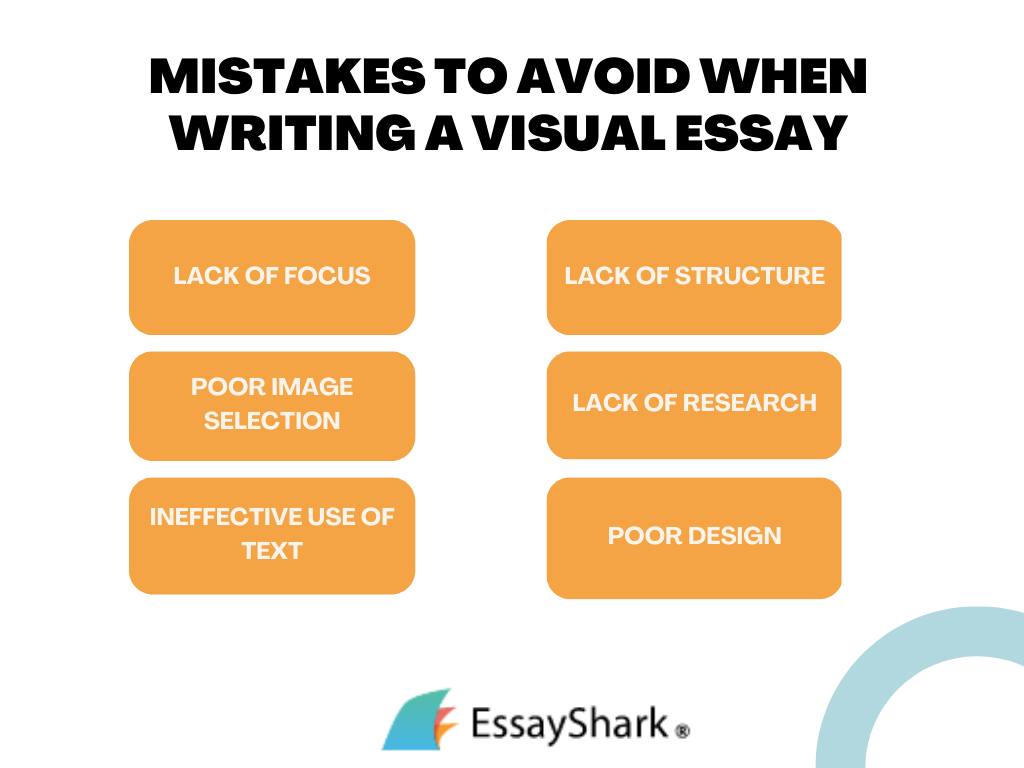 We hope that our guide helps you to create a high-quality visual essay. You can also find samples on our site that can serve as templates for writing your papers! Or choose an essay helper on our site and get a unique paper sample.