How to Write an Informal Essay

During their college years, students write dozens of papers, which, when stacked together, can occupy an entire room. These pieces, including articles, reports, or just final papers for the specific course in their nature, are formal writings. So, this guide is devoted to introducing you to the formal side of informal essays.
By this time, you may catch yourself being happy about the chance to say whatever you like about anything that concerns you in the most suitable form. However, this is still an academic assignment, and there is a list of distinctive features of an informal essay you should follow.
What is an informal essay?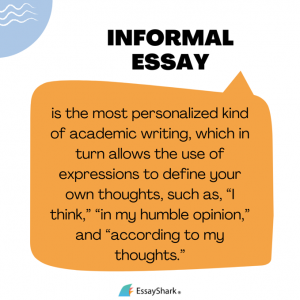 The informal essay is the most personalized kind of academic writing, which in turn allows the use of expressions to define your own thoughts, such as "I think," "in my humble opinion," and "according to my thoughts." Here are some distinctive features of informal essays:
● The characteristics of an informal writing style allow the covering of controversial topics.
● Another peculiar feature of informal essays, which also flows out of a personalized writing style, is a similarity with conversation.
● In the end, your personality is the first aspect that the reader should see.
In the case of informal essay writing, you can pretty much ignore strict requirements.
While writing an informal essay, you are supposed to put great emphasis on creating a connection with your audience rather than just proving your opinion or telling a story.
How to write an informal essay: video guide
We know that some people understand information better in video format. That's why we invite you to watch and hear informal essay writing instructions on YouTube below.
Difference between formal vs informal essay
What are the major differences between a formal and informal essay? There are several peculiarities about the structure of informal essays you should know before you start writing:
1) Informal types of papers do not have a specific format and can be determined by the author personally. You can now forget the "introduction, body, and conclusion" structure. When it comes to an informal essay, you are even allowed to use fiction to interest your readers.
2) There is no conventional way of organizing the thoughts, judgments, and presentation to readers, as well as there is no agreement about the length of informal essays. Of course, your writing should follow general writing rules, such as being logical and concise. Still, you don't need to place the topic sentence at the beginning of each paragraph and follow other strict rules of academic writing.
3) There are no requirements for informal essays to contain strong theses or even thesis statements as such. The desire to create friendly relationships between the writer and future readers together with the primary objective (the pleasure from the reading process), dictates the situation when structure gives way to a more exciting presentation of thoughts.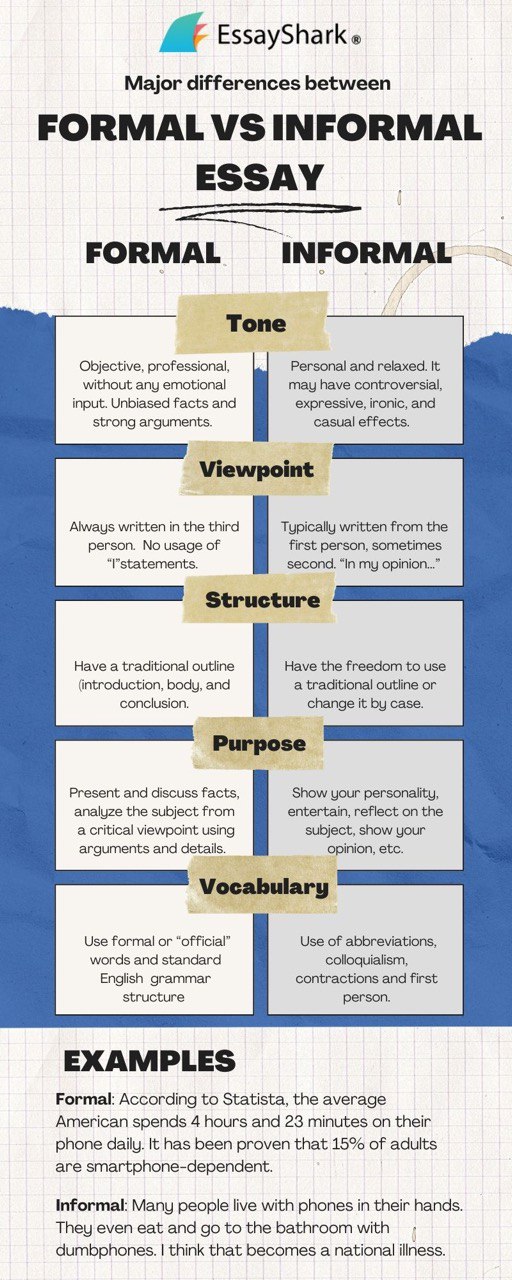 How to write an informal essay in 5 steps
The good thing about informal essay writing is that you don't have a strict plan to follow. We will provide you with the main guidelines on topic choice and completing your essay to help you lead your creativeness in the right direction:
1. Determine the purpose of the future essay.
2. List as many subjects in the focus of your interest as possible.
3. Evaluate each of the topics in the list.
4. Develop a topic of choice using any paper structure you like.
5. Double-check and proofread the completed paper.
How to choose informal essay topics

The key to a well-written essay is choosing a good topic to write about. Writing about something you are sincerely interested in will drive your creativity and writing process.
For example, a teacher has asked you to write about a person or event that has determined your decision to pursue a degree in a particular sphere. How to understand that moment? You will need to dig into your memories. Maybe it was a specific moment in a movie, or your aunt has become a role model you wish to follow. Think about what you have felt and the touching points.
Another case is when your teacher didn't give you a research question, so you must pick a topic yourself. Then the best way is to brainstorm about the topics that interest you the most or look through the news to discuss the most topical issues.
If you suffer with finding a good topic for your informal essay, you can always ask us to write my essay anytime. Our writers will find a good topic and explore reliable sources to write a unique informal essay for you.
Informal essay topics list
Here is a list of various topi ideas you can use as a basis for your paper. Pick one and use brainstorming techniques to find the ideal topic for the informal essay.
Traditions in my family and their importance.
Why I choose religion as my life path.
How celebrities and influencers affect our choices.
My view on femininity and feminism.
The moments of my life that I wish I could have changed.
Best location in your hometown or elsewhere.
How advertising uses sexuality for more attraction.
The best memories from my childhood.
What is wrong with sex education in schools?
The worst disappointment I ever had.
Event or person that influenced your academic interests.
Describe the event when you have experienced discrimination personally or witnessed discrimination against other people.
Why do people procrastinate?
How to create an informal essay outline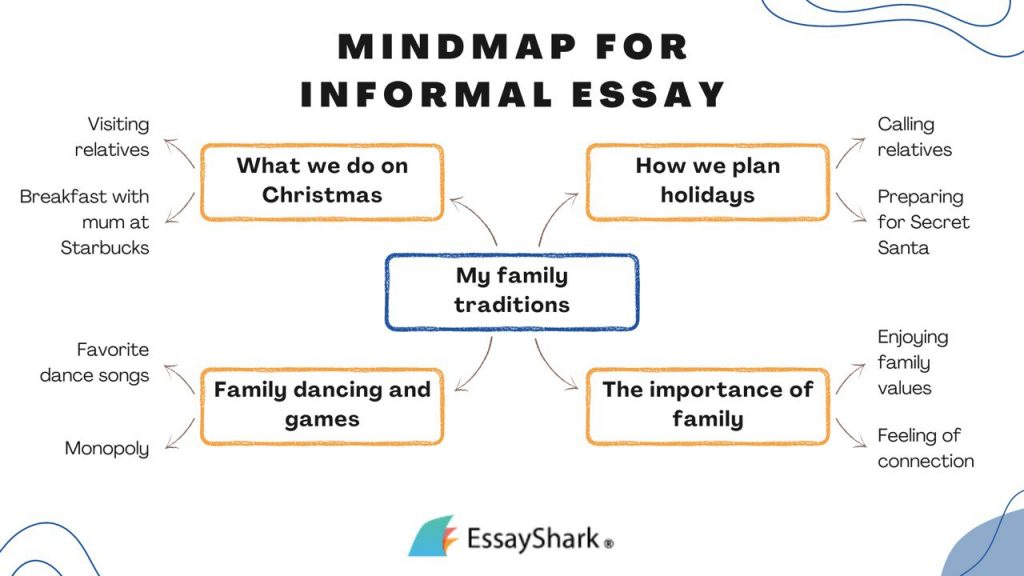 Use Mind Map to develop your topic and make your structure clear. Write the issue in the center, then start adding new boxes around it with ideas you wish to include in your paper. The more boxes you create, the better. Subsequently, you will choose the best ideas and readily see the structure of your future writing. Add details near boxes to expand your thoughts. You can use just paper and pencil, use online services like Canva, or create a mind map in Word.
While informal essays don't have strict recommendations for the structure, you can follow a typical three-part outline:
Introduction
Main body
Conclusions
Introduction. You may be seriously puzzled by a question on how to start an informal essay. The answer is: imagination. Informal writing gives you an unlimited version to create your text.
For example, you can use the following starting points:
Highlight the topic you are going to discuss.
Tell why the subject matters.
Ask a question.
Take a confident position to cause tension.
Start with a quote.
Main body. While there is no need to follow an ordinary essay structure, the text of your essay should still be logical. If you are writing on a topic that specifically relates to your personal experience or thoughts, don't be shy to add a vivid description of what you feel and think. Make your readers feel the scene or how you feel about the subject. You can choose several points of the issue and cover them with descriptions, your personal experience, and facts.
Conclusion. You can't just leave the text without closing words. Write a brief summary in one or two sentences to point out the main ideas you have covered in the essay.
Tips to write a good informal essay
Before you start writing, check out these short but valuable tips, and check the list of free essay writing tools from EssayShark to create a fantastic informal essay that will leave your readers in speechless awe:
● End the whole paper with a sentence that stimulates the readers to think further about the raised issues, or at least to think outside the box.
● Use more lyrics! It is well-known that lyrics capture the reader, so do not forget to use as many epithets, metaphors, and comparisons as possible.
● The bigger the introductory part, the better the reaction presented by readers. Remember that you are writing to tell a story, not to prove a point.
● Do not give any concrete ideas about the central issue of the essay because you need to stimulate your readers to think and form their own opinions and feelings.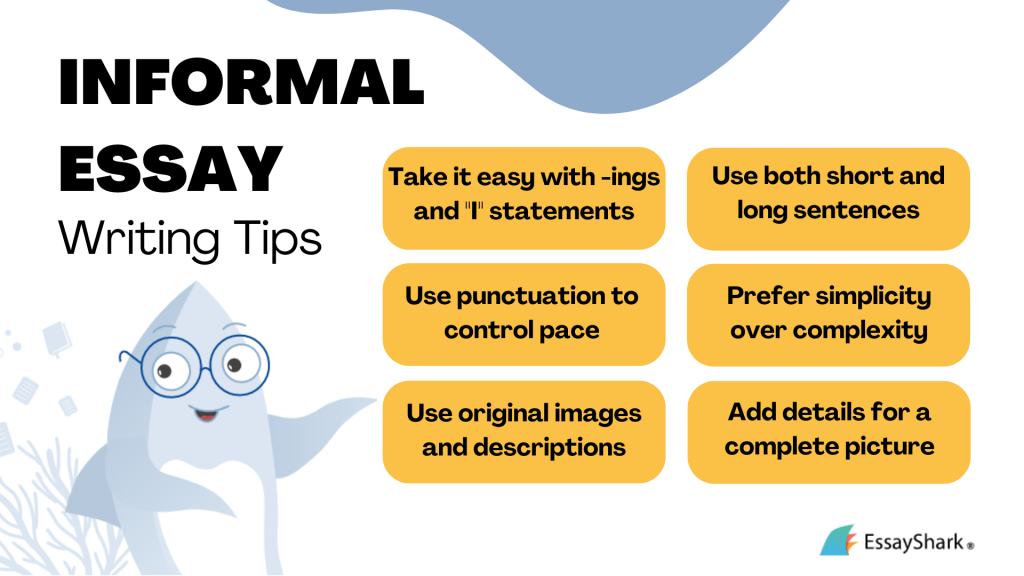 Informal essay writing checklist
When you complete your essay, follow this list of questions to help you improve your writing.
– Does the whole essay reveal the topic that was carefully chosen for your informal essay writing task?
– Is the essay's style in a less formal tone than traditional academic papers?
– Did you use everyday words, slang, and colloquialisms, and "you" and "I"?
– Did you check whether you used the first-person perspective to address the reader directly?
– Does the essay stimulate readers to raise questions in their minds with the information you have provided?
– Does the essay fit into the framework of the standard five-paragraph type of structure?
– Is the subject described in an entertaining manner?
– Did you use examples, quotes, diagrams, anecdotes, narratives, and other types of testimony?
Example of informal essay
Below, you can read an informal essay example written by one of the EssayShark writers. Read it carefully to understand the structure and tone of this type of essay. Also, notice how the author addresses the topic of the most embarrassing memory and uses touching points to describe the situation better.
The Most Embarrassing Memory
Each summer as a child, my parents would surprise the family with a week-long trip. Many summers we would be surprised with a beautiful beach trip or tent camping in a remote forest. I can remember one summer more prominently than others because of how memorable the vacation was. Not because it was one of our best trips, nor because we went on our first long road trip. This trip is burned into my memory primarily due to the fact I had never been more embarrassed as a kid than what happened on this family vacation.
Like most children, I experienced embarrassing moments. I would not say I was more sensitive to experiencing them, but even when I try to forget, my parents still bring it up to this day. The morning of our trip started early. I stared out the window for what seemed like hours. After I finished listening to a few CDs and drank my entire water bottle, I was thrilled to find that we were pulling into a rest stop. The rest stop was full of vehicles and visitors looking at the different historic maps and pictures that had decorated the place. My mom said to be quick, and without skipping a beat, cd player in hand, I headed to the restroom. It was nice to finally stretch out, use the restroom, and get away from the vehicle for a few moments.
Once I was finished, I ran back to the car, got in my seat, and buckled up. As I was staring out the window, I could see my mother off in the distance. She seemed to be worried, but I didn't pay any mind, as it always felt like she was worried or in a hurry. The car was getting hot and I wondered when my family would make it back to the car, especially since they said to be quick. Seconds turned into minutes, and I was getting bored of waiting. I then heard my mother and father calling my name. I had suspected they knew I was in the car, but from that moment, I knew they hadn't seen me.
I opened the car door, and with a puzzled look, an older lady was staring at me. She stated, "Are you lost, dear?" I was puzzled, thinking, no, I am just getting out of the car. It was then my mother came running up to me, yelling, "What are you doing!?" As I turned to point to the car, I realized I had gotten into someone else's car. My father laughed, my mother shook her head, and the older lady joined in, and the laughter seemed to rumble to my core. I felt so embarrassed to not have only climbed into the wrong vehicle, but people I didn't even know were laughing at my poor decision and lack of awareness.
The road trip to the big red tree forest that year was a great one, though the drive couldn't have felt longer due to the constant chatter of what I had done. This trip was not memorable for the mountain high trees, the flowing rivers, or even the cave exploration. No, this trip was memorable because a young kid couldn't look up and notice that he hopped into the wrong car, and everyone, including strangers, laughed.
FAQ about writing informal essays
Q: What is the first stage in writing a short informal essay?
A: First of all, you need to read the assignment carefully, as teachers frequently ask you to do something in the essay or consider several important points. Only then can you start brainstorming about the topic and start writing the text.
Q: How to end an informal essay?
A: An informal essay is an exceptional academic paper, since it allows you to end it as you wish. Think about how books usually end or how authors conclude a long blog post. You can use a question to finish the essay, restate the idea you have covered in the text, call for action, or create a vivid image.
Q: How to identify an informal essay?
A: The main things that distinguish an informal essay are a highly personal tone and the absence of specific structure. Blogs, personal reflections, and magazine articles are great examples of informal texts.
Q: Is an expository essay formal or informal?
A: Usually, this kind of essay explains or describes something. It is typically written with formal language in the third person perspective, but it may be informal depending on your assignment requirements.
Q: Is an argumentative essay formal or informal?
A: It's mostly an academic type of writing that should follow a formal writing style. In certain cases, the teacher may ask you to write an informal essay on an arguable topic. We also recommend checking teachers' recommendations.
Order an informal essay from EssayShark
If you still can't get how to write this type of essay, you can use our informal essay help. We know all the peculiarities of informative writing and can assist you with any essay type. We know that picking a really impressive topic and following an informal tone may be particularly challenging, especially when you face such an essay type for the first time. That's why we are here to cover your back! Please submit an order on our webpage, and our experts will start working on it promptly.
Except writing, you can count on us with calculations and lab reports. For example, you can request do my math homework for me help and our experts will meet your expectations.
Photo by JJ Ying from Unsplash